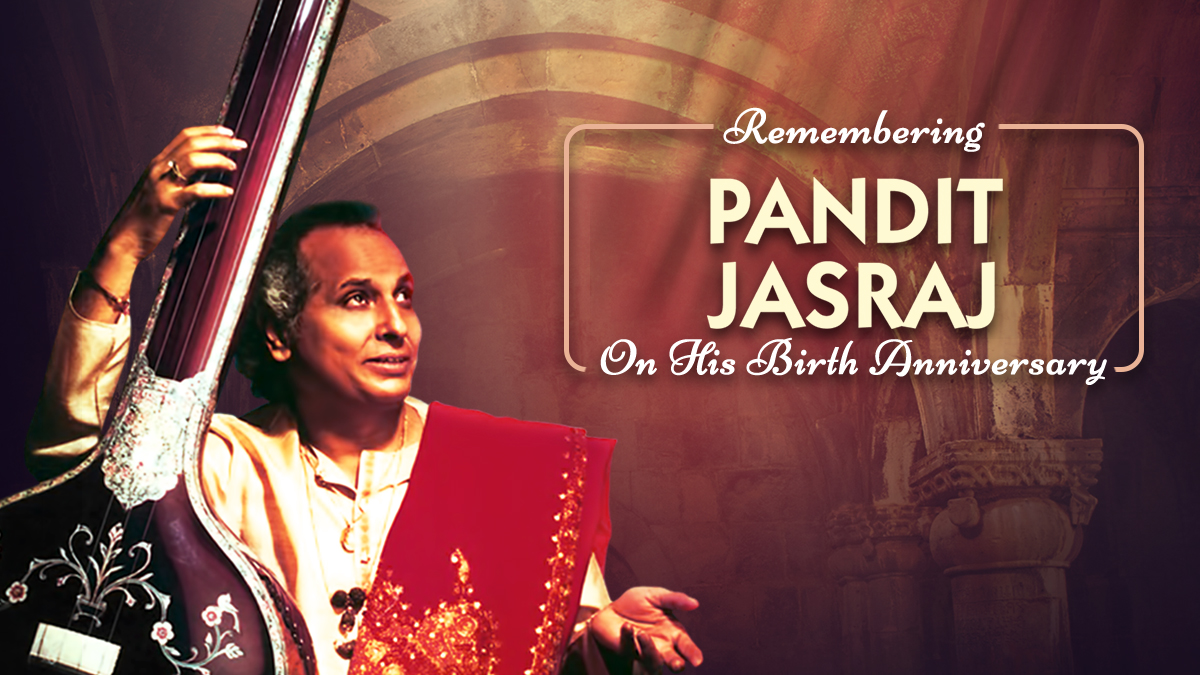 Pandit Jasraj was a legend, doyen and one of the last among the pantheon of Indian classical music giants, who pushed the boundaries and mesmerized the music world with his unparalleled and unmatched repertoire. A career spanning seven decades, he left a rich legacy of uplifting the Hindustani classical music with myriad innovations and playing a key role in bringing it on the world map. Besides, he was at the forefront of imparting music education to amateurs and professionals globally. Saregama remembers the legend and his legacy on his birth anniversary.
Music connoisseurs and lovers of classical music would unequivocally agree that the soulful voice stressing each syllable, vocal prowess with multi-octave range and the dynamic style and unique technique characterized the sublime career of Pt. Jasraj. The sheer delight to the hearer's ear were the harkats, murkis, stotras and Durga, Abeer Todi ragas that took his performance to another level. However, it is no surprise that he was destined to attain greatness in the music field.
Pt. Jasraj was born in Hisar, Haryana on January 28, 1930, to a well-known Mewati Gharana, where his grandfather, father, uncles, brothers – all of them were renowned singers. Immersed in a musical family, he was surrounded by musical treasures, masters, instruments and learning since his childhood. His father Pandit Motiram initiated his basic learning. Later, after the demise of his father, he was trained under his brother Pandit Maniram. At the age of 7, he mastered playing the tabla and began performing with his brothers and other artists. In 1947, the family moved to Kolkatta- the well-known place for artistic creativity and growth. At the age of 22, after turning to classical singing and giving his life for it, he performed at his first concert for the King of Nepal. His spiritual guru Maharaja Jaiwant Singh was a great influence that inculcated the Bhakti element in him and his performances. 
Later in 1963, he moved to Mumbai. He began his career on radio and later became a stage performer for national and international audiences for more than 50 years. He often used to begin gently on the stage, plunging progressively and bursting into elation. The euphoria his performances created were truly spectacular and blissful. Some of his popular songs include Mero Allah and Om Namo Bhagvate.
He contributed to music with many innovations. For instance, he created Jasrangi Jugalbandi, a form of music where male and female singers create a unique surreal sound. He popularized Haveli Sangeet, which is now famous in temples. His penchant for creativity helped him to blend devotional music with classical music. Moreover, he was a master at combining Indian classical music and lyrics, touching moods and emotions. As mentioned, he was a teacher who opened many music schools in different parts of the world. 
As for his personal life, he married Madhura Shantaram, the daughter of famous director V. Shantaram. The legendary musician died of cardiac arrest on Aug 17, 2020, at the age of 90 in New Jersey. He received many awards and appreciation during his lifetime, which includes Padma Shri in 1975, Sangeet Natak Akademi Award for Hindustani Music – Vocal in 1987, Padma Bhushan in 1990 and Padma Vibhushan in 2000. He is a widely recognized star of Indian music worldwide. 
Perhaps, there will never be another like Pt. Jasraj, who was so devoted and dedicated to the music. He leaves a vast oeuvre of work for generations of musicians and singers to follow. Saregama salutes the extraordinary life and work of Pandit Jasraj.