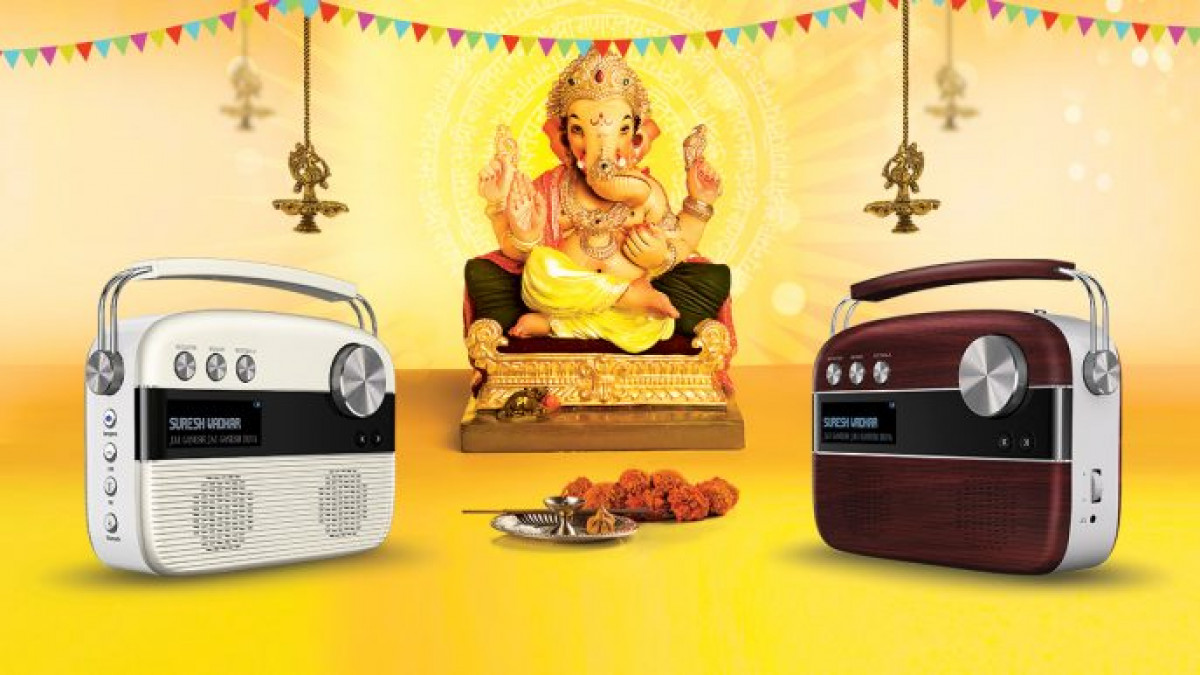 The festival of Ganesh Chaturthi is celebrated with much gusto, not just in all of Maharashtra but also in other states of India such as Goa, Karnataka, Andhra Pradesh, Telangana and Gujarat. In fact, such is the popularity of Lord Ganesh that Hindu communities all over the world, particularly in the United States and Europe, also welcome the beloved deity in their homes.
When we think of this popular festival, a dizzying array of images pop up in our heads – a silver plate full of delicious modaks, handcrafted eco-friendly Ganesh idols adorned with bright clothes and jewellery and various hues of flowers sitting at the feet of the idol. However, one thing that truly gives the festival its enthusiastic fervour is the energy and the exuberance that the devotees display in the music and dancing prevalent during this time
What makes this festival decidedly different from others is that, besides changing hymns and mantras, family members, relatives, neighbours, friends and even strangers dance together to welcome Lord Shiva and Goddess Parvati's son in their homes. Indeed, throngs of people are often seen dancing robustly on the streets of Maharashtra to celebrate the Lord's presence.
Music plays a vital role in the festival that marks Lord Ganesha's birth anniversary. Besides popular Bollywood tracks, songs praising Ganpati are played. Chants of Ganpati Bappa Morya, Shree Siddhivinayak Deva, Jai Ganesh and Om Gan Ganpataye Namo Namaha are frequently interspersed with popular songs such as Deva Shree Deva from Agneepath, Mourya Re from Don and Aala Re Aala Ganesha from Daddy.
Of course, as more and more Bollywood songs praising Ganpati are released, the more songs are added to the repertoire of existing festive songs.
Besides relishing the lip-smacking modaks, chanting mantras and dancing fervently, many people also give gifts to family members and relatives during this festive season. If you're looking for a gift for your father or mother or relatives and friends who are musically inclined, then a good music player should do the trick.
Although there are a plethora of music players available in the market today, Saregama Carvaan is a highly rated light-weight, an easy-to-use digital music player that comes with 5000 evergreen songs pre-loaded in it. Designed to invoke the same sense of nostalgia of listening to the quintessential radio set of yesteryears, Carvaan also comes packed with modern day features like USB port and Bluetooth through which you can play your own music from the phone. Caravan also has a one-year warranty and has been favourably reviewed for its after-sales service.
You can get a free demo at home of the music player before committing to buying it for your loved ones. If you wish to tailor Carvaan's music collection even further to suit your preferences, that's an option too. Pick your choice from our range of 20+ thematic music cards spanning regional, instrumental and even Bollywood music. Plug the music card into the USB port on Carvaan and you have an enhanced music library suited to your choice. Such customisable music cards are also available on Saregama.com.
So this Ganesh Chaturthi, gorge on delicious modaks, dance with festive fervour and pray to the Lord with an open heart. Ganpati Bappa Morya!