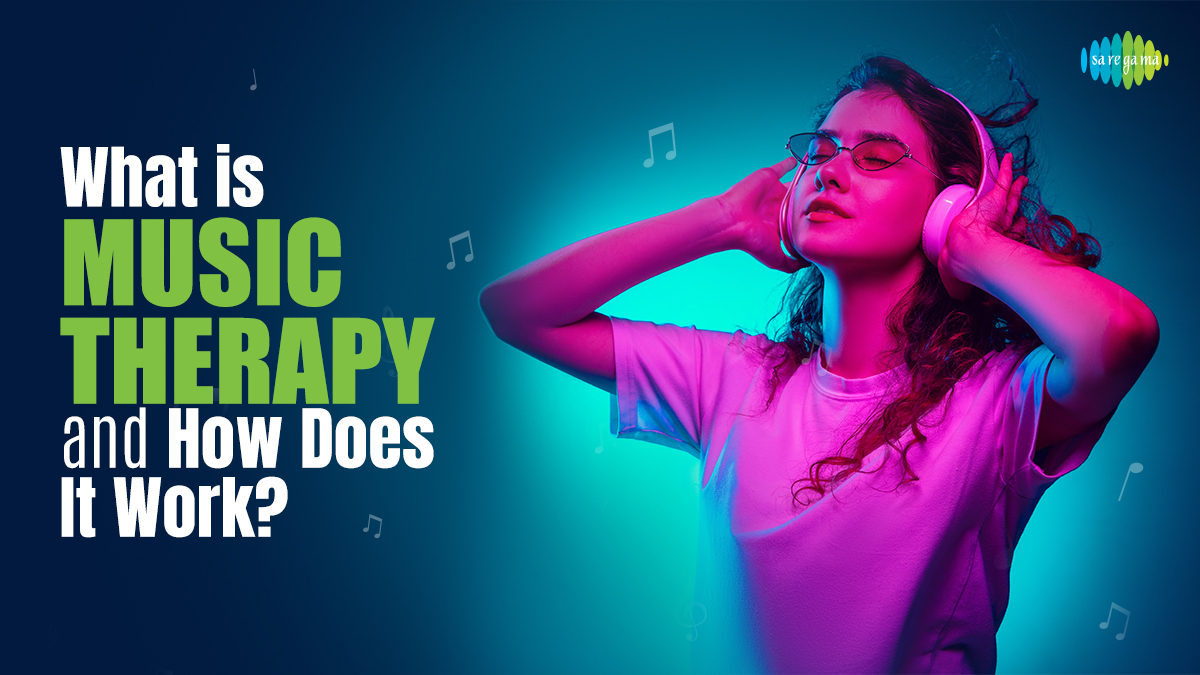 Music therapy has been part of our lives for centuries. Whenever we tend to fall towards the anxious side of our personality, we unconsciously take hiding into the blanket of a good music playlist that helps us to bounce back. 
Music Therapy songs do wonders for patients with depression, anxiety, Obsessive-compulsive disorders and not to mention you and us. It sometimes takes us away from reality, giving us ample time to focus on our well-being and happiness. 
But the question is,
What is music therapy?
Music therapy, by many psychiatrists, has been explained as "a systematic process of intervention wherein the therapist helps the client to promote health, using musical experiences and the relationships that develop through them as dynamic forces of change" 
The earliest reference to music therapy appeared in 1789 in an unsigned article, 'Music Physically Considered'. During the 1800s, there were two medical dissertations submitted by Edwin Atlee (1804) and Samuel Mathews (1806) talking about the value of music in treating patients. Ironically, both the writer and psychiatrist were students of Dr Benjamin Rush, who was a big supporter of music as a therapy and a speaker on how patients can improve their health with music therapy songs. 
However, music as a profession was realized during World War I and World War II. During the World War, veteran and professional singers wandered around the country to sing for the veterans suffering emotional and physical trauma in the hospitals and streets. Looking at the mental peace it offered and the rapid healing of patients, doctors acknowledged it as a profession and trained singers for the same. Gradually, music was realized as a therapy for patients suffering from mental traumas including depression, anxiety, psychological issues, and many more. 
How Does it Work?
Music is no medicine that cures a patient, however, it has become a therapy that modulates five factors that aid in curing a patient from a chronic illness and mental imbalance. Let's see what these five factors are and how music helps to modulate them.
Music modulates our attention, behavior, emotions, cognition and communication helping us to fight depression and negative emotions triggered due to external stimuli.
Emotions
Music has the power to regulate our emotions by controlling the brain region that is responsible for the generation, initiation, maintenance, and termination of emotions of varied kinds. Hence, while you might be feeling depressed or upset due to an external factor, music can simply distract your brain and release an emotion connected to the words of the music.
Attention
It is no new news that music distracts our minds. Music distracts the stimuli in our brain leading us to negative emotions like worry, anxiety and pain. It helps us to fight the situation better and control the circumstance accordingly. 
Behavior
It is proved that music as therapy aids in evoking and controlling a particular behavior or action. It can be related to anything including walking, talking, sleeping and eating. One can rectify behavioral issues with music therapy songs seamlessly. 
Cognition
Music is related to cognition. Our mind can simply encode, store and decode music syntax, remember lyrics and relate experiences to music helping enhance our cognitive ability. Music therapy is perfect for people looking to optimize their cognitive ability. 
Communication 
Music is directly related to communication. It helps us communicate without words or verbal communication. One can seamlessly learn the art of talking without words. Dumb people can easily gain an upper hand in communicating with people without much effort through music therapy. 
Benefits of Music Therapy
Music therapy is known to build humans' most common characteristics including the ability to participate in musical endeavors and the enjoyment of music. Undoubtedly, it has helped infinite people to control, stimulate and regulate their movement, behavior, emotions, mood, relaxation ability and manage pain. 
Music therapy songs have helped multiple people to fight disorders and chronic illnesses. Some of them are:-
Mood and emotion management

Language skills

Social engagement

Stress reduction

Pain management

Gross and fine motor skill development

Cognitive functions

Personal expression

Sensory development 

Emotional bonding
Music is recognized as a 'co-therapist' that braves differently for different patients. It fulfils the needs and goals of varied patient types in distinct ways including reducing depression, bringing back one's confidence and rectifying one's gross and motor skills.  
Types of Music Therapy
There are two types of music therapy – Receptive listening Method and Active Playing Method – While the former is apt for patients struggling with anxiety issues, depression, panic attacks, etc, the latter suffice the need of the patients struggling to overcome their gross and motor skills. 
The receptive listening method includes listening to relaxation music to treat depression and cognitive disorders. The receptive analytical method demands patients to listen to and analyze the rhythm, structure, and tone of the musical piece to improve one's receptive or cognitive skills. 
The active Playing Method ensures patients utilize their cognitive skills to learn a song while improving one's motor skills. 
Music Therapy Approaches
There are varied types of music approaches that were developed by psychologists to help patients suffering from developmental delays, depression and lack of cognitive skills. Some of these approaches are famous today with medicine to help the patient respond to physical therapies quicker than before. Let's know them better below. 
Neurologic Music Therapy
Neurological Music Therapy (NMT) is a music therapy developed considering the perception and creation of music and its long-lasting impact on one's brain and behavior. NMT is recognized as one of the best music therapy for depression. It utilizes variations developed within the brain and manipulates them with the help of music therapy songs to evoke emotions, behavior and brain changes in effect on the patient. 
Orff-Schulwerk
It is a music therapy founded by Gertrude Orff. The motive behind that approach development was to help patients respond to medicines quicker than before with natural listening and playing therapy. 
Schulwerk in German means 'School Work'. It was specially designed to help children with developmental delays. The making and listening of music ensured they trained their brain to work faster and develop their gross and fine motor skills well within time. It is also a great music therapy for depression patients as it helps improve one's cognitive and communication skills ensuring patients can communicate effectively about their woes and grief experiences. 
Music therapy songs helped several individuals to grow out of their misery to uplift their souls, however, the 20th century was the evolution of music therapy for depression patients due to the ongoing World War I & II. Music therapy songs are nothing but the game of finding the right beat and tone that suit your brain vibrations. Patients looking to guide and train their brains for cognitive and behavioral issues should explore more music and music therapy songs to find the right medicine for their illness. 
An Array of Music Therapy Techniques for Patients
There are an array of techniques to treat patients suffering from cognitive and mental pressure including-
Listen to live or recording music

Write to a song's lyrics

Karaoke to songs

Playing instruments

Learning music-induced relaxation techniques

Write lyrics for new songs

Dance or grove on instrumental music

Create art while listening to music

Play acoustic instruments
How Does Saregama Come Into the Picture?
Saregama is a music production house that also works towards helping patients with depression and anxiety issues to gradually overcome their cognitive problems without approaching a music therapist. 
It has created a list of songs that can also work as soothing songs for people stricken with severe cognitive issues. There are several music therapy songs listed under different albums which are perfect to soothe one's problems within minutes. 
For example, to soothe all your tensions and anxiety issues, Saregama has created a playlist of the best of 'KK's' songs including, 'Such Keh Raha Hai', 'Tu Hi Meri Shab Hai', 'Khulla Asmaan', 'I Wanna Take You', 'Maine Dil Se Kaha', 'Jab Bhi Koi Haseena', 'Ek Nazar Mein Bhi', etc. 
For people who want help to evoke brain vibrations and improve their mood this rainy season, One can find a lot more options under one roof of Saregama including, 'Iss Baarish Mein', 'Darbadar', 'Middle Class', 'Kalla Killah', 'Sun Bhi Le', 'Gulabi', 'Lamha Lamha', 'Bheegi Bheegi', 'Ek Ladki Ko Dekha', 'Kuchh Na Kaho', 'Humen Tumse Pyar Kitna', 'Pehla Nasha', 'Agar Tum Mil Jao', 'Woh Lamhe Woh Baatein', 'Na Tum Jano Na Hum', 'Chand Sitara', 'Tujhse Naraz Nahi Zindagi', 'Do Naina Aur Ek Kahani', etc. 
Saregama believes that each song behaves like a music therapy song for a variety of people suffering from different cognitive problems. While listening to these songs one can not only focus on the lyrics of the song but also enhance his/her mood to overcome anxiety issues or depression. 
The old songs like 'Ruk Ja O Dil Deewane', 'Tere Bina Zindagi Se', 'Is Mod Se Jote Hain', 'Chura Liya Hai Tumne Jo Dil Ko', 'Yaadon Ki Baaraat', 'Tum Mile Dil Khile', 'Maine Pyar Kiya Hai Tumse', etc are songs that offer music therapy for depression patients. These songs are evergreen that proffers imagery from the songs leaving a patient in trans. Nothing is better than old songs to uplift one's mood in the grievest of situations, right?
Download Saregama Song List
Saregama enables listeners to stream and download a list of songs for uninterrupted listening. One can easily choose, put songs in the cart and download songs as per their requirement. The best part is that the songs are available in different quality to ensure it suits everyone's personal listening needs. Now you can create your own list of favourite songs, download them and listen to an endless list of music therapy songs anytime and anywhere.