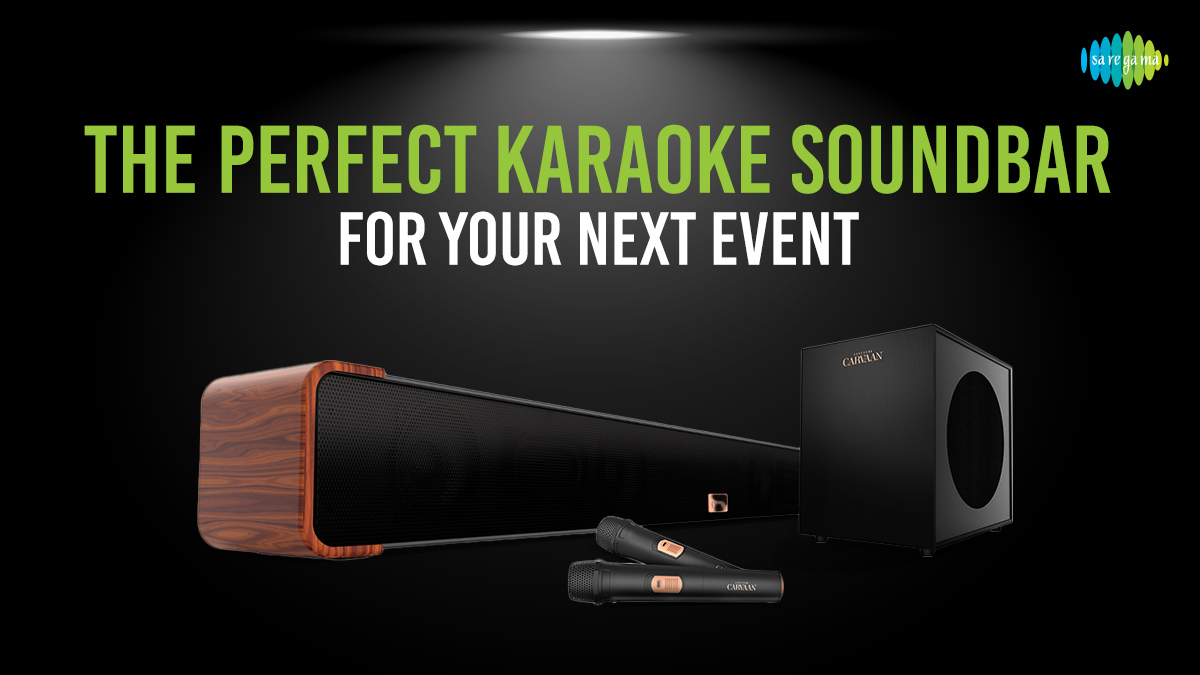 Have you been in a place where you have to host a party at home and you are out of ways to entertain your guests? Every time you host an event it's going to be hard to find the most sought-after entertainment options. In such a scenario, the only thing that pops up in your mind is a Karaoke night where you all can sing along, compete with the worst singer in the room and yet enjoy every bit of the night. 
Saregama brings up a must-have Karaoke Soundbar that ensures you have great sound quality for your next movie night and an excellent Karaoke system to entertain your guests. The Karaoke system for home comprises a soundbar, subwoofer and two mics making it a one-stop solution for every party night. 
What makes it a perfect karaoke system for your next event?
The Saregama Carvaan Karaoke Soundbar system encompasses some amazing features to die for. People are loving it and we are sure you will also cherish it for your next event at home. We have mentioned the most likeable features of the Saregama Karaoke Soundbar below. I hope you will love it too!
| | |
| --- | --- |
| 3 Karaoke Sound Modes | 2 Wireless Mics |
| 1000 Preloaded Evergreen Songs | 3D Stereo Surround Sound |
All you have to do is connect the soundbar to your tv system, put on the Youtube channel of Saregama, select the Karaoke tracks, connect the mics to the soundbar and commence your party with a bang. Sing your heart out, enjoy the evergreen songs with lyrics and be the star host of the great party. 
Karaoke Soundbar: Features to Look For
Saregama Carvaan Karaoke system for home is not just a soundbar for movie nights and cricket matches, but a night hero that turns a boring party into a happening night with its Karaoke features. Let's discuss them in detail to understand why Saregama karaoke Soundbar is winning the hearts of many.
A Shape Complementing Your TV 
The compact and sleek karaoke soundbar can turn your world around with its immersive sound quality, deeper bass and sharper highs. Its sleek shape and anywhere-fit quality enable you to perfectly fit it anywhere without worrying about it occupying extra space in your tv entertainment unit.. 
The Karaoke soundbar can seamlessly connect to your mobile phone, television system and other devices. Saregama Karaoke system for a home can effortlessly connect to multiple devices using USB, HDMI port, AUX-in cable, and Bluetooth. 
Planning to host guests this weekend at your nest? Well, you need not fret because the Saregama Karaoke system for home is at your bay. The Saregama Carvaan Karaoke Soundbar consists of four comprehensive audio modes like movie audio, news audio, music mode and 3D mode. The distinct four modes ensure you get an immersive sound experience. With different modes to switch you can tune into the virtual audio world of your making.  
On the Saregama Caravan Karaoke soundbar application you can browse new songs, listen to them any time of the day and create your own list for the next party coming up. The application has a seamless connection with the karaoke system for home that is easy to attach and simple to run. No additional work is required to host an awesome party!
The Saregama Caravan Karaoke System is your perfect party partner. With the 3000 pre-loaded songs, you can transform a home party into a DJ party right then and there. It has an immersive surround sound quality that ensures you bring home a karaoke perfectionist. The Soundbar can seamlessly transform into your Karaoke partner with its 2 high-quality mics, and the Saregama YouTube Karaoke channel that offers you more songs than you can envisage. 
The Saregama Caravan Karaoke soundbar for home comes with an excellent customer care service guarantee that ensures you don't feel stuck when your Karaoke soundbar is creating complications for you. All you have to do is call our customer care center or chat with us on our WhatsApp chatbot, register the issue and wait for the executive to visit you within 48 hours of registering your complaint. 
FAQs
Q1. What's special about Saregama Carvaan Karaoke Soundbar? 
The Saregama Carvaan Karaoke Soundbar isn't just a soundbar that offers you immersive sound quality or makes your virtual audio dream come to life. It is also a karaoke soundbar that ensures you have a great party experience with your friends, family and children. 
The soundbar comes with two mics that enables you to sing your heart out regardless of the song type, era or language. Moreover, the soundbar has a karaoke app support that allows you to browse, create and download your own playlist, hence, parties can be more fun for you when you already have a playlist prepared for the night. To ensure you get an enriching tv viewing experience, the karaoke sound bar comes with subwoofers with 120W stereo sound quality. 
Q2. Are there any particular modes to enhance my Karaoke experience?
The Saregama Carvaan Karaoke Soundbar comes with 3 different karaoke modes to enrich your singing experience. They are as follows:-
Vocal:

If you switch to vocal mode while singing, your voice will be louder than the karaoke song playing behind. 

Balance:

You can simply create a balance between the karaoke song and your voice pitch. 

Music:

To keep the karaoke music louder than your voice, you can switch to music mode. 
All these modes can be controlled through the application as well as the remote control. 
Q3. Can the Saregama Carvaan Karaoke Soundbar be controlled via the application?
Yes. Saregama Carvaan app can be used with the karaoke soundbar seamlessly. The app ensures you are able to browse through 1000 preloaded songs, create or curate your own playlist as per your preference as an when you like. You'll find the most sought-after songs starting from the 80s era to till date. 
Q4. What is the Saregama Mode for? How can we use it?
The Saregama mode allows you to listen to 1000 preloaded songs which can be accessed from the Saregama Carvaan application. You can switch to the Saregama mode and listen to the songs to your heart's content. It does not require you to input an USB or connect the soundbar to the bluetooth. All you have to do is, install the application, switch the soundbar to Saregama mode and play songs.