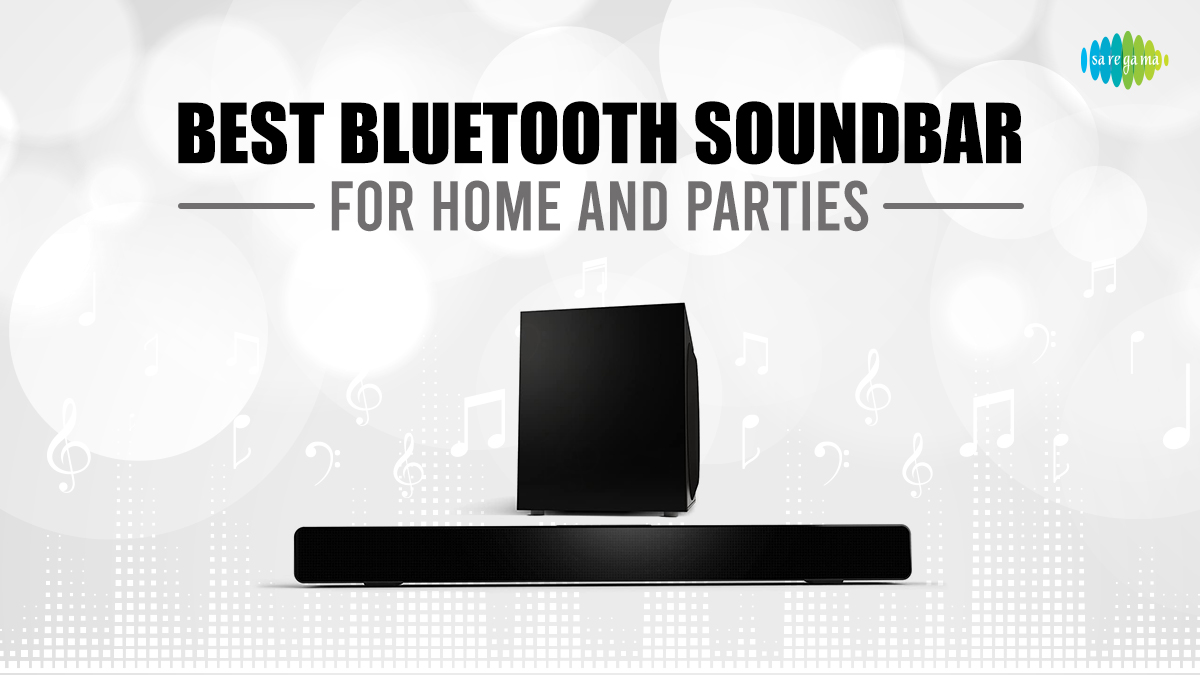 Some party plans implement well with your home's comfort and convenience like a movie night with your family and friends. Your favourite movie playing on your 4K television screen and the dynamic sound filling every corner of your tv room. Doesn't it seem beautiful? 
A party soundbar is worth spending on considering you cannot spend a hefty amount every time you want to watch a movie on the big screen, let alone binge watching. A packet of popcorn, coke and a few siders can itself cost a pocket in your whole, let alone the cost of movie tickets for an entire pack of your friends. 
Besides, a Bluetooth soundbar can give you a movie theatre experience at home then why would you want to spend on travelling, treating your friends with something more experience than the cost of the movie tickets? 
Since now you know why party soundbars are a necessity for your home, you should now read more about the best soundbar for homes that offer your larger-than-life movie experience at home. 
Well, this might have been a dream for many a decade ago, but today it is a reality that can be easily fulfilled. The condition is that you should have a big screen to turn your room into a theatre and a Bluetooth soundbar with surround sound to ensure you get theatre-like sound energy. 
Considering you already have a big screen to host movie nights on weekends, all you need is a party soundbar to complete your set and Saregama party Soundbar is the best soundbar for home parties and movie nights. Don't believe us? Let's see how Saregama Bluetooth Soundbar can tweak your at-home movie night to offer you a theatre-like experience. 
What makes Saregama Bluetooth Soundbar Perfect for Parties @home?
Well, let's start with…
Enhanced TV Viewing Experience
We all are aware of the fact that our television systems do not have a surround sound in-built system. For this very reason, party soundbars have become a necessity for most party lovers. Saregama Bluetooth Soundbar offers an optimised tv viewing experience with its 2.0 channel surround sound and 60W immersive sound quality. With the Saregama Bluetooth soundbar, you can be sure of experiencing a theatre-like feeling where the sound surrounds every nook and corner of your home. With 2.0 Channel surround sound, you get the benefit of two speakers in one. It is definitely one of the best bluetooth soundbars for home entertainment. 
Offers Multi-Connectivity & Multi-Audio Mode
To ensure convenience and comfort, Saregama Bluetooth Soundbar comes with Multi-connectivity and audio mode. One can connect the party soundbar with multiple options, including USB, FM, Aux-in, Coaxial in, and Bluetooth connectivity. Whether you want to listen to a radio channel on a weekend morning or connect your phone to listen to your favourite playlist on a busy night, Saregama Bluetooth Soundbar is at your bay. 
With the Multi-audio mode, one can easily switch between audio according to the viewing mode. If you are watching a news channel, you can switch to news mode whereas there is a different mode to opt for when watching a movie at night. The options are innumerable. Which one is perfect for you?
Robust Warranty & Doorstep After-sale Service
What's more important for a customer than to get a perfect warranty card that covers all risks and a great after-sales service team to listen to you their technical issues. Saregama believes in being there for their customers any time of the day. 
The Bluetooth soundbar comes with a robust warranty that covers all technology-related risks to keep you at ease if something goes wrong (don't worry, we deliver perfection). Along with a robust warranty, we also ensure you have someone to hear your soundbar-related problems any time of the day. Hence, our customer service team acts quick to your queries and rectifies the situation within the given timeframe so that you don't have to wait to watch your next movie. 
No other Bluetooth Soundbar comes with 3000+ songs pre-loaded while also offering different modes to listen to your favourite piece. With multiple connectivities it makes your life simpler, hence we are sure now you can say Saregama Bluetooth Soundbar is the most-sought after Party Soundbar of 2022.