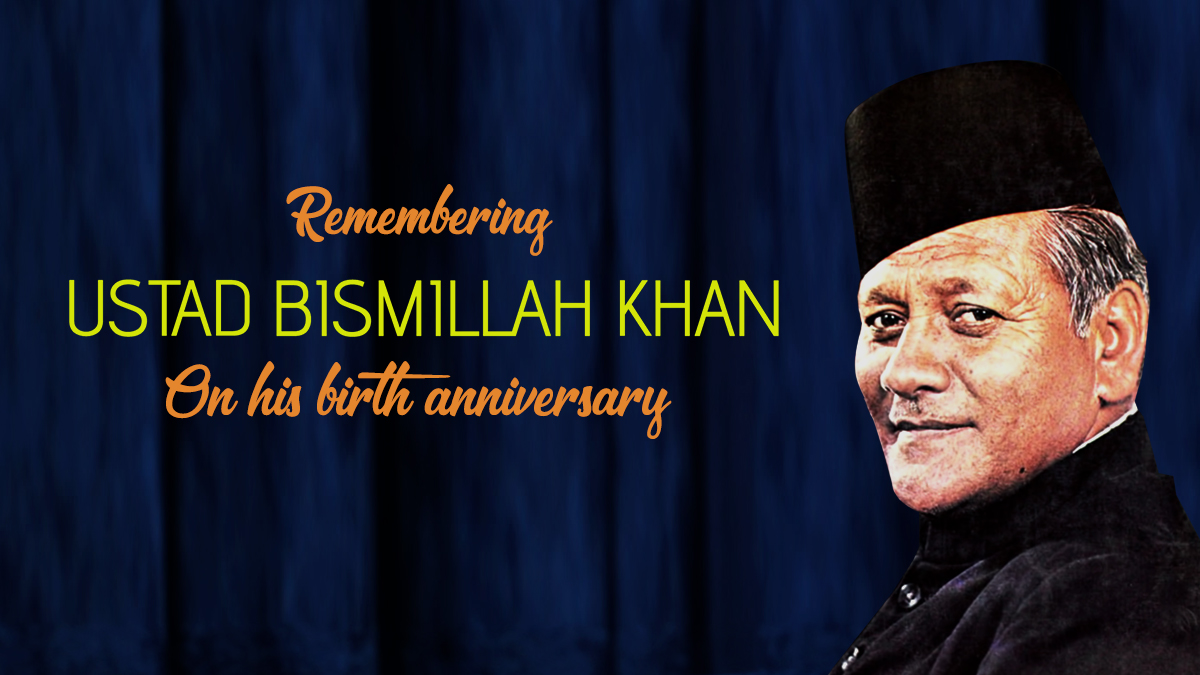 The world-renowned shehnai maestro Ustad Bismillah Khan was born in Bihar on March 21, 1916. His musical journey began when his uncle, Ali Bux' Vilayatu', stepped in as his tutor when he was a young child in Varanasi. In Varanasi, Ali Bux played the Shehnai at Vishvanatha, a Hindu temple. His uncle invited him to play at ceremonies for Hindu deities as well as weddings. In addition to learning numerous musical forms and ragas, Ustad Bismillah Khan improvised patterns that had previously been considered impossible by the Shehnai. The Shehnai, traditionally used only for ceremonial purposes, was elevated to classical status during his performance at the All-India Music Conference in Kolkata in 1937. Since then, he has performed and recorded at concerts and on the radio.
Despite being a devout Muslim, Ustad Bismillah Khan performed at both Hindu and Muslim ceremonies. He was widely recognized as a symbol of religious harmony. In 1947, Bismillah Khan earned the rare honor of playing India's Shehnai on the eve of independence. Since then, he has continued to perform at the Red Fort in Delhi, right after the Prime Minister's speech on August 15. It was Bismillah's performance that dominated Independence Day celebrations for many years. Doordarshan broadcast the performance live, reaching thousands of households.
In addition to playing the Shehnai for many Hindi films, the versatile musician is considered to be a master of musical emotion and melody. One of them is 'Goonj Uthi Shehnai,' a movie where he is said to have immortalised the Shehnai. Other films he worked on include Satyajit Ray's Jalsaghar and a Kannada-language film Sanaadi Appanna.
In the post-independence era, Ustad Bismillah Khan dominated shehnai recitals, continuing the legacy of classical music. He was a pure artist and music lover as he always believed that music would endure even if the world ended. Music was his means of spreading the message of brotherhood among Hindus and Muslims. Throughout his career, he proclaimed that music has no caste.
Bismillah Khan never wavered from his roots, despite the fame he achieved. The holy city of Benares was his home, and he never acquired wealth or materialistic possessions. It was because he loved his city that he declined an offer of a permanent visa for settling down in the US. His only material possession was his Shehnai, which he slept with. Such was his love for music.
While Ustad Bismillah Khan did not accept many as his disciples, who otherwise would have continued his legacy, he made a lasting impact on music. With the introduction of the Ustad Bismillah Khan Yuva Puraskar in 2007, the Sangeet Natak Akademi announced an award dedicated to young dance, music, and theatre performers. Many eminent authors have written biographies of Bismillah Khan. These biographies include 'Bismillah Khan and the seat of shehnai' by Rita Ganguly, 'Bismillah Khan: The Maestro from Benaras' by Juhi Sinha and 'Shahnai Vadak Ustad Bismillah Khan' by Murli Manohar Shrivastava.
With our Ustad Bismillah Khan playlist, you can hear all of his majestic raagas and the humble sound of his Shehnai. In addition to Morning Mantras and Shehnai, the playlist contains Jugalbandi by Ustad Vilayat Khan, Yaman by Ustad Bismillah Khan, various Ragas by Bismillah Khan, Bismillah Khan's Madhumat Sarang and Bhairavi, Shehnai Recital, and many more. Download all these albums of Ustad Bismillah Khan and relive the magic of his Shehnai. You can also listen to all the Ustad Bismillah Khan songs on Saregama Carvaan.
Having suffered a cardiac arrest, Ustad Bismillah Khan passed away on August 21, 2006, at the age of 90. His Shehnai was also buried with him in his grave at Fatemain burial ground, under a neem tree. In addition to declaring a day of national mourning, the Indian Army fired their trademark salute, marking the maestro's departure.
We would not have realized the true potential of Shehnai without Bismillah Khan. Such was his impact on popularizing the subcontinental instrument Shehnai, which belongs to the oboe class. The instrument once thought of as a folk instrument has been recognized as being a classical instrument. Further, it attracted Asian music lovers and made millions of Westerners acknowledge and appreciate the potential of Shehnai, all thanks to Bismillah Khan. He had fallen in love with his instrument so much that he would often refer to it as his 'Begum.' Falling in love with something is one thing; making millions of others fall in love with it is another. It is precisely what the legendary musician accomplished in his time as the world's most loved Shehnai player.
Listen to Ustad Bismillah Khan songs with Saregama and get ready to be blown away by it's charming tunes.