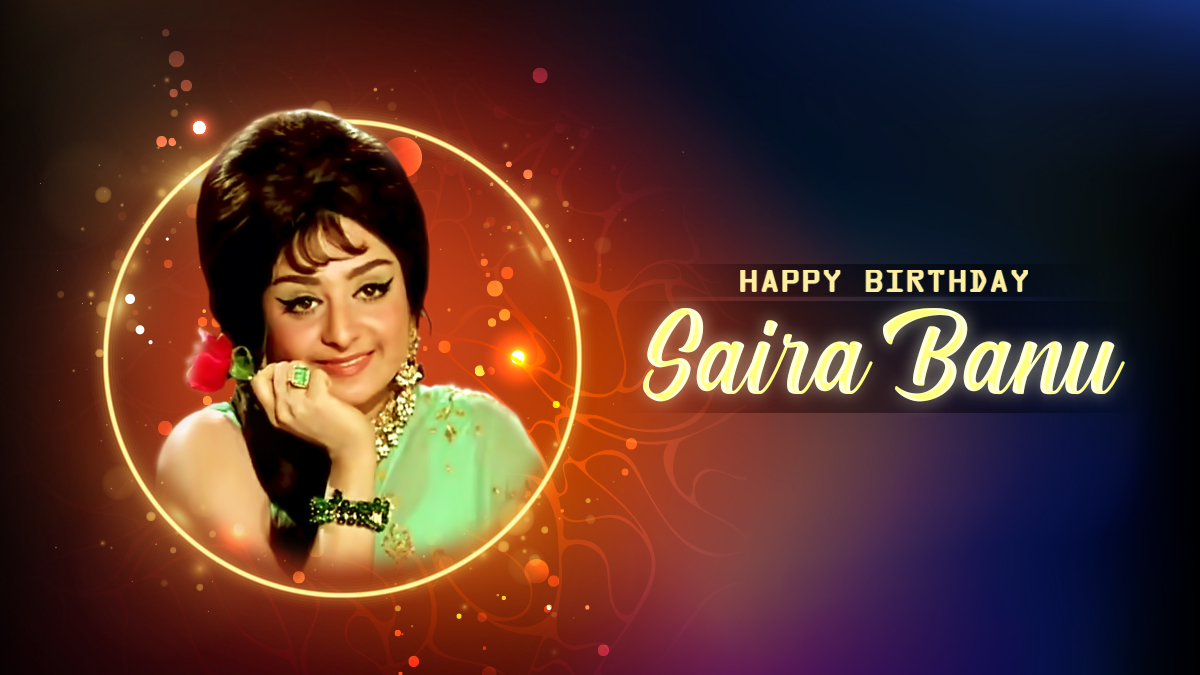 As Saira Banu turns 77 today, Saregama wishes the ever elegant, legendary, and beauty queen of Bollywood a very happy birthday. Although the love of her life, yesteryear Bollywood superstar Dilip Kumar left the world last month, it is an opportune time to reflect and reminiscence her life, exceptional film career, and the epic real-life love story. 
On 23rd August 1944, Saira Banu was born to Naseem Banu and Mian Ehsan-ul-Haq. Her mother was one of the popular actresses in the 1930s and 40s, who was known as the beauty queen of the movie industry in that era. Unsurprisingly, the daughter too was synonymous with beauty, glamour, and charm throughout her successful journey as an actress and even beyond that. Her father was a film producer. 
Being born in a family with a film background, the young Saira was enamored by all things related to cinema. She always dreamed of becoming an actress just like her mother. It is worth noting that Saira wanted to play the lead role and never accepted the second lead. Her passion and love for cinema finally paid off when she was cast as the female lead opposite superstar Shammi Kapoor in Junglee 1961. The rest is history as the movie had many first. 
Junglee was the first color movie of Bollywood, and it became a superhit, loved by the audience. It was not only her first film, but she was for the first time nominated in Filmfare Awards in the best actress category as well. Thus, began her dream journey in Bollywood where she achieved one milestone after another. She went on to act with major superstars of that era such as Dev Anand, Rajendra Kumar, Dharmendra, Manoj Kumar, Vinod Khanna, Amitabh Bachchan, and of course her husband Dilip Kumar. Some of her hit movies include Bluff Master 1963, Purab Aur Paschim 1970, Jwaar Bhata 1973, Chaitali 1975. She also received Filmfare nominations for movies Shagird 1967, Diwana 1968, and Sagina 1974. In a career spanning more than 15 years, she gave many memorable performances and stole hearts with her style and beauty. You can celebrate Uttam Kumar's Birthday by listening to his songs, one can download high-quality mp3 songs from saregama website.
Saira Banu is well known for smash-hit songs such as Main Chali Main Chali, Dil Vil Pyar Vyar, Ehsan Tera Hoga Mujh Par, Choti Si Umar mein Lag Gaya, Unse Mili Nazar Ke Mere. You can listen to these songs on Saregama Carvaan. 
Besides her dream to become an actress, Saira Banu had another dream. It was to marry the tragedy king of Bollywood, Dilip Kumar, whom she fell in love with at the tender age of 12. Later, the love and admiration became mutual as Dilip Kumar also fell in love. When destiny came calling, both got married in the year 1966. Although she was 22 years younger than Dilip Sahib, their love story is still an inspiration for many in Bollywood. She was a strong support during the highs and lows of life throughout the last four decades and took care of Dilip Sahib till his last breath.
After their marriage, Saira continued acting in movies, and her movie Padosan 1968 opposite Sunil Dutt is a cult classic. Later, she quit her acting career with the last movie Nehle Pe Dehla in 1976. 
Even after many decades, Saira Banu's performances continue to mesmerize her fans and cine lovers alike. On Saira Banu's birthday, Saregama wishes her long, happy and healthy life ahead.