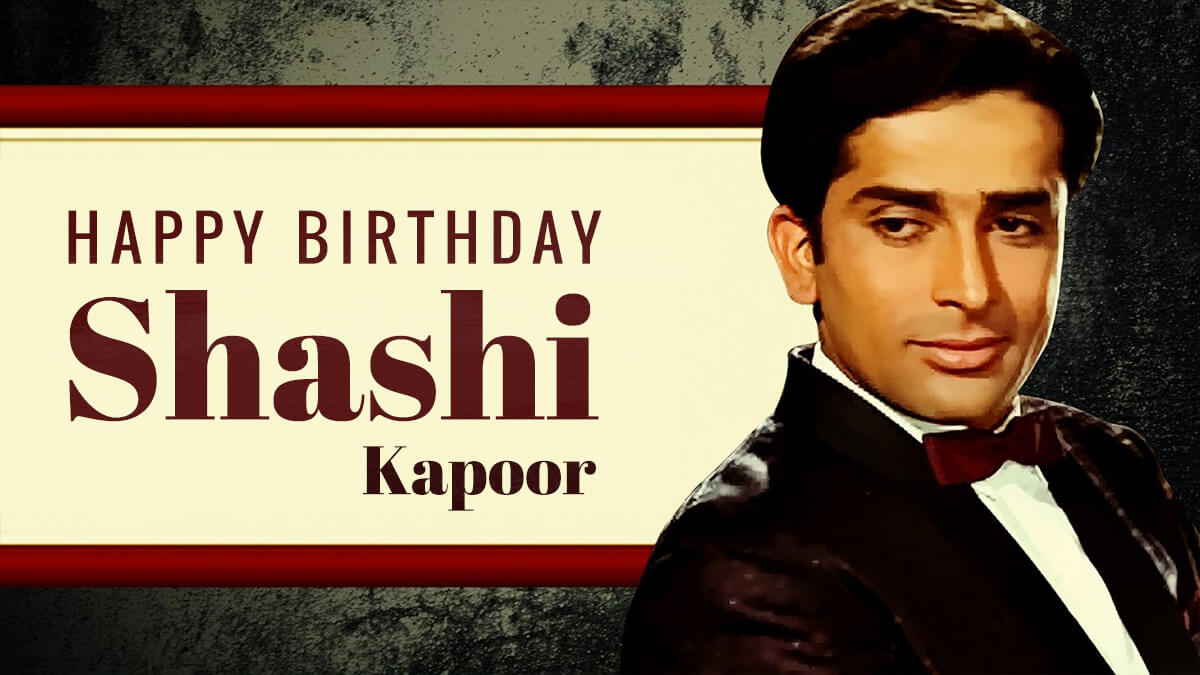 Coming from the lineage of Kapoor family, Shashi Kapoor was a Bollywood legend who left a legacy of his own. He was essentially known as the undisputed charmer of Bollywood. 
But, under the veneer of soft romance, sophisticated language and the disarmingly charming image, he was a compelling actor remembered for some powerful performances. Later, as a visionary of his time, he wore the hat of the producer and director for some defining classics of Bollywood's golden era.
If you have ever seen and heard the song Khilte Hai Gul Yahan from the movie Sharmeelee -1971, one can easily gauge the kind of actor he was. The evergreen actor was more about subtle romance, almost gentlemanly unlike the many other superstars of his time. Many of his female co-stars attest to this fact. 
Then, there was his distinct smile and dialogue delivery which melted the urban women more so because of his suave and dignified acting style. Another reason for this uniqueness could be the theatre background from which he rose to become a star. 
The stardom wasn't easy to come by. Remember, he was the brother of Raj Kapoor- the showman of Bollywood and Shammi Kapoor – the melodramatic Elvis Presley of India. But, he was neither of them. It was down to earth, idealistic, romantic roles which earned him his rightful place in Bollywood and world cinema.
His father, Prithviraj Kapoor was one of the pioneers of the Bollywood industry who started Prithvi Theatres in the 1940s. Shashi Kapoor started off as a child actor in films like Aag – 1948, Awaara – 1951 made in Prithvi Theatre.
After a decade later, in the year 1961, he made his debut in Yash Chopra's Dharamputra. His major break came in 1965 with the movie Jab Jab Phool Khile. Light-hearted romance, powered by his charismatic presence was loved by the audience.
He was a pioneer in method acting. Opting for versatility, he did many lead roles and supporting roles. Some of his biggest hits were Deewar, Namak Halal, Sharmeelee, Waqt, Trishul, Satyam Shivam Sundaram, Shaan.
The year 1960s – 1980s was the age of multi-starrers in Bollywood. He co-starred with Amitabh Bachchan in many of the popular movies. The angry young man image of Amitabh Bachchan was well completed by Shashi Kapoor's idealistic roles.
The memorable dialogue from the movie Deewar – "Mere Paas Ma Hai", delivered by Shashi Kapoor is etched forever in the minds of Bollywood movie lovers.
He was not in the league of his contemporaries like Rajesh Khanna, Dev Anand or Amitabh Bachchan. But he imbued his performances with sincerity and integrity. And perhaps, he was destined to do be something more. 
He pioneered art-house films and produced some of the most memorable movies like Shyam Benegal's Junoon and Kalyug, Govind Nihalani's Vijeta, Girish Karnad's Utsav. These movies won the accolades of critics.

He also produced 36 Chowringhee Lane for a female director, Aparna Sen, which was against the tide of the times.

He was India's first actor to go international. After stints in theatre, he acted in many notable British and American films. He acted in several Merchant Ivory productions like Shakespeare Wallah, Bombay Talkie, Muhafiz and many more.
Though he was averse to dance and music, he acted in some hit old Bollywood songs like Teri Rab Ne Banadi Jodi, Pardesiyon se na ankhiyan milana, O Meri Sharmilee, Tune Abhi Dekha Nahi and more. If Le Jayenge Le Jayenge is one of the most popular tracks for Indian weddings even today, Likhe Jo Khat Tujhe is an evergreen classic sung by Mohammed Rafi.
He received Dadasaheb Phalke Award in 2015, Padma Bhushan in 2011 and two Filmfare Awards recognizing his contribution to Indian cinema. He also won three National Film Awards for Muhafiz (1993), New Delhi Times (1986), Junoon (1978). Listen to the super hit Shashi Kapoor songs in Saregama Carvaan.
From chocolate boy image to gentleman of Bollywood's golden era, the memories of the actor Shashi Kapoor remains forever. Saregama pays rich tribute to the Bollywood legend.