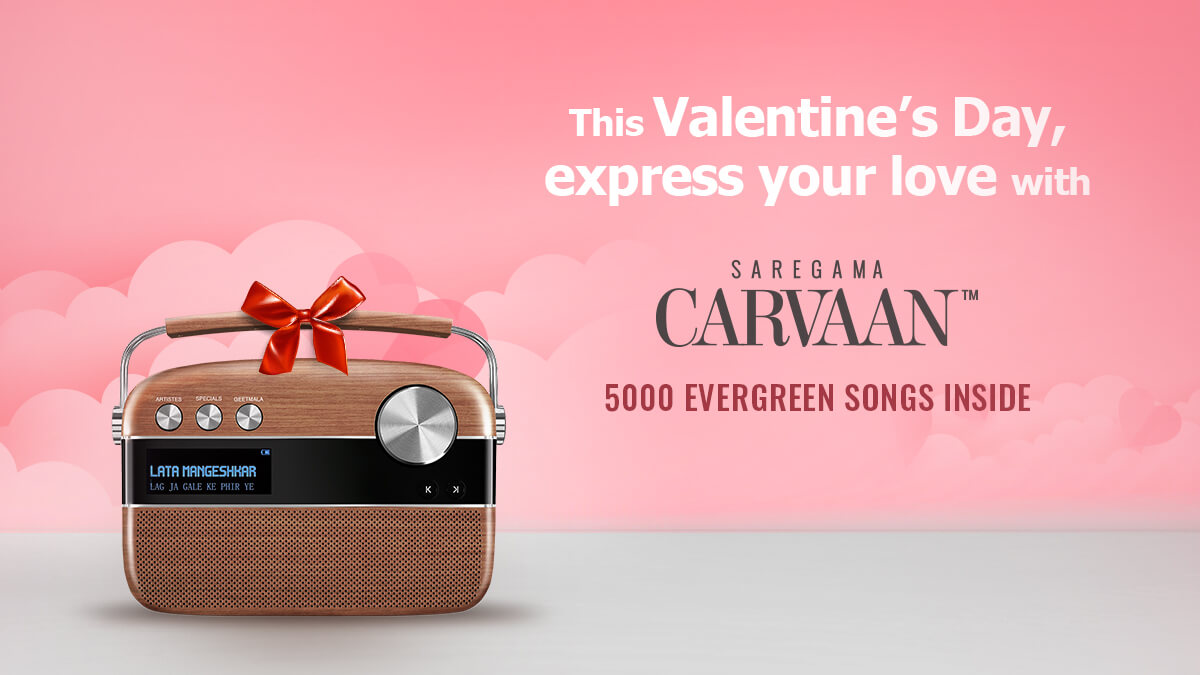 Valentine's Day is a day that defines love and romance. People all over the world express their gratitude and affections towards their loved ones on this day. It is an annual event that is celebrated on 14th Feb in honour of the Christian Martyrs name Saint Valentine.
It is the day, which is considered very romantic, but it's not significant for just couples. Your beloved and loved ones can also be your Valentine. One way of expressing your love on Valentine's Day is by gifting something special. There are many gifting options that you can choose on Valentine's Day.
Are you looking out for the perfect Valentine gift?
This Valentine's you have the opportunity to surprise your real valentines, your parents, grandparents and other elders with the gift of music. Valentine's Day can be the day when you get to thank the elders from your family with Saregama Carvaan. Saregama Carvaan is a retro-looking music player, which has 5000 evergreen Hindi songs.
Saregama Carvaan is the best gift you can give to your parents or grandparents. They can listen to all their favourite Hindi classic Bollywood songs and recollect their days of romance. Earlier our parents and grandparents didn't have different forms of entertainment like televisions and computers. The only thing that was close to their hearts was music.
There can be no better art form than music to express and share the love. Saregama Carvaan will be a medium for the older generation to express their affection towards each other in their style. The retro songs will also bring back their golden memories to life. Portray the love for your elders this Valentine's day in a unique way.
Saregama Carvaan is loaded with striking features. The pre-loaded 5000 songs are categorized based on lyricists, actors, singers, music composers and specials. Hits from singers like Kishore Kumar, R.D Burman and songs from movies featuring megastars like Amitabh Bachchan and Rajesh Khanna can set the valentine mood right for your parents and grandparents.
Carvaan also offers curated stations like romantic, sad, Gurbani and much more. It also has the feature where your elders can relax and listen to music on their favourite radio stations. The portable digital audio player can be connected through USB, Bluetooth and AUX. Saregama Carvaan is also available in other regional variants like Carvaan Tamil, Carvaan Punjabi, Carvaan Marathi, Carvaan Bengali and more.
This Valentine's let the tune love and music reach all your dear ones.