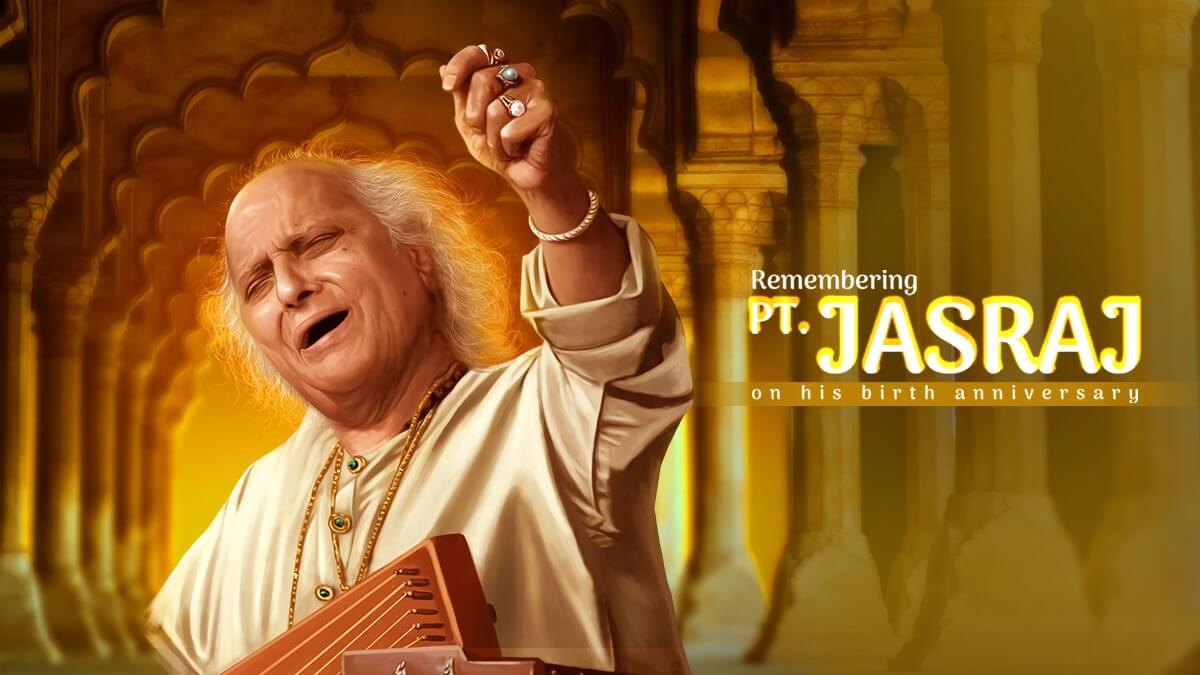 Pandit Jasraj is one of the most popular Indian vocalists who made a mark around the globe. Pandit Jasraj was born on 28th January 1980 in Pili Mandiri, a small village in Hisar district of Haryana. He was born in a Brahmin family to Pandit Motiram and Krishna Bai. Pandit Motiram was a classical singer, Jasraj was the youngest of three sons and lost his father at the age of just four. The eldest brother was vocalist Pandit Maniram who took care of Jasraj after their father.
The immediate elder brother of Pandit Jasraj was Pandit Pratap Narayan, who was the father of the composer duo Jatin Lalit, singer-actress Sulakshana Pandit and actress Vijeta Pandit. It was Pandit Pratap Narayan who taught Jasraj to play the table at the age of seven. When Jasraj turned fourteen, he gave up on tabla and decided to only be a singer.
During his early years, Jasraj spent his time in Hyderabad and often traveled to Sanand in Gujarat to study music with the Mewati Gharana. Jasraj also performed for the Thakur Sahib of Sanand, Jaywant Singh Waghela who was deeply dedicated to classic music and also received training under him. Jasraj would practice singing for almost 14 hours a day when he was young. At the age of 22, Pandit Jasraj performed his first stage concert in the court of King Tribhuvan Bir Bikram Shah of Nepal in Kathmandu. Before becoming a stage performer, Pandit Jasraj performed on the radio for many years before being a stage performer.
Pandit Jasraj all worked on innovations in semi-classical musical styles like Haveli Sangeet. He also sang classical and semi-classical compositions like "Vandana Karo" from the film Ladki Sahyadri Ki, a duet with the famous vocalist Bhimsen Joshi and a ballad, Vaada Tumse Hai for the horror film 1920.
The musical career of Pandit Jasraj spanned over 75 years. Through his outstanding contributions to music, he gained both national and international fame and respect. He also won hundreds of major awards and accolades. He popularized the Mewati Gharana- a school of thought in Hindustani Classical Music. He was also taught music and was a Guru to many amateur and professional students in India, Europe and the United States.
We lost the beautiful and graceful presence of Pandit Jasraj in August 2020. You can listen to the exceptional singing of Pandit Jasraj on the Saregama Carvaan Premium, a digital audio player with 5000 in-built classic songs. The retro-looking music player also has features like Bluetooth and USB connectivity. You can also listen to your favourite radio stations on the Saregama Carvaan.
On his 91st Birth Anniversary, Saregama remembers the classical performer Pandit Jasraj and his love for music.