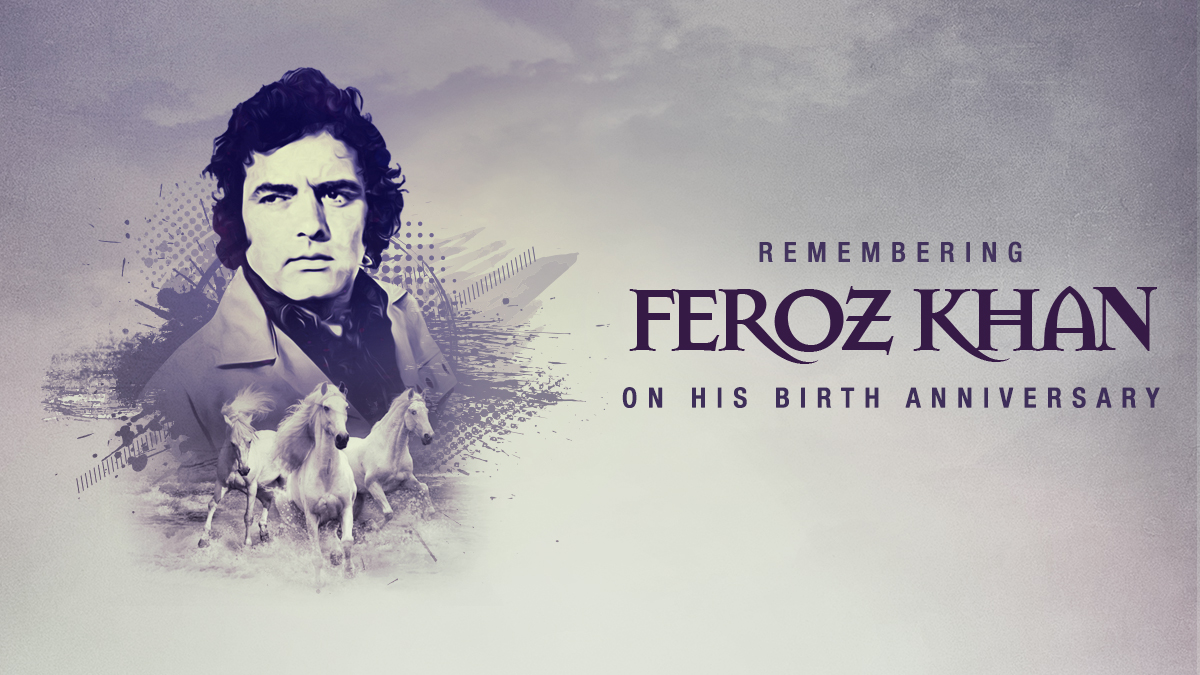 An Indian actor, producer, film director, and editor who was best known for his wild west style of films, Feroz Khan appeared in over 60 Bollywood movies and became a style icon for his distinct fashion as well as directorial choices.  
Born on the 25th of September 1939 in Bangalore, India, Feroz Khan completed his schooling at Bishop Cotton Boy's School and St. Germain High School in Bangalore. After completing his schooling, he traveled to Bombay to try his luck at acting and that is how he made his debut in the 1960 film Didi as a second lead.  
Throughout the era of the 1960s and 1970s, Feroz Khan made low-budget thrillers, starring opposite starlets, and also worked in an English movie by the title Tarzan Goes to India. Though his first big hit came in 1965 with Phani Majumdar's Oonche Log where he starred opposite big names like Raaj Kumar and Ashok Kumar. He delivered a notable performance, holding his own in the film. His big break was followed by many small-budget hit films like Samson, Ek Sapera Ek Lootera, and Char Darvesh. After his brilliant performance in the movie Arzoo, Feroz Khan started getting many big roles.  
He played A-list second leads in big films like Khotey Sikke, Geeta Mera Naam, Pyasi Shaam, Shankar Shambhu, and Safar, Upasana, Mela, and Nagin.  
Apart from being a talented actor, Feroz Khan then tried his luck at directing films. He had a distinct taste and he was known to have wild westside themes, with glamourous women in slinky outfits, cowboy boots, and dramatic music in his films. His first directorial was 1971's Apradh where he co-starred opposite Mumtaz. He also produced, directed, and acted in the 1975 film Dharmatama. The film was the first-ever film to be shot in Afghanistan, and also his first blockbuster hit as a director, producer, and actor. The film was inspired by the Hollywood film The Godfather. 
Feroz Khan also got offers outside of Hindi cinema and he starred in Punjabi films like Bhagat Dhana Jat in 1974. He also directed and produced the 1980 film Qurbani starring opposite Vinod Khanna and Zeenat Aman. The film turned out to be the biggest hit of Feroz Khan's career. His 1986 directorial film Janbaaz is considered his best film with a star-studded cast, great songs, and excellent cinematography. He went on to give many more hits, but his 1992 film Yalgaar turned out to be his last film before he took a long break from acting that lasted 11 years. 
Feroz Khan's last appearance is marked in the 2007 comedy film Welcome with a star-studded cast of Akshay Kumar, Anil Kapoor, Nana Patekar, Katrina Kaif, and Paresh Rawal, and Malika Sherawat. Though Feroz Khan stole the show with his character of RDX. He played the character of a mafia boss. The film was well-loved and a box office super hit.  
Feroz Khan had a long battle with cancer and he, unfortunately, succumbed to his lung cancer on 27th April 2009 at the age of 69. During his treatment, he returned to rest in peace at his farmhouse in Bangalore. After his rites, he was buried near his mother's grave in Bangalore.  
Some of his best-known films include Aurat (1967), Safar (1970), Mela (1970), Admi Aur Insaan (1970), Upaasna (1971), Aparadh (1972), Khotey Sikkey (1974), Kala Sona (1975), Dharmatma (1975), Qurbani (1980) amongst others. Along with being an actor, Feroz Khan was also a talented director. Some of his famous directorial are Jaanbaaz (1986), Dayavan (1988), Meet Mere Mann Ke (1991), Yalgaar (1992), Aggan (1998), Janasheen (2003), amongst others. Download High Quality mp3 songs from saregama website.
Feroz Khan won Filmfare awards and B.F.J.A award for Best Supporting Role for his movie Aadmi Aur Insaan. He won the IIFA awards for Best Performance in Negative Role for Janasheen. In 2001, he was given the Filmfare Lifetime Achievement Award. He received the Zee Cine Awards for Lifetime Achievement and he was given the Stardust Pride of Industry Award in 2009. 
On the occasion of Feroz Khan's birthday, Saregama celebrates his life and contribution to Indian Cinema. 
Now you can listen to the top hits of Feroz Khan on Saregama Carvaan. Saregama Carvaan is a portable digital player that comes with 5000 preloaded evergreen Hindi songs that you can enjoy anytime without ad breaks or an internet connection. It also consists of other features like Bluetooth, FM/AM radio, USB, and AUX connectivity.