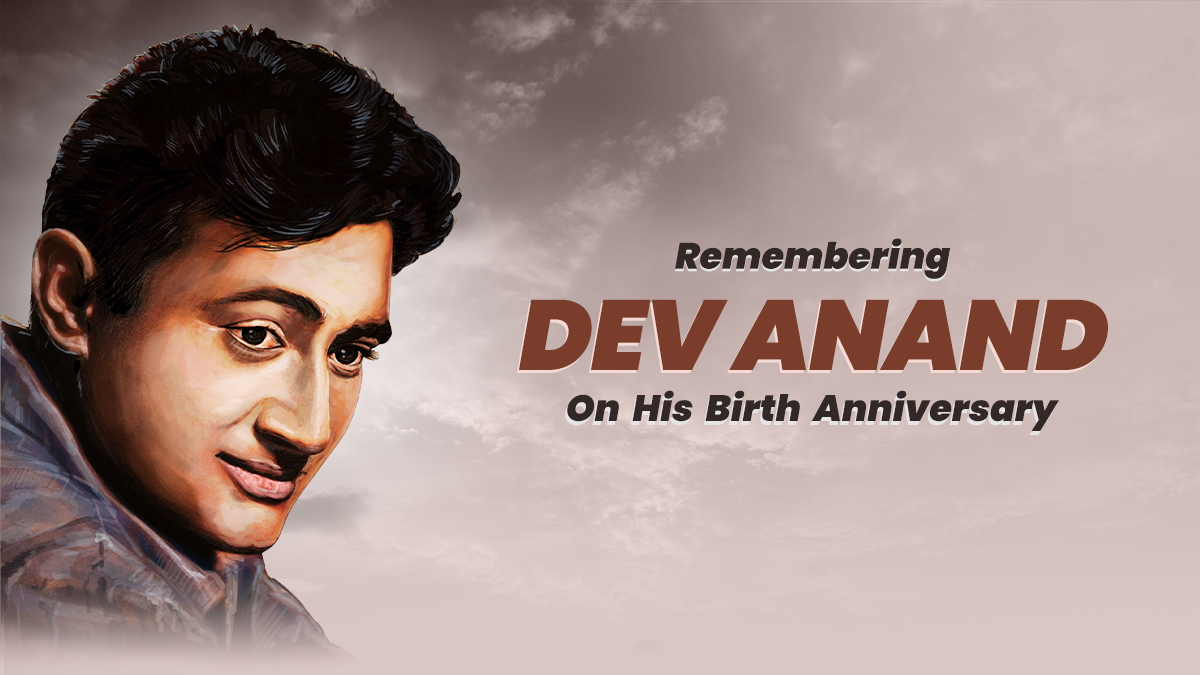 While some people managed to find a peak stage in their cinematic career, Dev Anand was at the peak of his life all his life. The ultimate flamboyant and charming silver screen star, Dev Anand was an Indian actor, director, film producer, writer, and the King of romance in Indian cinema. Known for his ever-infectious zeal for life and charisma that made hearts stop even till his last days, Dev Anand, or reverently known as Dev Sahab believed in living life in every moment. With a career spanning over six decades, he is known as the most successful actor in the Indian film industry.  
Many actors love acting, but Dev Sahab's passion for films was something you don't stumble upon easily, that maybe that is why he kept working even when most of his colleagues retired. Even till his last days, Dev Sahab was busy scripting, directing, and producing films. And maybe not all of his later movies made huge commercial hits, Dev Sahab never made movies to make money. He made movies because he loved movies. A Dev Anand film wasn't measured on a scale of hit or flop, they're an institution on their own, that reflects the evergreen, legendary zeal of one of the most famous Indian actors to ever live.  
Born on the 26th of September 1923 as Dharmadev Pishorimal Anand in a district of Punjab, Dev Sahab started his film journey after the completion of his B.A degree. He first started working as a clerk before he joined his older brother, as a member of the Indian People's Theatre Association. Dev Sahab was aspired to become an actor after watching the performance of Ashok Kumar in the movie Achuyt Kenya and Kismet.
He gatecrashed into the office of Babu Rao Pai of Prabhat Studios. Babu Rao Pai saw something in Dev Anand that struck him and soon Dev Sahab was given his first lead role in Prabhat Film's Hum Ek Hain. During the shooting of the movie in Pune he became good friends with another legendary director of Indian Cinema; Guru Dutt.  
It was the late 1940s where Dev Sahab started working with famous actress Suraiya. A romance blossomed on the sets of their movies, as they did seven films together. A romance that lasted a lifetime even though the couple didn't. Suraiya at the time was a bigger star than Dev Sahab but they madly fell in love after Dev Sahab saved Suraiya from drowning after their boat capsized during the filming of a song.
But their love was left unfinished as Suraiya was a Muslim and Dev Sahab was a Hindu. Amongst the seven films they did together, all of them were great box-office successes. Vidya (1948), Jeet (1949), Shair (1949), Afsar (1950), Nili (1950), Do Sitaare (1951), and Sanam (1951). Even though their onscreen pairing was widely loved, and their offscreen romance became the headline of newspapers for weeks, they couldn't be together. Although Dev Anand often spoke about Suraiya with fondness years later in his many interviews.  
Dev Anand's first big break came from actor Ashoke Kumar who saw him roaming around on the sets and decided to give him the lead role in the film Ziddi (1948). The film was an instant hit and from there onwards, with an eternal charm that is the signature of Dev Sahab and his chocolate boy face, he became the top romance actor in the industry.  
Some of his famous 1950s films include Baazi (1951), Jaal (1952), House No. 44 (1955), Pocket Maar (1956), Funtoosh (1956), Paying Guest (1957), Solva Saal (1958), Kala Bazaar (1960), Kala Paani (1958), amongst others. One can download high quality mp3 song from saregama website.
In the 60s, Dev Sahab acquired a romantic image with his superhit films like Manzil, Tere Ghar Ke Saamne, Kinare Kinare, Asli-Naqli, Jab Pyaar Kisise Hota Hai, Teen Deviyaan, Hum Dono, Guide, Jewel Thief, and Jhony Mera Naam amongst others. He is also known as the legendary romance hero of Indian Cinema.  
The craze of Dev Anand was so intense that it was suspected that Dev Sahab was legally banned from wearing a black coat because he looked so handsome in black coats that his female fans would climb buildings just to have a glimpse of him and commit suicide. After a couple of unfortunate incidents, he stopped wearing black coats.  
After living a legendary life, Dev Sahab died at the age of 88 in his room in London after suffering a cardiac arrest. His service was held in a small chapel in London and his ashes were brought back home. 
The list of awards, accolades, and honors given to Dev Sahab runs long. He was the recipient of four Filmfare Awards; two for Best Actor, one for Best Film for his Film Guide, and the Filmfare Lifetime Achievement Award. In 1965 he received the National Film Award for Best Feature Film In Hindi for Guide. In 2001 he was honored with the third-highest civilian honor in the country; Padma Bhusan given by the Government Of India and in 2002, he received India's highest award for Cinematic Excellence; Dadasaheb Phalke Award.  
On the occasion of Dev Anand's birthday, Saregama celebrates his life and contribution to Indian Cinema.  
Now you listen to all-time hits of Dev Anand on Saregama Carvaan. Saregama Carvaan is a portable digital player that comes with 5000 preloaded evergreen Hindi songs that you can enjoy anytime without ad breaks or an internet connection. It also consists of other features like Bluetooth, FM/AM radio, USB, and AUX connectivity.