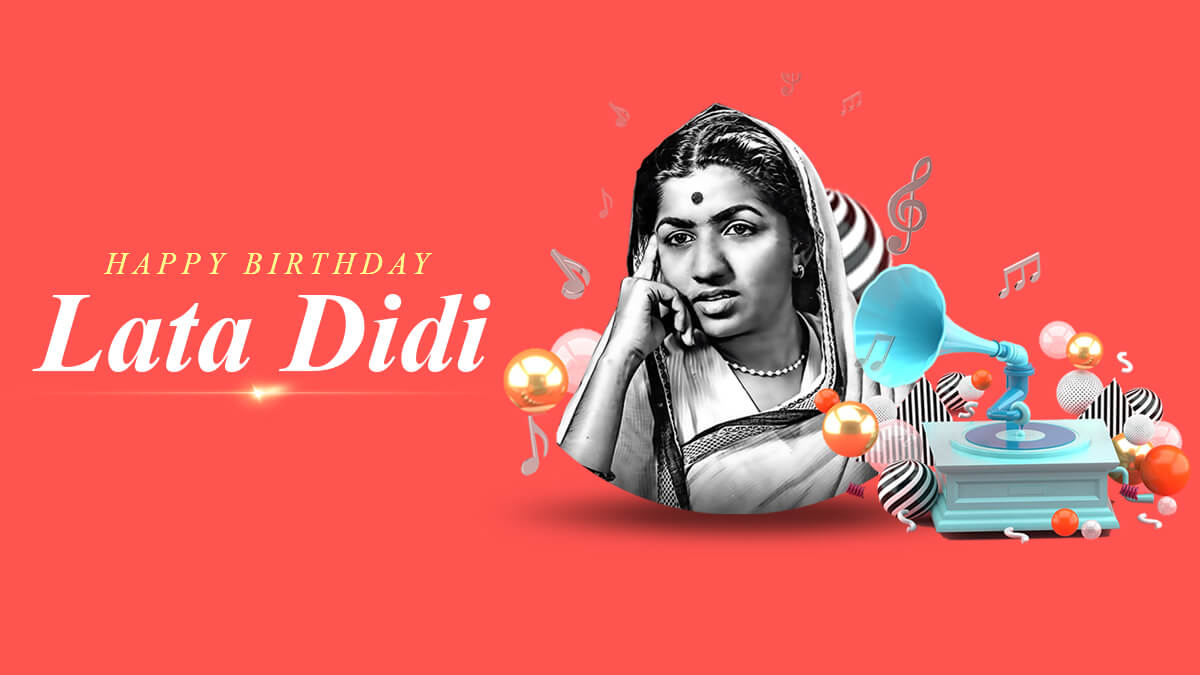 Lata Mangeshkar is the most respected Indian playback singer who has recorded over a thousand songs for Hindi cinema and gave her voice to songs in over thirty-six regional Indian and foreign languages as well. Born in the year 1929; Lata Mangeshkar was the eldest daughter of the Mangeshkar family. Her father Pandit Deenanath Mangeshkar was a classical singer and a theatre actor.
Lata Mangeshkar was just 13 when she lost her father. Master Vinayak, owner of the Navyug Chitrapat movie company and a close friend of the Mangeshkar family helped young Lata to get her career started as a singer and actress. She sang her first song, "Naachu Yaa Gade, Khelu Saari Mani Haus Bhaari" for the Marathi film Kiti Hasaal in the year 1942. The first Hindi song that she sang was "Mata Ek Sapoot Ki Duniya Badal De Tu" for the Marathi film Gajaabhaau.
In 1945, Lata Mangeshkar moved to Mumbai and started taking Hindustani Classical music lessons from Ustad Amad Ali Khan of Bhindibazaar Gharana. She sang "Paa Lagoon Kar Jori" for the movie Aap Ki Seva Mein in 1946. Lata Mangeshkar lost the shadow of Vinayak in 1948, and this is when she was mentored ahead by Ghulam Haider. Haider was also the one that gave Lataji her first major break with the song "Dil Mera Toda, Mujhe Kahin Ka Na Chhora" for the movie Majboor. The song is still considered as her biggest hit.
Throughout the '50s, Lataji worked with many well-known composers and music directors like Anil Biswas, Shankar Jaikishan, Naushad Ali, S.D. Burman, Amarnath, Husanlal and Bhagatram for films like Bari Behen, Meena Bazaar, Aadhi Raat, Chhoti Bhabi and Afsana. Lata Mangeshkar sang "Sri Lanka, Ma Priyadara Jaya Bhumi", a song in Sinhala for a Sri Lankan film Seda Suland. She also sang the song "Vanaradham" and made her Tamil playback debut.
One of the most famous Lata Mangeshkar songs is "Pyaar Kiya Toh Darna Kya" from Mughal-e-Azam released in 1960, composed by Naushad and performed by the elegant Madhubala. She also sang the popular Hawaiian-themed track "Ajeeb Dastaan Hai Yeh" from the film Dil Apna Aur Preet Parai, composed by Shankar Jaikishan.
The illustrious career of Lata Mangeshkar and her contribution to the Indian music industry won her the title of "The Nightingale of India." In the next three decades, the '60s, '70s and 80's Lata Mangeshkar became a global star.
Some of all the famous songs in the voice of Lata Mangeshkar are "Hothon Pe Aisi Baat", "Kitni Akeli Kitni Tanhaa","Lag Jaa Gale" and "Tu Jahan Jahan Chalegi." She sang over 700 songs for the music director duo Laxmikant-Pyarelal. Her duets with Mukesh, Manna Dey, Mohd.Rafi and Kishore Kumar became all-time hits.
You can now listen to all your favorite Lata Mangeshkar songs on Saregama Carvaan, a digital audio player with 5000 in-build old Hindi songs. The portable audio player also has features like Bluetooth and USB connectivity with FM/AM. The regional songs by Lata Mangeshkar can also be enjoyed on the different regional variants of the Carvaan like Carvaan Marathi, Carvaan Tamil, Carvaan Punjabi and Carvaan Malayalam.
Saregama wishes the Bharat Ratna, Lata Didi on her 91st Birthday. We celebrate all her musical contributions to date and always hope for her safety and health.