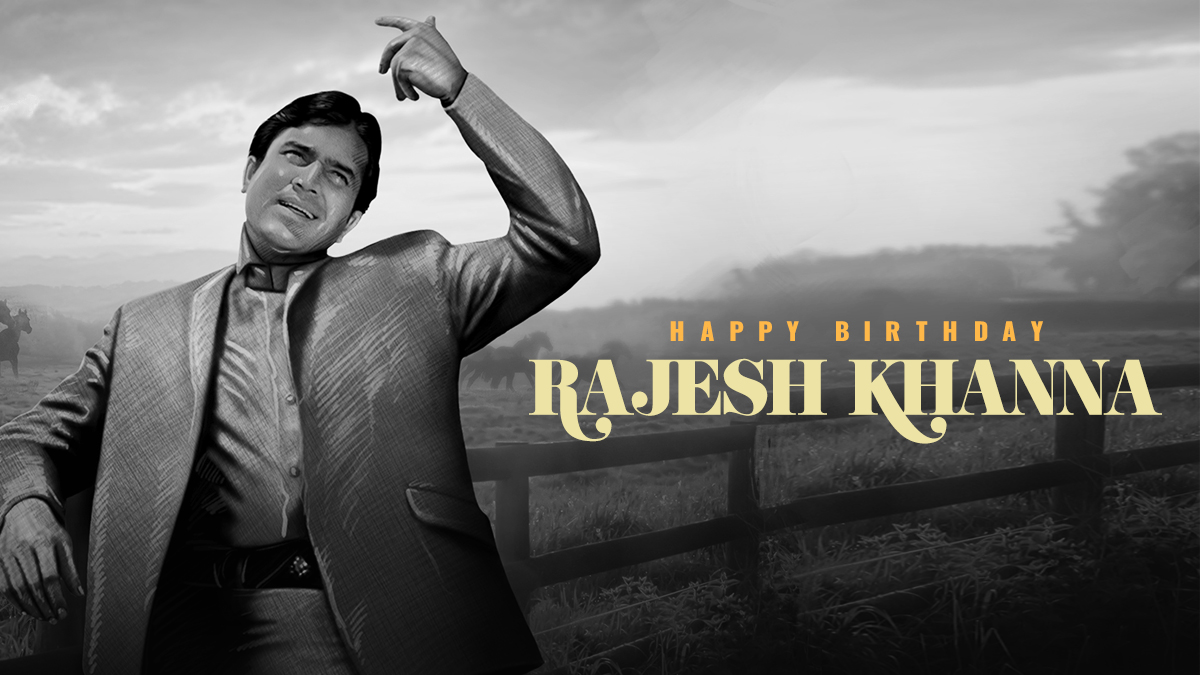 Rajesh Khanna was the original superstar, the romance king, and a doyen among the actors. His performances made one gasp for breath and others found it difficult to grasp how he did it nonchalantly and with so much ease.
In many ways, he was the first superstar of Indian cinema. The love, adoration and worship that he received from his legion of fans were unprecedented. The hysteria created was unseen and unheard of before and since Rajesh Khanna. In his heydays, it is said that his female fans would queue up to get a glance of him. His wardrobe choices, car and even his photographs were to die for as it seemed.
Maybe it was his good looking and charming on-screen persona, the signature romantic style which eschewed gestures and rather focused on gaze, or smooth dialogues likes "Pushpa, I hate tears" that earned him so much love. Another highlight of Rajesh Khanna's super-stardom is the evergreen Hindi songs, mostly sung by Kishore Kumar. They are timeless and perhaps the top Bollywood songs of the generation.
'Kaka' as he was lovingly called by his fans made his debut with the movie Aakhri Khat – 1966. He worked in movies like Raaz, Aurat in the following years. But the movie that catapulted him to the top was Aradhna-1969.
It was destiny that music composer R. D. Burman, legendary singer Kishore Kumar, and the actor Rajesh Khanna came together for this film directed by Shakti Samanta. The movie was a super hit and so were the trio.
Mostly fondly remembered Hindi songs Roop Tera Mastana and Mere Sapno Ki Raani were part of this movie. It still gives a sense of deja vu to the listeners and engulfs us with romantic love.
Other defining performance came in the movie Anand – 1971, directed by Hrishikesh Mukherjee. It was a big hit with memorable performances from Rajesh Khanna as Anand and of course co-star Amitabh Bachchan. The famous calling out of Babu Moshay and the climax scene left everyone teary-eyed. The lines like 'Zindagi badi honi chahiye, lambi nahin' became life philosophy for many. The poignant performance left everyone speechless.
Hit movies like Namak Haram-1973, Amar Prem – 1972, Daag – 1973, and Aap Ki Kasam – 1974 followed.
Once upon a time, before Hindi cinema became a loud spectacle, thoughtful characters ruled the hearts and deep individuality was on display. Whether it was love, friendship or family, Rajesh Khanna expressed those emotions on a personal level and not social.
It is therefore not surprising that he has the unbroken record of 15 consecutive hits from 1969 till 1972-73 to his name even today.
As mentioned before, none of the superstars had as many classic Hindi songs to his name as Rajesh Khanna. Many of the movies have multiple hit songs. Some of his most popular songs include:-
Ye Jo Mohabbat Hai, Yeh Shaam Mastani, and Pyaar Deewana Hota Hai (Kati Patang 1971)
Chingari Koi Bhadke, Yeh Kyu Hua (Amar Prem – 1972)
Ek Ajnabee Haseena Se, Bheegi Bheegi Raaton Mei (Ajanabee – 1974)
Others include Zindagi Ka Safar -Safar – 1970, Aate Jaate Khoobsurat – Anurodh – 1977, Kuch Toh Log Kahenge – Amar Prem – 1972, O Mere Dil Ke Chain – Mere Jeevan Sathi – 1972. The list goes on!
You can listen to the best Rajesh Khanna songs on Carvaan Premium. Pre-loaded with 5000 songs, find a vintage collection of Hindi songs for your listening pleasure.
Rajesh Khanna received Filmfare Best Actor Award – 3 times, BFJA Award for Best Actor – 3 times, and was posthumously awarded Padma Bhushan in 2013.
There is a line from his movie which says, 'Anand mara nahi, Anand marte nahi'. It indeed rings true. The legacy that he has left will remain forever with us.
You may also like
//www.saregama.com/blog/meet-the-master-singer-mohammad-rafi-5-things-you-should-know-about-him/
//www.saregama.com/blog/ameen-sayani-a-celestial-voice-who-knows-the-soul-of-bollywood-songs/
//www.saregama.com/blog/asha-bhosle-the-queen-of-indi-pop/