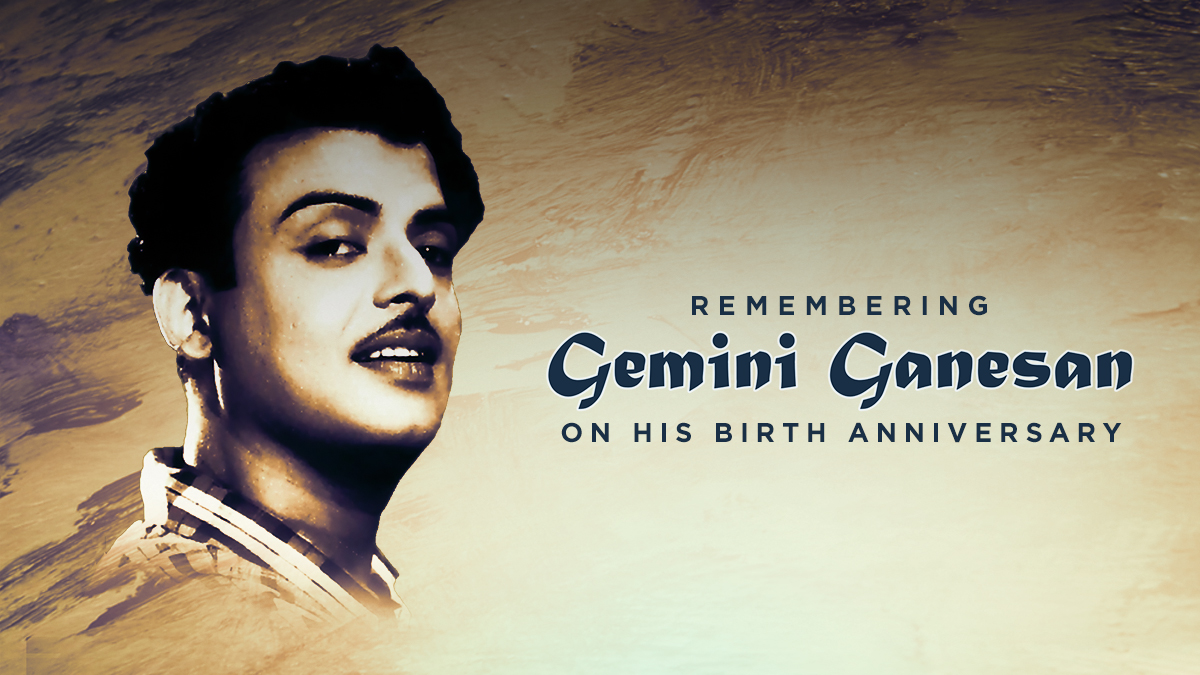 Ganapati Subramanian Sarma or Ramasamy Ganesan or popularly known by his stage name Gemini Ganesan was an Indian actor who worked predominantly in Tamil cinema. He was one of the three biggest names in Tamil cinema along with M.G Ramachandran who was known for his action films, Sivaji Ganesan who was known for his dramatic films, and Gemini Ganesan, best known for his romantic roles. The trio dominated Tamil Cinema.  
Born on the 17th of November 1920, Gemini was the son of Ramasamy Iyer, the son of Narayanswami, the principal of Maharaja College, Puddukottai. At the age of six, Gemini lost his grandfather and soon his father not long after. In order for him to get educated and grow up as a well-respected and literate man, his mother sent him to stay with his aunt who was very dismissive towards him.  
As his aunt was an avid follower of Ramakrishna, she enrolled Gemini into the Ramakrishna Mission Home where he was taught yoga and Sanskrit and made to read the Upanishads, the Vedas, and the Bhagwat Geeta. But unable to stay away from his mother, a young Gemini returned home to Puddukottai and completed his schooling there and later on from Madras Christian College, Chennai. 
At first, Gemini wanted to become a doctor but due to unfortunate circumstances, that dream couldn't be fulfilled which led to Gemini immediately seeking a job to support his family. He obtained work in the Gemini Studios as the executive producer, and from there the name Gemi I got prefixed to his name. It was from the casting department of Gemini Studios itself that Gemini Ganesan got his break into acting. 
From the casting department, Gemini made his debut in the 1947 film, Miss Malini in a minor role followed by another minor role in the film Chadradhari. He went on to do more minor roles but nothing came to fruition as his performances went by unnoticed. It wasn't until his negative role in the 1953 film Thai Ullam, that people take notice of him as an actor. His debut film as the lead actor came as Manam Pola Mangalyam, featuring him in a double role. He considered this to be a milestone in his life because this is where he met his future wife as well as from this film onwards, Gemini Ganesan went on to carve a niche for himself in the Tamil film industry, favoring romantic roles over any other. 
In his long career spanning over 50 years, Gemini Ganesan played a variety of roles, from Abhimanyu in Mayabazar in 1957 to Madasamy in Kappalottiya Thamizhan in 1961 to Pennin Perumai in 1960. Some of Gemini Ganesan's other works include Missiamma, School-Master, Kanavane, Kankanda Deivam, Shanti Nilayam, Ramu, Punnagai, Thamarai Nenjam, amongst others. 
Gemini also acted in several Hindi films that were a remake of the Tamil films like Miss Mary in 1957 which became one of the biggest Indian hits of that year. Others included Raj Tilak in 1958, Nazrana in 1961 amongst others. Later on in his career, Gemini switched to character roles. He was best complimented for his diversity of roles and his strong acting skills.  
Gemini Ganesan was the recipient of 2 Tamil Nadu State Film Awards, along with Filmfare Award for Best Tamil Actor and Filmfare Lifetime Achievement Award – South. In 1971 he was honored with Padma Shri, given by the Government of India. In addition, he was also the beholder of many other state awards and accolades.  
After a prolonged illness due to kidney failure and multiple organ failure, Gemini Ganesan took his last breath on 22nd March 2005 at their residence. He was cremated with full state's honor, prominent personalities like Tamil Nadu Chef Ministers paid their last respect to the veteran actor.  
On the occasion of Gemini Ganesan's birthday, Saregama celebrates his contribution to the Tamil film industry.  
Now you can listen to the top Gemini Ganesan mp3 songs on saregama.com or high-definition songs on Saregama Carvaan Tamil. Saregama Carvaan Tamil is a portable digital audio speaker that comes with 5000 preloaded evergreen Hindi songs that you can listen to any time without ad breaks or an internet connection. It also consists of other features like Bluetooth, FM/AM radio, USB, and AUX connectivity.