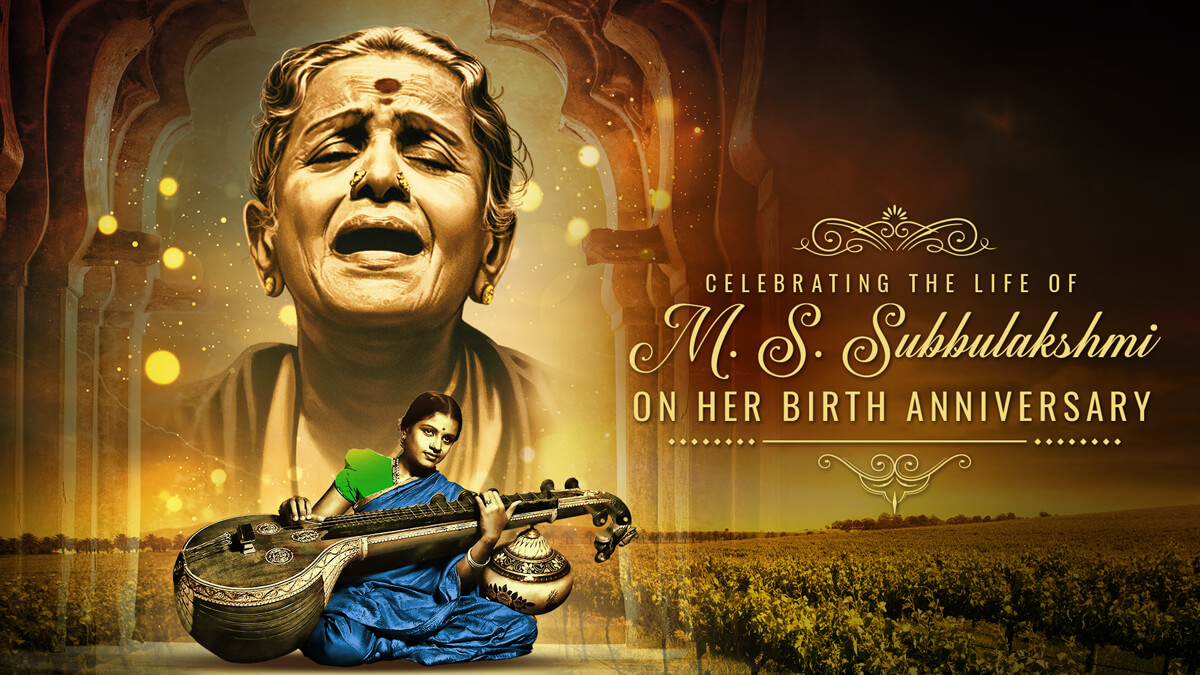 Madhurai Shanmukhavadivu Subbulakshmi, who is known to the world of music as the legendary M.S. Subbulakshmi was born on 16th September 1916 in Madhurai as the daughter of veena player Shanmukavadiver Ammal and Subramania Iyer.
Bharat Ratna M.S. Subbulakshmi was the very first musician to receive India's highest civilian honour. She is the very first Indian musician to receive the Ramon Magsaysay Award too. This award is often considered as Asia's Noble Prize. M.S Subbulakshmi was renowned as the leading exponent of classical and semi-classical songs in the Carnatic tradition of South India. She was also the first Indian to perform in United Nations General Assembly in the year 1966.
S. Subbulakshmi was trained for Carnatic music by her mother Shanmugavadivu. Later she also obtained training for Hindustani Classical music under Pandit Narayan Rao Vyas. The very first recording my M.S. Subbulakshmi was released when she was just 10 years old.
In the year 1929, she gave her first stage performance at the popular Madras Music Academy. She was just 13 when she performed. It was a performance that included Bhajans. During that time, the academy was said to be very biased with the selection process, but everything was kept aside when they invited a talented young girl as a highlight performer. Her performance was so good that she had already accumulated enough fans and admirers.
Her couple of debut performances made M.S. Subbulakshmi one of the leading Carnatic vocalists. By the age of 17, M.S.Subbulakshmi started with the concerts of her own. Not only did she perform at venues like the Madras Music Academy but also did international shows at London, New York and Canada. Throughout her career, she shared a great relation with Sree Ramaseva Mandali from Bengaluru. It was the year 1997 when M.S.Subbulakshmi stopped performing after the demise of her beloved husband.
S. Subbulakshmi was an idol for many upcoming singers and performers. Pandit Jawaharlal Nehru once praised her by saying, "Who am I, a mere Prime Minister before a Queen, a Queen of Music." Lata Mangeshkar also looked up to M.S. Subbulakshmi with much respect and called her Tapaswini. Some of Suubulakshmi's most popular renditions of bhajans are chants of Bhaja Govindam, Vishnu sahasranama, Hari Tuma Haro and the Venkateswara Suprabhatam.
You can listen to the greatest collection of M.S Subbulakshmi songs on the Saregama Carvaan Mini M.S. Subbulakshmi. This digital audio player has pre-loaded 251 best devotional and Carnatic songs sung by the legend herself. Apart from this, the portable music player also has features like Bluetooth and USB.
Saregama along with the world remembers all the extravagant contributions of M.S.Subbulakshmi to Indian music.