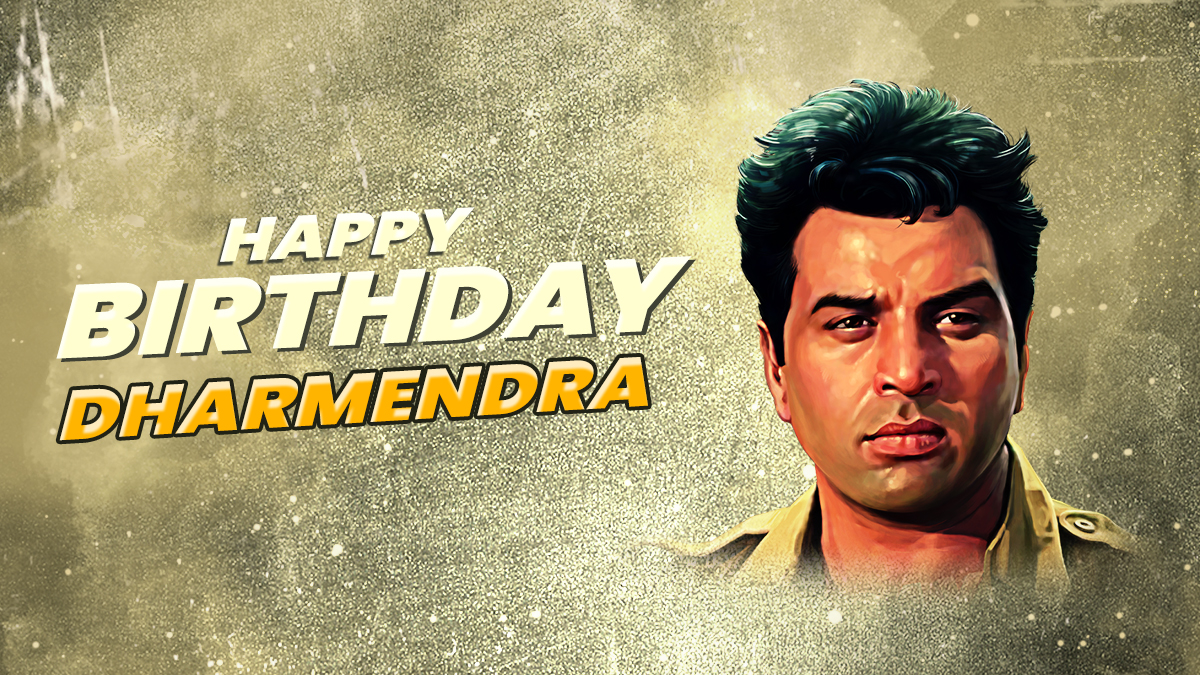 One of the most charismatic, handsome, and legendary superstars in Bollywood, Dharmendra celebrating his 86th birthday. The megastar has given many memorable and impressive acting performances in a career spanning more than six decades now. Three things defined the actor Dharmendra, the inspired beginning as a talented and brilliant actor in the era of superstars, pairing with actresses Meena Kumari and Hema Malini and action movies and his physique which earned him the nickname He-Man. Recently, he gave memorable performances in his comeback Bollywood movies and continues to dazzle with his magnificent work. 
Dharam Singh Deol was born in Ludhiana, Punjab to a family of farmers. His father was a school teacher. Cinema and acting made an impression in the mind of Dharmendra in his childhood itself. He was fascinated by the acting skills of yesteryear legends like Dilip Kumar and always wanted to become an actor. 
In the 1950s, he came to Mumbai with the dream of becoming an actor. Initially, the struggle was real but the determination was stronger. Eventually, the handsome and talented Dharmendra caught the attention of the famous and respected film director Bimal Roy in a Filmfare Talent Contest. Finally, in the year 1960, he played his first role as a hero in the movie Dil Bhi Tera, Hum Bhi Tere. 
Throughout the 1960s and 1970s, Dharmendra gave many super hit movies. He got the superstar status after his eclectic performance in the 1966 superhit movie Phool Aur Pathar. He worked with esteemed directors such as Phani Majumdar, Chetan Anand, Hrishikesh Mukherjee, and Abrar Alvi. However, the mercurial rise of Shammi Kapoor in the 60s, followed by Rajesh Khanna and Amitabh Bachchan in the 1970s overshadowed his impressive oeuvre of work. But Dharmendra, throughout these years, remained one of the most bankable stars for directors and played highly acclaimed and versatile roles successfully. 
His pairing with the actress Meena Kumari and then Hema Malini were the highlights of his career as well. People loved Dharmendra and Meena Kumari in films like Main Bhi Ladki Hoon, Kaajal, Purnima, Majhli Didi, Baharon Ki Manzil. He later was paired with Hema Malini, who became his wife. Together, they gave many hits like Seeta Aur Geeta, Naya Zamana, Patthar Aur Payal, Jugnu, Dost, and Sholay, which is one of the biggest superhit movies of all time. Mera Gaon Mera Desh in 1971 established him as an action hero. From the late 1970s and in the 1980s, he started playing roles in a large number of action movies, which earned him the name He-Man of Indian cinema. Some of his best movies include Akash Deep, Seeta Aur Geeta, Bandini, Phool Aur Pathar, Haqeeqat, Dharam Veer, Raj Tilak, Baharen Phir Bhi Ayegi, Anupama, Majhli Didi, and Satyakam.
Some of the best Dharmendra songs are Dream Girl, Aaj Mausam Bada Beimaan Hai, Main Jat Yamla Pagla Diwana, Yaadon Ki Baaraat, Dekha Hai Teri Aankhon Mei, Yeh Dil Diwana Hai, Ek Haseen Sham Ko Dil Mera Kho Gaya, Ab Tumhare Hawale Vatan Sathiyon. 
Dharmendra received India's third highest civilian award Padma Bhushan from the Government of India in 2012. He was also awarded and recognized at countless events for his immense contributions to Indian cinema. 
More recently, he made a comeback with the movie Yamla Pagla Deewana and its sequel where he acted with his son Sunny Deol and Bobby Deol, who are also part of the Bollywood industry. His fans are eagerly awaiting his next movie Apne 2. As the legendary superstar celebrates his 86th birthday, Saregama wishes health and happiness to him and hopes to see many more memorable performances in the coming years.
Now you can listen to the top Dharmendra mp3 songs on saregama.com or high-definition songs on Saregama Carvaan. Saregama Carvaan is a portable digital audio speaker that comes with 5000 preloaded evergreen Hindi sons that you can listen to any time without ad breaks or an internet connection. It also consists of other features like Bluetooth, FM/AM radio, USB, and AUX connectivity.