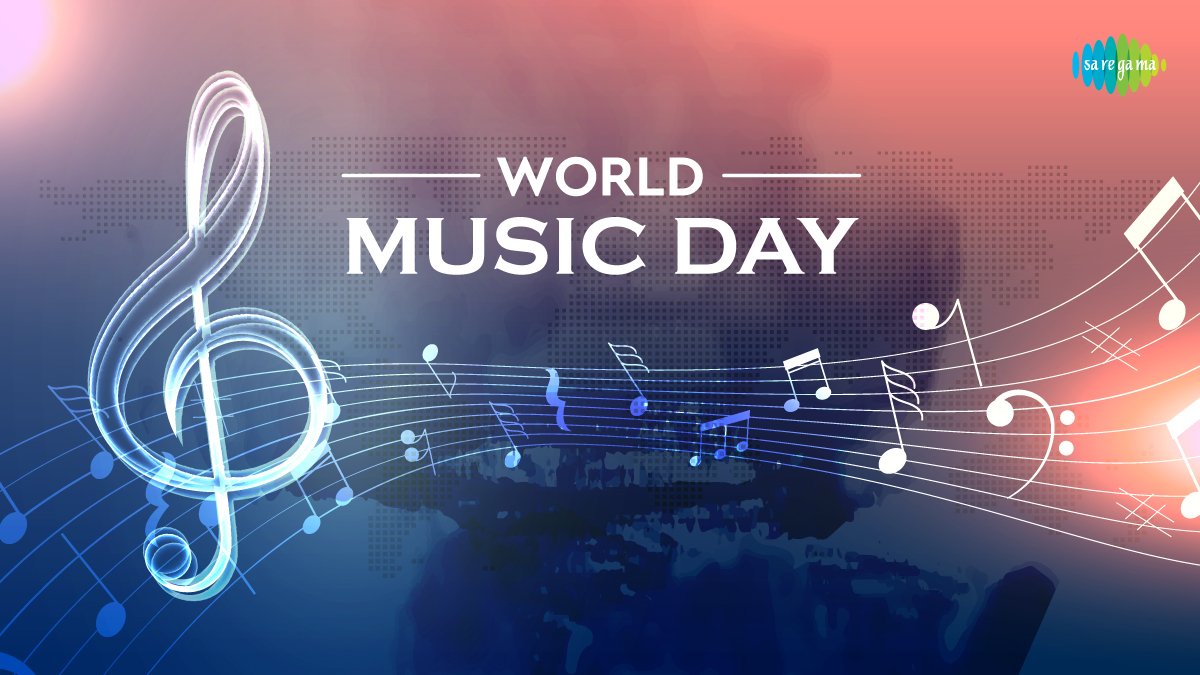 Music aficionados refer to this art form as food for the soul. Rightly so, good music instantly fuels your mind, puts you in a better mood, and relieves you of all the stress. Ever since the dawn of mankind, music has been one of the greatest, most powerful tools of communication, expression, and art. The global music industry emerged around the 1700s when there weren't advanced tools like recording studios, digital audio workstations, or sound baffles. All there were, were vintage recording sheets and, well, the revolutionary voices of the singers. This World Music Day 2022, let's relish a melodious walk through the transformational journey of the music industry, right from the riveting melodies of the 1700s to the upbeat tracks of modern-day! 
Archaeological studies have discovered rudimentary musical instruments from the uncivilized ages, thereby making the music industry almost 35,000 years old. Fascinating, isn't it? Tracing back to 3400 years ago, the first-ever written music piece was discovered in Syria. Sacred Hindu books portrayed the origin of music in Asia in the form of the most innate, expressive, and thought-provoking classical music. Music reached the middle east in soul-stirring Persian symphonies, while the Hebrews also unfurled music pieces that were used to preach religious values. 
While royal dynasties still ruled the world, the music industry saw the birth of renaissance music. It was during this time that music shifted from existing simply as a recreational activity to a prosperous occupation or a saintly artistic endeavor. Unlike us, people of that time couldn't count on mp3 downloads to relish music, so they'd orchestrate repertoires that portrayed the agony of world wars, the joys of simplicity, and the fervent ambition of global revolutions. 
The Italian and English madrigal pioneered the development of chromaticism and counterpoint, birthing artists like Vivaldi and Bach, who laid the founding bricks of the music industry. Forms of music like Sonata and Fugue were also invented around this time in live orchestras and royal courtrooms. 
It was then the era of symphonies. It was at this time that the word 'music' started to resonate with the loaded word 'love'. Passion filled the air and affectionate feelings of love stayed synonymous with musical symphonies. Artists like Mozart and Beethoven took the world by storm with their moving symphonies and love poems that would stimulate passion and desire in the heart of any and every man or woman of the time. 
Integration of innovative musical instruments in the creation of music began during this time. The only method of an HD Song Download known to man that time was to book a seat to an orchestra. Brahms, Chopin and other famous artists marked their name on the maps of global music. Jagannatha Dasa, the disciple of Madhavacharya, was also mentioned as a famous poet and musician of the 1800s India. 
One can't talk about World Music Day 2022 without mentioning Jazz! One of the most popular and appreciated music forms across the globe is Jazz. Known to all, Jazz originated in the Afro-american communities of the world. Nestled in New Orleans, USA, Ferdinand Joseph LaMothe was one of the first great Jazz music composers that the world had seen. He went by the stage name; Jelly Roll Morton. 
It did not take much time for Jazz and blues to take over mainstream music. In Asia as well, Cassette tapes made their grand entry in the 1900s. Regional music from Kolkata, Kannada music and hindi patriotic tracks made their way through the world and were recognized as notable works of art and music. This World Music Day 2022, you can listen to the best of 19s hits exclusively on Saregama's Carvaan. 
If there's anything that has catalyzed the growth of world music industries, it is the innovation and revolution of musical instruments. As electronic guitars and advanced studios came to existence, artists were equipped with the power to technology to gift the world with Rock and Pop music. Rock and roll became a part of pop culture and an integral part of the movies. 
Singers like Geeta Roy-Dutt, Mohd. Rafi, Asha Bhosle, Late Lata Mangeshkar, Manna Dey, Kishore Kumar and more rose to fame during the 1930s and 50s. This World Music Day 2022, let's reminisce about some of the most noteworthy works of these music artists. 
Geeta Roy Dutt was a famous Indian playback singer. She also held great proficiency in Hindi and Bengali Classical Music. Baabuji Dheere Chalna of the movie Aar Paar was one of her greatest hits. She was also known for her voice in the moving track Waqt Ne Kiya Kya Haseen Sitam and cheerful tunes like Jane Kaha Mera Jigar Gaya Ji, Ae Dil Mujhe Bata De, Yeh Lo Main Haari Piya, Sun Sun Sun Sun Zaalima, Thandi Hawa Kali Ghata and many more. Listen to Geeta Dutt's entire playlist exclusively on Saregama's Carvaan.
Born in a simple city near Amritsar, Mohd. Rafi was only 13 years old when he started to do public performances. This maestro started singing by imitating a fakir who made frequent visits to his home streets. Rafi made his playback singing debut for the Punjabi movie "Gul Baloch" with the song "Soniye Nee, Heeriye Nee". Some of his famous works in the Bollywood industry were Baharon Phool Barsao, Likhe Jo Khat Tujhe, Aaj Mausam Bada Beimaan Hai, Dil Ka Bhanwar Kare Pukar, Chaand Mera Dil Chaandi Ho Tum, Gulabi Ankhen and many more such evergreen songs that one truly can't get enough of. Till date, the great Mohd. Rafi is recognized as the most influential singer of the Indian Subcontinent. Talk about writing history!  Celebrate World Music Day 2022 by enjoying HD Song Download of Mohhamed Rafi Sahab's hits anytime and anywhere with Saregama! 
Yet another singer who changed the fate of Indian Music is Asha Bhosle. Her many accolades include the Padma Vibhushan, DadaSaheb Phalke Award and two notable Grammy nominations. Coming from the humble town of Sangli, this singer soon stole the spotlight with her first famous hit, Saawan Aaya from the movie Chunariya. Some of her famous songs are Radha Kese Na Jale, Chanda Maama Door Ke, Wafa Na Raas Aaye, Sharara, Pyaar Hamara Amar Rahega, Zara Sa Jhoom Loon Main, O Mere Sona, In Aankhon Ki Masti and more. You can now enjoy unlimited mp3 song downloads of your favorite Asha Bhosle Songs with Saregama! 
Born on 28th September 1929, little did Lata Mangeshkar's parents know that they'd given birth to a legend of the Indian Music Industry. Throughout the seven glorious years of her career, the late singer recorded  songs that became some of the most famous music numbers in the history of Bollywood. After M.S. Subbulakshmi, Lata Mangeshkar was the second Indian singer to be honored with Bharat Ratna award. Some of her hits are Humko Humise Chura Lo, Joote De Do, Paise Le Lo, Lo Chali Main, Lukka Chuppi, Lag Jaa Gale, Tu Kitni Achi Hai, Pardesiya, Ek Pyaar Ka Nagma Hai, Yeh Galiyaan Yeh Chaubara, and more. Affectionately called Lata Didi, the singer was renowned as the Nightingale of India, courtesy of her many patriotic songs like Aye Mere Watan Ke Logon, Vande Mataram,   Jo Samar Main Ho Gaye Amar, Mere Rang De Basanti Chola, and Aisa Desh Hai Mera. Indians across the globe still sing rhythms of Lata Mangeshkar to pay tribute to the country and its people. 
Recording a whopping total of 3047 songs in his career spanning over five decades, Manna Dey left the world jaw-dropped with his godlike singing skills as a vocalist. The singer was named Prabodh Chandra Dey by his parents but was known globally by his stage name; Manna Dey. Pioneering the golden period for Hindi Cinema, the classical vocalist was responsible for infusing classical music into pop culture tunes. Manna Dey sang in almost 14 regional languages, namely, Kannada, Bhojpuri, Assamese, Gujarati, Malayalam, and Chhattisgarhi. Manna Dey also had a very successful career as a music director. Some of his famous hits as a singer are Yeh Dosti, Pyaar Hua Ikrar Hua, Ik Chatur Naar, Zindagi Kaisi Hai Paheli, Dil Ka Haal Sune Dilwala, Babu Samjho Ishare, Chunri Sambhal Gori, Aye Bhai Zara Dekh Ke Chalo, and more. This World Music Day 2022, enjoy unlimited HD Song Download of Manna Dey's superhits on-the-go with Saregama! 
Aree yodyay, dodlay, oouu, yodlay dodlay oo… Didn't the song just pop up in your head? Well then, you know who we're going to be talking about next! Do you wonder how random gibberish could be so catchy? That's the magic of Kishore Kumar's voice. This legendary singer was the first to introduce yodeling to the Indian music industry. This connoisseur of music was appreciated across the world for the versatility in his voice. Every song is so unique that you could  hear all of them and still be left wanting more. For a brief period of time after the demise of Kishore Kumar, the silence that encircled the music industry was almost deafening. This World Music Day 2022, we reminisce the evergreen tracks of this dynamic maestro like Ek Ladki Bheegi Bhaagi Si, Koi Humdum Na Raha, Phir Suhani Shaam Dhali, Pal Pal Dil Ke Paas, Meri Bheegi Bheegi Si Palkon Pe, Mere Sapno Ki Rani, Tere Bina Zindagi Se Koi Shikwa Toh Nahin, and more.  You can now enjoy high-quality HD Song Downloads of your favorite Kishore Kumar playlist with Saregama. 
Pakistani folklore, ghazals and qawwalis were also indispensable in the mainstream music industry. Nusrat Fateh Ali Khan win the hearts of millions of millions with his exceptional works like Afreen Afreen, Ishq Da Rutba, Aaj Koi Baat Ho Gayi, Gham Hai Ya Khushi, Tumhe Dillagi Bhool, Tere Bin Nahi Lagda, Mera Piya Ghar Aaya and many more. 
Meanwhile in the western world, names like Alma Cogan, Elvis Presley, Buddy Holly, Bob Dylan, Billy Fury, Ray Charles, and Hank Williams were known to all for their fascinating music pieces. The western music was so fresh and upbeat that till date, one can't wear out the english nostalgia. 
These were a few of the many talented voices that echoed across the globe in the 1930s. Almost when vinyls and cassettes ceased to exist came the era of modern music in India, pioneered by eminent personalities right from Jagjit Singh and Devi Sri Prasad to Udit Narayan, Alka Yagnik, Kumar Sanu, Vinod Rathod, Sadhna Sargam, Sonu Nigam, Shaan, Abhijeet Bhattacharya, Babul Supriyo, KK, Hariharan, Hema Sardesai, Bali Brahmbhatt, Suneeta Rao, Kavita Krishnamurthy, Anuradha Paudwal, Alisha Chinai, Ila Arun and several more. On the occasion of World Music Day 2022, let's dive into some of the best works of these avant-garde music artists and singers. 
Credited for the revival of ghazals, Jagjit Singh was one of the few artists  of the time that could shake you to the core with their music. He was also responsible for popularizing Indian Classical music across the globe. He composed ghazals that resonated with the feelings of the masses. His contribution to the music industry was immense since he was one of the pioneers of bol-pradhan gayaki. Furthermore, he gained popularity by singing for tracks in blockbuster movies like Prem Geet, Arth, Saath Saath and series; Mirza Ghalib & Kahkashan. He is known as the genre-defining artist since his album 'Beyond Time' was the first digitally recorded release in the country. You can listen to some of his best works with hassle-free mp3 song download offered by Saregama. 
Next on the list is DSP. Not a deputy of police but equally powerful; Devi Sri Prasad who's famous by his initials DSP. DSP wears many hats, some of which are that of a lyricist, song composer, singer and performer. The singer gained popularity with his songs for Telugu movies. DSP has sang, composed or directed more than 100 songs in the span of his 20 years. He received his breakthrough with a song that he composed for the movie 'Anandam' in the year 2001. Download the popular track of Devi Sri Prasad now, exclusively on Saregama! 
With 4 national film awards and 5 Filmfare awards, Udit Narayan was one singer who was sure to make every song he sang, a superhit! Born in 1955 to his Nepali father and Indian mother, Udit took up singing by drawing inspiration from his mother, who was a folklore singer at the time. The singer is considered one of the most prominent singers of the 90s and 2000s. Some of his major hit songs are Oo Mehndi Rang Laye, Mera Rang De Basanti Chola, Sona Kitna Sona Hai, Taaron Ka Chamakta, Akele Hum Akele Tum, Hum Tumko Nigahon Mein and more. You can enjoy unlimited mp3 song downloads of all his hits with Saregama! 
And when we've mentioned Udit Narayan, it's evident that we're going to talk about his favorite duet partner next; Alka Yagnik. This singer inspired female artists across the globe by reaching pinnacles of success in the Indian music industry. Alka Yagnik's story of success began in 1980 with her first song for the movie Payal Ki Jhankaar. Her next song, Mere Angane Mein was also a superhit. This World Music Day 2022, you can listen to some of Alka Yagnik's best works exclusively on Saregama.
Marking his name as the King of Melody in Bollywood, Kumar Sanu is one of the most prominent personalities of the Indian music industry. The singer is popular for his euphonious style of singing that is heavily influenced by Kishore Kumar. His top hits include Yeh Ladki Bahut Yaad Aati Hai, Babul Ka Ghar Chod Ke, Jaane Jigar Jaaneman, Hum Unse Mohabbat Karke, Kore Kore Sapne and more. 
Vinod Rathod is yet another singer in the Indian music industry who has stolen the hearts of hindi music aficionados with his versatile singing skills. Vinod got his breakthrough with  the qawwali "Mere Dil Mein Hai Andhera, Koi Shamma To Jala De" in the movie Do Yaar. Usha Khanna, the music director of the film, was the first to discover this talented artist when she heard his voice on cassette and immediately signed him for the song. Some of Vinod Rathod's famous hits are Khal Nayak Hoon Main, Aisi Deewangi, Koi Na Koi Chahiye, Yaad Aati Hai, Jaadu Teri Nazar, Badi Mushkil Hai and several others. 
Sadhana Sargam's songs like Pehla Nasha, Mela Dilon Ka, Na Kajare Ki Dhar, Deewani and Dheere Dheere Aap Mere were also trending during the 2000s. Independent artists like Adnan Sami and Lucky Ali also introduced a fresh, new style of music with their distinctive voices. 
Meanwhile, the next big name, Sonu Nigam was also steadily taking on the world of music with songs like Tujhko Hi Dulhan Banaoonga, Mere Yaar Ki Shaadi Hai, Sab Kuchh Bhula Diya, Tumse Milke Dilka and Papa Mere Papa.  Shaan also gave desi Bollywood style his personal twist in songs like Rock and Roll Soniye, Woh Ladki Hai Kahan, Aaye Hai Diwali, That's All I Really Wanna Do, Meri Duniya Tu Hi Hai and more. 
Within the span of ten years, the Indian music industry saw the emerging talents of several other singers like Abhijeet Bhattacharya, Babul Supriyo, KK, Hema Sardesai, Bali Brahmbhatt, Suneeta Rao, Kavita Krishnamurthy, Anuradha Paudwal, Alisha Chinai, Shankar Mahadevan, A.R Rahman and Ila Arun who ruled the next ten years with their charismatic voices. Legendary singers like K.J. Yesudas, Hariharan, S.P Balasubramanyam, S. Janaki, K.S. Chithra, and P. Susheela popularized the authentic rhythms of south India across the globe. 
With time we've witnessed a drastic transformation in music compositions and new formats coming to light, like rapping, beat boxing, predominant urban music, electronic and trance music. The Indian music industry found its fresh new talent in personalities like Arijit Singh, Atif Aslam, Jubin Nautiyal, Prateek Kuhad, Neha Kakkar, Armaan Malik, Darshan Raval, Shirley Setia, Jasleen Royal, Siddharth Mahadevan and many more.
While artists like Drake, Eminem, Lil Wayne, Jy-Z and Nas of the United States created global hits, India wasnt far too behind in the rapping scenes. Through the recent years, Gen Zs danced to the upbeat tracks of Badshah, M.C Stan, Divine, and other rappers who inspired the emergence of street art and music in the country.  
Music in nature is fluid and innate. It comes naturally to man, almost as close as breathing. It takes the shape or form of whatever time it is present in. Napoleon Bonaparte once said "Music is what tells us that the human race is greater than we realize."  Whether you're at a wedding, in a movie, at a party, a religious gathering, or just in a crowded train with your earphones plugged in, you will always find music to be a source of life. From a mother singing her child a lullaby to a lover confessing his greatest feelings, music touches us in every walk of life. 
It is an agreeable harmony for the honor of god and the permissible delights of the soul. It heals and holds things together. Whether you're hurt and agonized or thrilled and exhilarated, there's always a type of music for you! It is powerful enough to end wars and inspire revolutions. It is only in music that one finds the utmost solace and tranquility. The fact that music creation is endless and irreplaceable makes it immortal. This World Music Day 2022, lets celebrate the prodigious journey of music and the legends who pioneered the development of the global music industry!