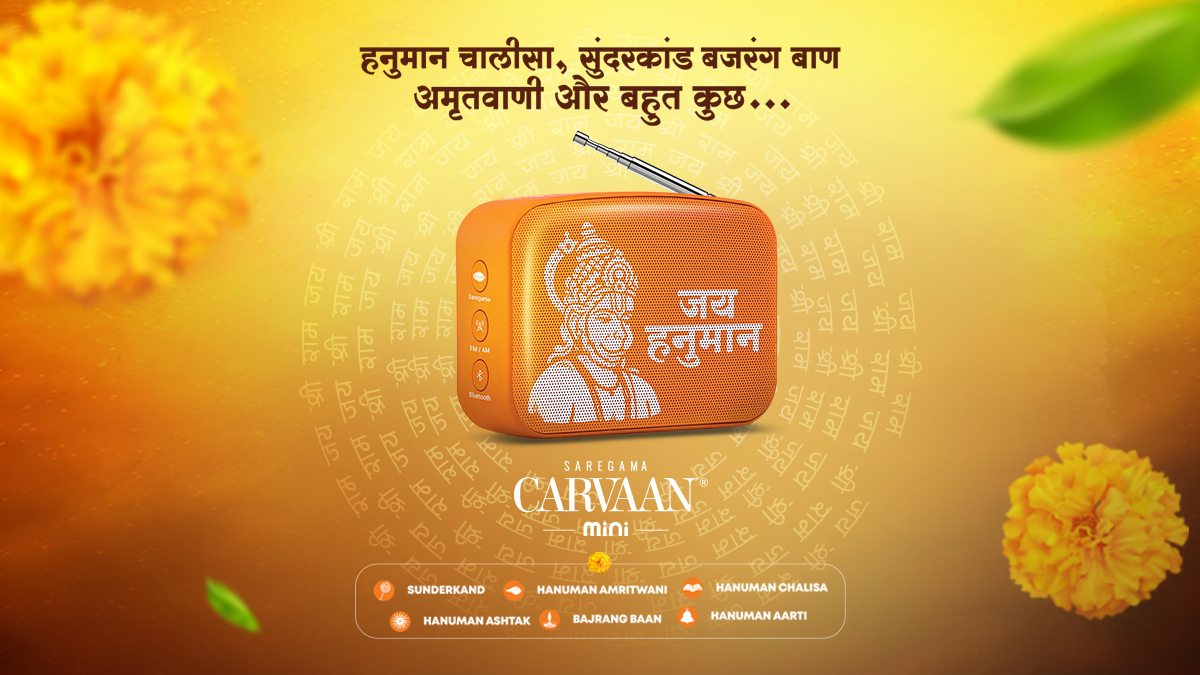 And How Singing His Glory Can Transform Our Lives!
In this century we have been growing up drawing inspiration from fictional characters like Iron man, Doctor Strange, Batman, Spiderman, and Superman. When we watch these characters on the big screen, we seldom bear in our mind that they are unreal. On the contrary, our generation can also draw inspiration from historical legendary characters and factual stories backed by scriptures. 
These extraordinary beings that walked on earth thousands of years ago, still have their reflections around us in the form of different values and virtues adapted from their lives. The magnificent tales of Mahabharata, Ramayana, Shrimad Bhagwat Gita, Vedas, Puranas, and Mahapuranas on celestial beings, compiled by Maharishi Ved Vyas showcased the golden age of the benevolence and annihilation of sin. While countless cosmic personalities are mentioned in the scriptures, some have engraved their names in our hearts eternally. 
Shri Hanuman is fondly called 'Pawan Putra', the son of wind God because he played an important role in his birth. Shri Hanuman was born to Anjana and Kesari who was the chief of Kishkinda, which is proclaimed to be situated either at Nasik, Maharashtra, or Hampi, Karnataka. The name Hanuman also means someone with a disfigured jaw. Shri Hanuman is considered to be the God of Wisdom, Strength, Devotion, Self-Discipline, and Courage. 
An astonishing virtue possessed by Shri Hanuman is his humility. Several divine luminaries are worshiped for their power, intelligence, and courage, but it is difficult to say if anyone from them, were also as humble as Shri Hanuman. The life of Shri Hanuman revolved around his Lord Ram in deep devotion and selfless service. Every portraiture of Shri Hanuman depicted the saga of his love for Lord Ram, either him tearing his chest apart to show Sita, that only Rama resides in his heart or him holding the herb-bearing mountain to save Lakshman's life, or being knelt down in service under Lord Ram's lotus feet. 
The fundamental day of celebration and performing holy rituals takes place on 'Hanuman Jayati' which falls in the month of April. This pious day that marks his birth is celebrated while seeking his protection and blessings across India. Sermons and discourses by saints are specially organised at dawn on this auspicious day at the holy temples of Shri Hanuman. 
People throughout the nation are engrossed in devotional songs, bhajans, hymns, and prayers. Holy scriptures like the Mahabharata, Ramayana, and Shri Bhagwat Gita are intonated to resonate and imbibe life values. Bajrang Bali is venerated with the recitation of Hanuman Chalisa and other such pious compositions.  
Red, the colour of love, courage, and religious fervour is used for glorifying the statue of Shri Hanuman which is associated with a heart-touching tale. When Sita revealed that the significance of applying sindoor on her head is for elongating Lord Ram's lifespan, Shri Hanuman swiftly applied sindoor on his entire body desiderating the farthest possible lifespan for his Lord. Commemorating the philosophy from this incident, devotees apply sindoor tilak on their forehead and shower sindoor all over Hanuman's idol at temples to seek his blessings. 
Shri Hanuman is worshipped every Tuesday since he was born on the full moon day during the Hindu month of Chaitra. To please Mahabali Hanuman, devotees observe fasting on Tuesdays from sunrise to sunset. They also wear red clothes and recite Hanuman Chalisa at the temples. 
Every individual in their walk of life faces challenges and aspires to gear up and set the right mood for themselves. The power of music can change your attitude towards life, make your loved ones feel special, or can connect you with the divine. Saregama Carvaan is designed to enhance and fortify one's feelings, may it be happiness, love, or spirituality.
To revitalize the spiritual quotient in our lives, Saregama Carvaan is made available in different devotional variants like Carvaan Mini Bhakti, Carvaan Mini Art of Living, Carvaan Mini Gurbani, and Carvaan Mini Shrimad Bhagavad Gita. Followers of Shri Hanuman are now blessed with a special Saregama Carvaan Mini – Hanuman, to kindle their spiritual hearts and glorify their days.
This spectacular version of Saregama Carvaan Mini is hued in devotional orange color on which Shri Hanuman's illustration is sketched alongside the inscription which reads "Jai Hanuman". Altogether a design masterpiece that enlivens the devotees with additional features including local FM/AM support, Bluetooth connectivity, Plug and play, and Aux-in support.
This Mini Carvaan is an accumulation of various religious compositions which have changed many lives over countless years. Seeking divine energy from the universe and keeping away from the evil ones has been a natural phenomenon for the human race. All the different compositions used for seeking Shri Hanuman's blessings and attaining success in various walks of life are inculcated in this hand-held device. 
Hanuman Chalisa
The creator of this euphoric composition is none other than Goswami Tulsidas, who created these magnificent verses, in a Kumbh Mela at Haridwar, in the state of Samadhi. The great poet Tulsidas wrote forty venerating verses singing the glory of Shri Hanuman, which was then known as 'Hanuman Chalisa'. 
The divine energy manifested in each verse is so powerful that it can help you get rid of obstacles and expedite your endeavours. 
Power-Packed Verses with Specific Solutions :
First Verse
जय हनुमान ज्ञान गुन सागर ।
जय कपीस तिहुँ लोक उजागर ॥
Jai Hanuman gyan gun sagar ।
Jai kapis tihu lok ujagar ॥
The opening verse is dedicated to the removal of bad karma and acquiring spiritual wisdom.
Second Verse
राम दूत अतुलित बल धामा ।
अंजनी-पुत्र पवनसुत नामा ॥
Ram doot atulit bal dhama ।
Anjaani-putra pavan sut nama ॥
To increase one's strength and knowledge.
Third Verse
महाबीर बिक्रम बजरंगी ।
कुमति निवार सुमति के संगी ॥
Mahabir bikram Bajrangi ।
Kumati nivar sumati ke sangi ॥
To annihilate bad habits and acquaintances and bring positivity.
Seventh & Eighth Verse
बिद्यावान गुनी अति चातुर ।
राम काज करिबे को आतुर ॥
Bidyavaan guni ati chatur ।
Ram kaj karibe ko aatur ॥
प्रभु चरित्र सुनिबे को रसिया ।
राम लखन सीता मन बसिया
Prabhu charitra sunibe-ko rasiya ।
Ram Lakhan Sita maan basiya ॥
Helps to surrender to the divine and increase your devotional quotient. 
Eleventh Verse
लाय संजीवन लखन जियाये ।
श्रीरघुबीर हरषि उर लाये
Laye sanjivan Lakhan jiyaye ।
Shri Raghuvir harashi ur laye ॥
Provides security from toxins, snake venoms, or poisonous substances. 
Twelfth
रघुपति किन्ही बहुत बड़ाई ।
तुम मम प्रिय भरतहि सम भाई ॥
Raghupati kinhi bahut badhaee ।
Tum mam priye Bharat-hi-sam bhai ॥
It resolves disagreements and misunderstandings amongst siblings.
Thirteenth & Fifteenth Verse
सहस बदन तुम्हरो जस गावैं ।
अस कहि श्रीपति कंठ लगावैं
Sahas badan tumharo jas gaave ।
Asa-kahi Shripati kantha lagave ॥
जम कुबेर दिगपाल जहाँ ते ।
कबि कोबिद कहि सके कहाँ ते
Jum Kuber digpaal jaha teh ।
Kabi Kovid kahi sake kahan teh ॥
To gain prominence and become famous.
Sixteenth & Seventeenth Verse
तुम उपकार सुग्रीवहिं कीन्हा ।
राम मिलाय राज पद दीन्हा
Tum upkar Sugreevahi keenha ।
Ram milaye rajpad deenha ॥
तुम्हरो मंत्र बिभीषन माना ।
लंकेस्वर भए सब जग जाना
Tumharo mantra Vibhishan maana ।
Lankeshvar bhaye sab jag jana ॥
Regain your prestige or get promoted at work.
Twentieth Verse
दुर्गम काज जगत के जेते ।
सुगम अनुग्रह तुम्हरे तेते
Durgaam kaj jagat ke jete ।
Sugam anugraha tumhre tete ॥
Gain strength to deal with challenges and get rid of obstacles and difficulties. 
Twenty-Second Verse
सब सुख लहै तुम्हारी सरना ।
तुम रच्छक काहू को डर ना ॥
Sab sukh lahe tumhari sarna ।
Tum rakshak kahu ko darna ॥
Astrological protection from undesired planetary effects. 
Twenty-Fourth Verse 
भूत पिसाच निकट नहिं आवै ।
महाबीर जब नाम सुनावै ॥
Bhoot pisaach nikat nahin aave ।
Mahabir jab naam sunave ॥
Providence from supernatural entities, devilry, sorcery, and harming spells. 
Twenty-Fifth Verse
नासै रोग हरै सब पीरा ।
जपत निरन्तर हनुमत बीरा ॥
Nase rog hare sab peera ।
Japat nirantar Hanumant beera ॥
To obtain good health and physical well-being. Also increases endurance against physical pain and gives relief. 
Twenty-Sixth Verse
संकट तें हनुमान छुडावे ।
मन क्रम बचन ध्यान जो लावै
Sankat se Hanuman chudave ।
Man karam bachan dyan jo lave ॥
To set you free from crisis 
Twenty-Seventh and Twenty-Eighth Verses 
सब पर राम तपस्वी राजा ।
तिन के काज सकल तुम साजा ॥
Sab par Ram tapasvee raja ।
Teen ke kaj sakal tum saja ॥
और मनोरथ जो कोई लावै ।
सोई अमित जीवन फल पावै ॥
Aur manorath jo koi lave ।
Soee amit jeevan phal pave ॥
Helps you fulfill your wishes and desires with divine grace.
Thirtieth Verse
साधु सन्त के तुम रखवारे ।
असुर निकन्दन राम दुलारे ॥
Sadhu sant ke tum rakhware ।
Asur nikanandan Ram dulare ॥
To triumph over enemies, antagonists, or evil forces.
Thirty-First Verse
अष्टसिद्धि नौ निधि के दाता ।
अस बर दीन जानकी माता ॥
Ashta-sidhi nav nidhi ke daata ।
Asabar deen Janki mata ॥
Gain yogic powers and materialistic fulfillment of comfort, respect, cordial relationships, and wealth. 
Thirty-Second to Thirty-Fifth Verses
राम रसायन तुम्हरे पासा ।
सदा रहो रघुपति के दासा ॥
Ram rasayan tumhare pasa ।
Sada raho Raghupati ke dasa ॥32॥
और देवता चित्त न धरई ।
हनुमत सेही सर्ब सुख करई
Aur devta chitta na dharaee ।
Hanumanth se he sarba sukh karaee ॥
To live a contented life without worries and difficulties and help to remain ethical in one's practices and conduct.
Thirty-Sixth Verse
संकट कटै मिटै सब पीरा ।
जो सुमिरे हनुमत बलबीरा
Sankat kate-mite sab peera ।
Jo sumire Hanumat balbeera ॥
This verse fosters mental power and peace and keeps you away from unfortunate occurrences. 
Thirty-Seventh Verse
जय जय जय हनुमान गोसाईं ।
कृपा करहु गुरुदेव की नाईं ॥
Jai Jai Jai Hanuman gosaee ।
Krupa karahu gurudev ki naee ॥
With this verse, the grace of Shri Hanuman will be bestowed upon you forever.
Saregama Music values your well-being and encourages the recitation of Hanuman Chalisa by hosting numerous tracks sung by different artists. Every artist with immense veneration has poured their heart out while singing the glory of Shri Hanuman in this pious composition. This epic composition sung by Papon is truly heart-touching and another version from Roop Kumar Rathod, with a classically striking voice, brightens up your day. M. S. Subbulakshmi gave justice to these verses in a soft, classical but devotional tone, in a form of kirtan. Also, Dinesh Kumar Dube served a vibrating yet soulful version of this divine composition.
Self-care is of utmost importance for everyone, but while you are taking care of your hair, skin, food, etc, you must take some personal time out with yourself that would bring other benefits to your life. Astrological, Physical, Mental, and Spiritual benefits are equally important to leading a successful life. 
Benefits of Hanuman Chalisa :
What are the benefits of astrology? – Astrology believes that Shani Dev (Lord of Saturn) is afraid of the valorous Lord Hanuman. Reciting Hanuman Chalisa reduces the malefic effects of Saturn's placement or transit. Many are suggested to read Hanuman Chalisa eight times, especially on Saturdays for great relief and reap benefits like peace and prosperity. 
Chanting these 40 verses attracts positive qualities of Mars to your life that bring strength, valor, invincible passion, and energy to your endeavours. 
Improves your Life and Performance – Reciting Hanuman Chalisa boosts one's confidence and builds a dynamic personality that is closer to success. It helps to develop a divine aura around you that attracts positivity and individuals towards you. This also brings harmony and peace to relationships.
Students are recommended to listen to Hanuman Chalisa which enhances their concentration power and focus. Also, individuals before appearing for job interviews and businessmen approaching important meetings are observed reciting the same for relieving their minds from fears and insecurities. 
Uplifts the Mind, Body, and Soul – Hanuman Chalisa can be recited before going to bed to avoid bad dreams, evil or negative occurrences and it helps one sleep peacefully and fight against insomnia. During illness or any other physical suffering, it boosts your endurance power and grants energy to fight against physical ailments and pain. 
Stress is one of the most significant reasons for mental and physical diseases like depression, anxiety, heart disease, insomnia, diabetes, obesity, aging, etc. Regularly listening to Hanuman Chalisa helps to de-stress your mind effectively on daily basis and keeps you away from various diseases. 
In spirituality, introspection, and forgiveness are considered the strongest tools for karmic cleansing. Hanuman Chalisa is recited to ask for forgiveness and ward off the sins accumulated knowingly or unknowingly by hurting others throughout the day. 
Safeguarding and Protecting your Life :
Recitation of Hanuman Chalisa before and during a journey keeps you safe from misfortune and accidents. Protection from evil forces and spirits is a concerning matter for some people, which is also achieved by reading these 40 verses. It also protects you from bad company and habits. 
Sunderkand
Another spectacular composition by Tulsidasji, the 'Sunderkand' is a chapter included in the 'Ram Charit Manas, which is counted as pious as reciting Shri Hanuman Chalisa. This chapter is devoted to all the supernatural powers possessed by Shri Hanuman who was unaware of the same. The memory of his magnificent powers comes back to him through Jambavan, who motivates him to fly and cross over the ocean. This chapter makes us witness that true love and devotion alone hold the power to self-discovery and self-manifestation. 
Sunderkand is the fifth chapter of seven chapters available in Ram Charitra Maanas, which is believed to have prime importance. If one cannot read or listen to all the chapters, one must listen to Sunderkand, which will reap maximum benefits. This chapter is dedicated to Shri Hanuman's role in Ramayana, and the name Sunderkand is derived from his nickname 'Sundara' given by mother Anjani with love and affection. 
One of the inclusions of the Saregama Carvaan Mini – Hanuman is Sunderkand, to facilitate devotees to listen to this composition without any hassle every day to uplift their life. The best time to listen to Sunderkand is morning or afternoon. Listening to this chapter multiple times a day brings infinite peace and prosperity. 
Listen to various artists who have recited this chapter and bring happiness to your life:
Benefits of Reading Sunderkand
Sunderkand can be recited any time during the day as per your convenience. Reciting this chapter with great reverence makes your house auspicious and keeps you away from every disaster. It will safeguard you from any sort of negative intervention in your life from others. If you believe in karma or fate, it gives more favourable conditions and opens more opportunities to tackle them. Listening to the Sunderkand mp3 songs available in your Saregama Carvaan will bring peace and prosperity to your family. 
We have heard the phrase, "Money cannot buy happiness", this is applicable in a way that money alone should not be the goal of your life. However, to fulfill the needs, wishes, and desires of one's family is of prime importance. Each individual in any relationship strives for making the other content in every possible way. This can be achieved by listening to Sunderkand on Carvaan Mini, as it is known to improve your finances and fortune. 
Intonating this chapter every day reminds you of the powers and virtues possessed by Shri Hanuman which motivates you to perform better in your field. It works as a mood stabilizer and grants mental calmness. This in turn brings good health keeping you far away from short-term sickness or long-term diseases. 
Bajrang Baan 
The arrow of Shri Hanuman, 'Bajrang Baan', literally means an arrow that is as strong as a thunderbolt, which can petrify any evil that exists in this world. An effective and powerful prayer believed to be written by Saint Tulsidasji again is named after Shri Hanuman's vigorous weapon.
The glory of Shri Hanuman reverberates in the air upon reciting these 20 verses. All these compositions are based on the deeds and values showcased by Shri Hanuman, which benefit one and all to ward off evil and negativities and bring opulence and contentment. 
There are no gender or age restrictions to chant this mantra. Download an mp3 of this cleansing and empowering mantra sung by Dinesh Kumar Dube to enrich your life. To reap maximum benefit from these verses you can follow the steps and methods mentioned below. 
How to Chant Bajrang Baan 
It is beneficial to perform this ritual early morning on Tuesdays, after cleaning the house you can take a clean bath and adorn red clothes which symbolizes Shri Hanuman's love for Lord Ram.

Look for a serene quiet place in your house, where you can sanctify Shri Hanuman's idol or frame placing a red cloth on a table. Alternatively, you can also use 'Hanuman Yantra'. 

Immerse into meditation, devoid of any other thoughts or emotions except for Shri Hanuman in your mind. Once you reach the state of sheer stillness and oneness, you can start intonating these powerful verses. 

On completion, you may offer banana to Shri Hanuman and feel his blessings within.

More importance is laid on meditation and singing his glory than performing rituals like offering flowers, dhoop, etc while chatting Bajrang Baan.
Hanuman Aarti 
Performing aarti is a ritual that is performed across most Hindu temples while worshipping. Every puja is considered incomplete without undertaking the Aarti to seek blessings from God. Shri Hanuman is also called 'Sankat Mochan' which means worshipping him removes all forms of difficulties from your life. 
How to Perform Hanuman Aarti
Facing upwards one needs to blow the couch three times, which begins with a vibrating low tone and ends with a striking sound. This helps everyone to keep away all other thoughts and deeds and bring all the attention to performing the aarti ardently. 

Decorate the aarti with red flowers and kumkum as it was considered dear to Hanumanji

Commence the aarti in a reverberating tune that everyone is familiar with so that it becomes easy for everyone to sing along.

Sound energy contributes immensely to helping the devotees remain immersed in devotion and sing the glory of Shri Hanuman. For this, the practice of clapping, ringing bells rhythmically, and playing Indian classical instruments such as tabla, etc helps.

Aarti lightened up with diyas should be moved in a clockwise direction while reciting the verses with correct pronunciations.
Hanuman Aarti can be done twice a day, once in the morning and more importantly in the evening. It is crucial to spell each word of the aarti correctly. One must perform aarti daily and can listen or play the aarti song and sing along to practice it in the right way. Saregama Carvaan includes Hanuman aarti to connect the devotee to the Lord without any hurdles. Several artists have sung this composition beautifully, which includes 
Hanuman Ashtak 
Hanuman Ashtak, also known as 'Sankat Mochan Hanuman Ashtak', are eight special verses composed by none other than Goswami Tulsidasji, an ardent devotee of Shri Hanuman. Most of the time this prayer is chanted right after reciting the Hanuman Chalisa. 
This composition sings the glory of Shri Hanuman by recalling special instances like carrying the herb growing mountain to save the one who was very precious to Lord Ram, his brother Lakshmanji when he was struck by the arrow of Mehgnath.
Hanuman Ashtak brings success and happiness to your life. It helps you focus and succeed academically as well as professionally. Evil energies are warded off and obstacles are removed from the path to success. The fruits of performing this ritual are not constrained to the individual alone but their family also benefits from the same. 
Listen to various artists who have expressed their love for Shri Hanuman by singing 'Sankat Mochan Hanuman Ashtak' – Hari Om Sharan, the contemporary version in 'Poorna Hanuman' album by Ameya Date, 'Hanuman Ashtak' by Sanj V, and another pure devotional performance by Dinesh Kumar Dube in 'Hanuman Ashtaak'
Hanuman Amritwani
Hanuman Amritwani is that nectar-like composition that sings the glory of Shri Hanuman from the heart of a true worshipper. The verses showcase the love, faith, and surrendering virtues of the disciple towards Shri Hanuman. 
He feels secure under his lotus feet and knows that Shri Hanuman will save him from all possible disasters. It is believed that it is not difficult to please Shri Hanuman and he comes to the rescue of his devotees who worship him with a true heart. All the powerful virtues of Veer Hanuman are augmented in the disciple's heart. 
Get immersed in a deep devotion for Shri Hanuman by listening to this flawless track sung by Hariharan – 'Hanuman Amritwani' song. 
May the presence and powers of Shri Hanuman enthrone your heart, and you and your family find immense peace and happiness. Come share this amazing tool with your friends and family, a Saregama Carvaan Mini – Hanuman, and witness the transformation in their lives with these magic mantras.