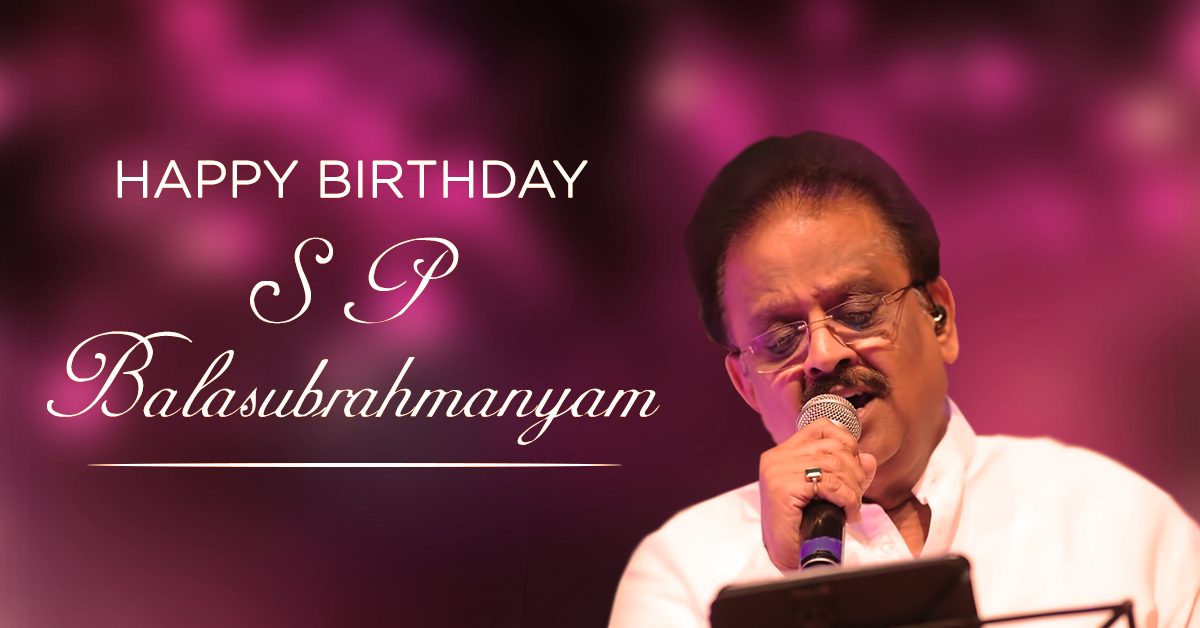 The Indian playback singer, music director, actor and dubbing artist, Sripathi Panditaradhyla Balasubrahmanyam, popularly known as S.P.B or Balu was born on 4th June 1946. Born in a Telugu Brahmin family, Balasubrahmanyam married a girl named Savitri and has two children Pallavi and S.P.B. Charan.
On 15th December 1966, S.P.B made his debut as a playback singer with a Telugu film, Sri Sri Sri Maryada Ramanna that was scored by his mentor S.P. Kodandapani. The very same year, within a few days from his debut, he recorded a Kannada song for the film Nakkare Ade Swarga. He also recorded a Tamil song after this which never got released. Balasubrahmanyam sang duets with P.Susheela that include, "Iyarkai Ennum Ilaya Kanni" and "Aayiram Nilavae Vaa".
S.P. Balasubrahmanyam had the reputation of recording the most number of songs in a single day. He recorded 21 songs for Kannada composer Upendra Kumar from 9.00 am to 9.00 pm in Bangalore. In the '70s, S.P.B also worked withM.S Viswanathan in Tamil movies for actors like M.G. Ramachandran, Sivaji Ganesan and Gemini Ganesan. Before coming to the limelight, S.P.B use to sing in towns and villages in South India and was accompanied byIlaiyaraaja, who was also unknown back then.
Sankarabharanam was considered one of the best films ever from the Telugu film industry. With this film, Balasubrahmanyam gained some international recognition. S.P.B was not a classically trained singer. For the same film, he won his first National Award for the Best Male Playback Singer. His first work in Hindi films for the movie Ek Duuje Ke Liye released in 1981 won him his 2nd National award.
Balasubrahmanyam, Illaiyaraaja and S. Janaki were seen as a successful trio in the Tamil film industry. In 1989, Balasubrahmanyam became a playback singer for actor Salman Khan in the hit movie Maine Pyaar Kiya. S.P.B won the Filmfare award for the song "Dil Deewana". He continued to sing in Bollywood with his romantic singing voice. The song "Hum Apke Hai Kaun" and the evergreen hit "Didi Tera Devar Diwana" are still very popular. In the 1990s, Balasubrahmanyam worked with composers like Vidyasagar, M.M. Keeravani, S.A. Rajkumar, Deva and A.R Rahman.
Some famous songs of Balasubramanyam are "July Maadham", "Mannoothu Manthayilae". He also recorded three songs for the movie Roja which was a debut project for A.R. Rahman.
Saregama wishes a happy birthday to SPB; the musical legend. The legendary singer has recorded over 40,000 songs in 16 different languages. You can now celebrate happy birthday SPB and listen to all the classic songs sung by S.P Balasubrahmanyam on Saregama Carvaan Tamil, a digital audio player with preloaded 5000 evergreen Hindi & Tamil Songs.
Also Read: Wishing A Happy Birthday To The Ace Filmmaker Mani Ratnam
Also Read: Wishing the Indian Musical Maestro, Illaiyaraaja on his 78th Birthday
Also Read: Wishing A Happy Birthday to the Versatile Actor of Indian Cinema, R. Madhavan