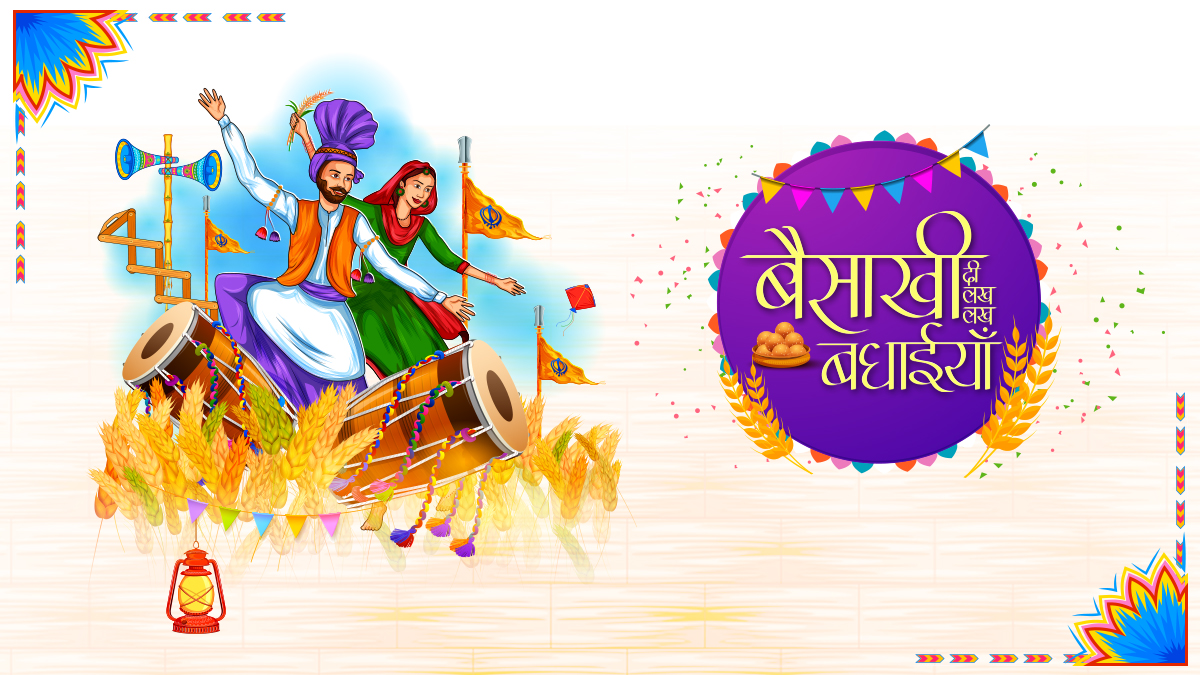 Baisakhi is an ancient festival celebrated across India in various forms and with various names but the feeling of happiness and euphoria is the common strand that binds everyone together. This day falls on the first day of Vaisakh month, hence Baisakhi is also popularly known as Vaisakhi.
Baisakhi, a traditional harvest day of celebration, is also treated as New Year's Day according to the Nanakshahi calendar. The day of Baisakhi marks a new beginning and normally falls on April 13 every year besides on April 14 once in 36 years as per the Gregorian calendar. This variation in date is due to the fact that the date of Baisakhi has been reckoned according to the Indian solar calendar and not the lunar calendar.
Every farmer shows gratitude for the plentiful harvest of the current year and prays for prosperity for the upcoming year. Baisakhi is a festival that is celebrated with great enthusiasm in agriculture-dominated states like Punjab and Haryana. They take a dip in the holy rivers, after which friends and family say alike "Jatta aai Baisakhi" adorning their best clothes, and then break into the Bhangra dance with an outburst of happiness. 
This festival is celebrated as "Vishu" in Kerala, "Bisu" in Karnataka, and "Bihu" in Assam, which symbolizes wealth, prosperity, and abundance. Hence, this festival is celebrated by all communities but it has acquired a special significance for the Punjabis, the Sikhs, and some Hindus too.
Baisakhi, which is a unique flamboyant commemoration festival, holds a pious meaning and religious significance as well. The Sikh community celebrates "Baisakhi" as the day of the formation of the Khalsa. On 13th April in AD 1699, Guru Gobind Singh founded the Khalsa Brotherhood at Anandpur. Hence, Baisakhi is also the celebration of the birth anniversary of the Khalsa. 
The Khalsa, imbued with bravery and a sense of sacrifice, is the embodiment of saint and soldier. The Khalsa symbolizes purity and fearlessness, always ready to help the poor and helpless, and strongly believes in the right cause and right conduct. Immerse into this feeling & devotion while listening to various path from the album 'Khalsa' with songs like 'Khalsa Mero Roop' and 'Mittar Pyare Nu'
One may hear the voice of "Ek-Onkar" reverberating in the air during this day. This song celebrates the attributes of the Almighty who is fearless, ever-calm, without enmity, the defender of the truth, and above all believes in the One Supreme Truth. With their heart filled with devotion, they sing the glory, "Hail the Khalsa who belongs to the Lord. Hail the Lord to whom belongs the victory — Waheguru Ji ka Khalsa, Waheguru Ji ki Fateh."
As Baisakhi is one the biggest and most joyous festivals, there exists a strong tradition of pampering friends and relatives with gifts of love.
5 Gift Ideas for Celebrating Baisakhi
Carvaan Mini – Gurbani

is the perfect bundle for spreading peace & prosperity to your friends and family. On the day of Baisakhi, everyone is engrossed in prayers and singing the glory of the divine.

Chants of 'Bole So Nihal, 'Deg Teg Fateh' and rhythmic chants of 'Sat Nam and 'Wahe Guru' ring out loud from every street. This Carvaan Mini comprises

100 spiritual path and holy Shab

ad

Gurbani

of Gurus in various ragis like 'Japji Saheb

', '

Satnaam Waheguru

' by Jagjit Singh, '

Ardas

' to immerse in devotion. Carvaan Mini – Gurbani will prove to be very handy, light to travel, and a soulful delight to your loved ones.

Sweets or Chocolate Hampers are the all-time favorites for gifting as it spreads happiness around. While choosing these, keep in mind the personal preferences of the recipient and make sure you wrap them in a special way. 

Puja Items or Fresh Flowers are also considered a suitable gift for the auspicious occasion of Baisakhi. One may purchase online

puja accessories like a diya, diya stand, candle holders, book rest, packs of incense sticks, etc.

Dry Fruits are admired and appreciated as a gift at festivals because of their rich taste and long shelf life. You may buy a decorated hamper from a general store near your area.

Home decoration items can also be gifted like glassware sets, torans, bed covers, or decorated showpieces to add a sparkle to their heart and homes! 
All devotees who visit Gurudwaras on the occasion of the Baisakhi Festival to celebrate the birth of Khalsa Panth receive Karah Prasad or Kada Prasad by the volunteers. Prasad is sweet flour-based oily vegetarian food that is offered to all visitors to the Durbar Sahib in a Gurdwara (Sikh worship place). This is regarded as food blessed by the Guru and should not be refused.
On the joyful festival of Baisakhi, people prepare zestful Punjabi dishes and relish them. Some of the traditional Baisakhi Recipes include Sarson ka saag, Makki ki roti, Biryani, Gajar ka halwa, Dry fruit kheer, Til Gajak, and more! 
The Festival of Baisakhi is flashy and showy when it comes to fashion and style. They all dress up in traditional attire from head to toe. Men wear traditional clothes like a Pathani Kurta and Chadar which is very similar to a Lungi, wherein a bright cloth is wrapped around the waist that is embroidered or decorated to their choice and they tie a vibrant and colorful turban on their head which they call Pug. On top of the turban, sits their pride Torla which looks like a peacock spreading its splendid wings. They also wear a golden Kaintha, a traditional necklace that completes their look. 
Women wear a Salwar kameez which is then topped up with traditional accessories of all special kinds. Their hairdo includes Paranda, an exclusive way of braiding, where it is tied along with their hair having tassels which make their hair look really long. Also, they tie a Ramal around their wrist which sways in the air when they perform Bhangra or Gidda
This Baisakhi, take some time and connect to the divine! The roots of every festival or tradition should always be cherished. Start your day with some classic bhajans from Carvaan Mini – Gurbani or Carvaan Mini – Bhakti to connect with yourself.