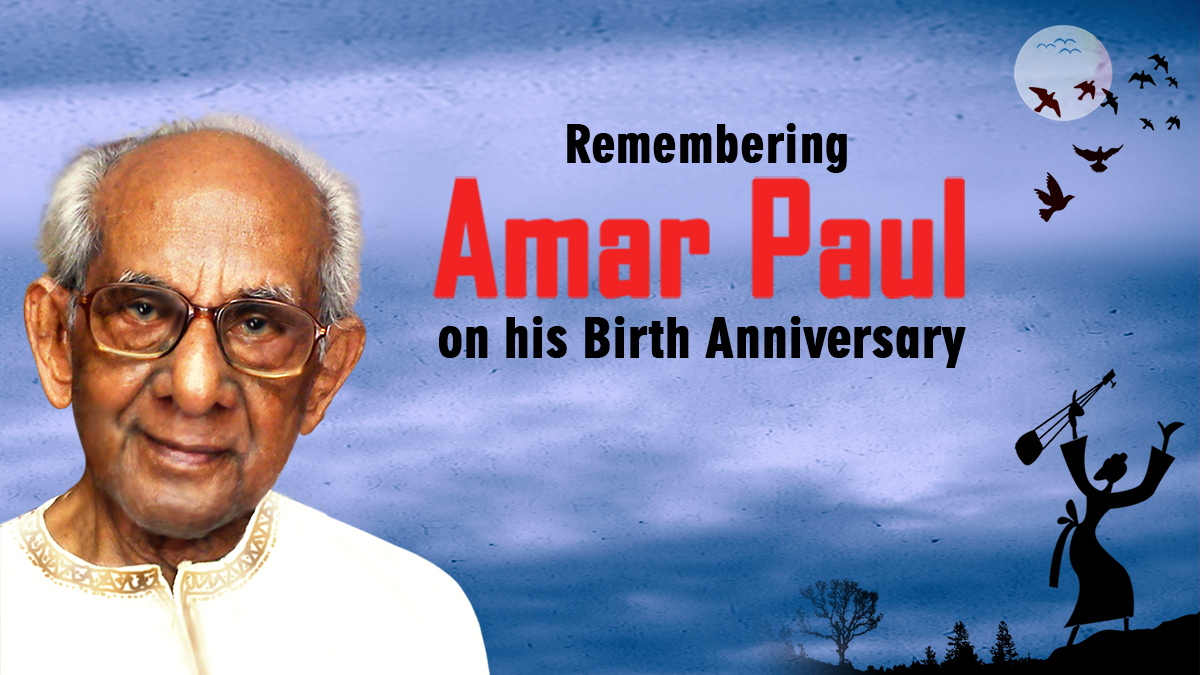 Born in 1922 in British India, Amar Paul grew up learning folk songs from his mother Durga Sundari Devi. Losing his father, Mr. Mahesh Chandra Paul at an early age of 10, Amar Paul learned Hindustani classical music from Gurus like Ustad Ayat Ali Khan, the brother of the legendary Allauddin Khan. Turning 26, Amar paul went to Kolkata in 1948 with Sachindranath Bhattacharya, an All India Radio lyricist to work in the company, lending his voice to films and songs. Three years later, he got his first chance to sing in Akashbani Kolkata.  
Working for the next seven decades of his life, Amar Paul did thousands of folk songs and modern Bengali songs. His song "Kotoi Rongo Dekhi Duniyay" in Satyajit Ray's "Hirak Rajar Deshe" gained him his popularity. Apart from recording songs, Amar Paul also worked as a playback singer and music director in a bunch of notable pieces. He worked and created a ton of notable songs in his 70 years long career, some of his famous works include; Prabhata Samaye, Rai Jago, Rai Jago Go, Jago Hi Nagarbasi, Jagia Laho Krishna Nam, Amar Gour Kene, Ami Kothay Gele, Hari Din Toh Gelo, Mon Radhe Radhe, Vrindabana Bilasini amongst others. 
Apart from creating folk music, Amar Paul also attended worldwide seminars and workshops on folk music and became the Vice-Chairman of the Paschim Banga Rajya Sangeet Academy.  
He was honored with Sangeet Natak Akademi Award in 2007 from the Government of India and the Sangeet Mahasamman Award in 2021 by the Government Of Bengal for his prolonged contribution to folk music. Along with these, Amar Paul was also honored by the Rabindra Bharati University, West Bengal State Academy of Dance, Music, and Visual Arts, Paschim Banga Sangeet Academy, and the Burdwan University. He was also the recipient of Lalan Puraskar for folk music from the state government.  
Amar Paul succumbed to death on 20th April 2019, following a cardiac arrest in a state-run hospital leaving behind seven decades of history and a lifetime of legacy. Following his demise in 2019, Chief Minister Mamta Banarjee said it was an irreplaceable loss for Bengali Folk Music and recalled some of his popular songs like Prabhato Somoye Sachir Angina Majhe and Rai Jago. 
Today on the 98th Birth Anniversary of the Legendary Bengali Folk Singer, Saregama celebrates the life and works of Amar Paul. Now stream and download your favorite Amar Paul songs on Saregama and Saregama Carvaan Begali. Saregama Carvaan Bengali is a portable digital music player that comes with pre-loaded 5000 evergreen Bengali songs and Hindi film songs, folk songs, devotional songs, and Tagore songs you can listen to without internet and ad breaks. It also comes with striking features like Bluetooth, FM/AM radio, USB, and AUX connectivity to enjoy your personal collection of songs.