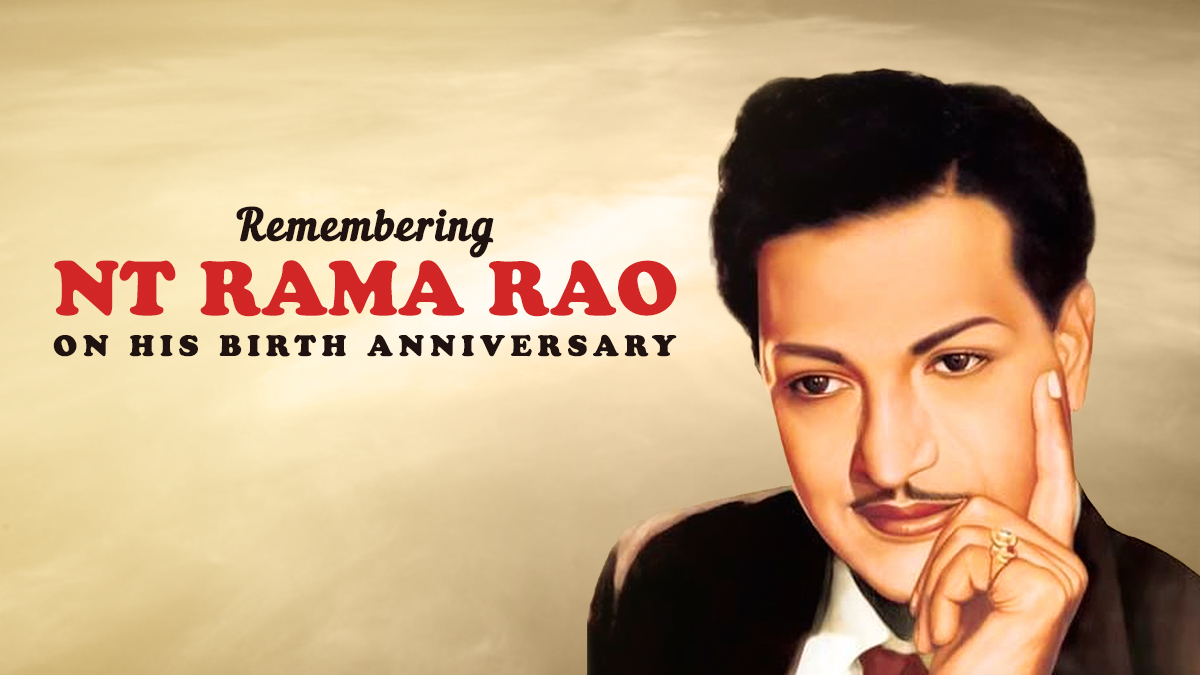 An Indian actor, director, producer, screenplay writer, film editor, and politician who served as the Chief Minister Of Andra Pradesh for seven years over three terms; N.T. Rama Rao is widely considered as one of the greatest actors of Indian Cinema and one of the only two legends of the time to ever grace the Telugu Cinema. He is popularly known by his nickname NTR, has worked in over 300 films, being popular for his mythological roles, directing a majority of the movies he has worked in, and have written the screenplay of quite a few as well. After serving an incredibly a well-loved career in cinema he later formed his own political party.  
Nandamuri Taraka Rama Rao was born on May 28th, 1923 to a farming couple in Nimmakuru, a small district in Krishna District which was part of the Madras Presidency of British India. He was given up for adoption by his uncle and aunt as they were childless. He grew up with them, living a normal life, completing his academics, and joining a job as the sub-registrar which he quit within three weeks to dedicate himself to acting completely.  
His first film debut was a walk-on role of a police officer in the film Mana Desam (1949) after which he worked in quite a few smaller roles before he gained popularity in the 1950s with his portrayal of the Hindu Deities Lord Krishna and Lord Rama. His role as Krishna became so well-loved, NTR had played Krishna in 17 films in total including films like Sri Krishnarjuna Yudham (1962), and Daana Veera Soora Karna (1977). Apart from Lord Krishna, NTR has portrayed other Hindu Deities as well, playing the roles of Lord Rama, Lord Vishnu, Ravana, Lord Shiva from the religious Scripture Ramayana.
He has also played roles from the scripture Mahabharata, deities like Arjuna, Bheeshma, Karna, and Duryodhan. NTR took up either roles of deities or of princes in his films getting him the image of "the messiah of the masses". Later he shed that role and started played roles of poor yet heroic men fighting against the injustices of the system. Some of his popular films are; Thodu Dongalu (1954), Seetharama Kalyanam (1960), Varakatnam (1970), Raju Peda (1954), Lava Kusa (1963), Kodalu Diddina Kapuram (1970), Patala Bairavi (1951), Malliswari (1951), Nartanasala (1963), and Mayabazar (1957) amongst a few of the 300 films he has done in his career.  
But, being one of the most loved Telugu actors of all time is not the only award NTR held. NTR has received three National Film Awards; two for best producer in 1954, and 1960 and one for Best Director in 1968, he also garnered the Nandi Award For Best Actor in 1970 for his role in the movie Kodalu Diddina Kapuram, and NTR has received the two Rashtrapati Awards for Best Acting for his performances in movies Lava Kusa (1963), and Raju Peda (1954). He has also received the Civilian Honour Padma Shri from the Government of India in 1968, and the Filmfare Awards South in 1972 for best Telugu Actor. Not only this but in his legacy, the Government Of Andra Pradesh started the NTR Filmfare Awards to recognize notable personalities for their lifetime and contribution to the Indian Film Industry. The awards are recognized as a national honor.  
After an incredible career in films, NTR turned to politics, forming his political party, Telugu Desam Party, and serving as the Chief Minister Of Andra Pradesh for the next seven years over three terms. NTR died of a heart attack on January 18th, 1996 in his residency in Hyderabad, succumbing at the age of 72.  
On the Birth Anniversary of N.T. Rama Rao, Saregama celebrates his life and contributions to Indian Cinema. 
Now you can stream and listen to all your favorite NTR movie songs on Saregama and Saregama Carvaan Mini Telugu. Carvaan Mini Telugu is a portable music player that comes with evergreen Telugu songs you can listen to anytime anywhere without internet and ad breaks. It also has exclusive features like Bluetooth, FM/AM radio, USB, and AUX connectivity.