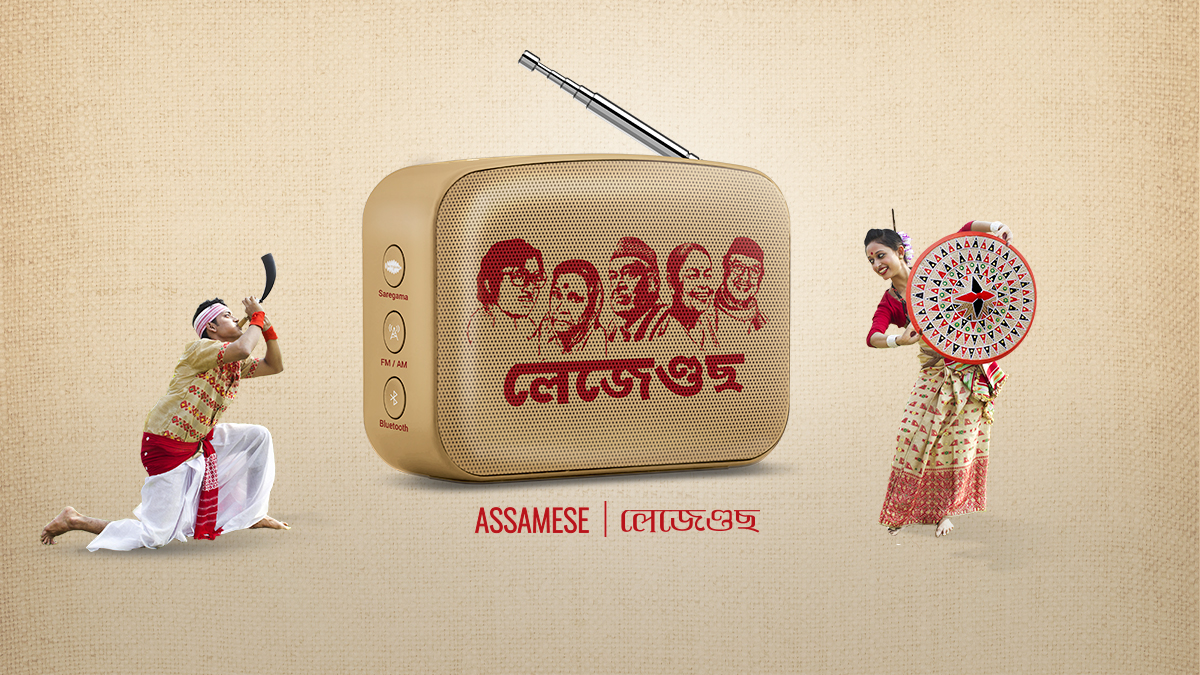 India is a diverse country with a variety of cultures, traditions, languages and festivals. Assam is one such place with Assamese as the regional language and a rich musical history to boast of for every Indian. It is believed that the Assamese music is as old as the Puranas and Mahabharata. The music of Assam is said to be inspired by the beautiful and majestic nature engulfed with hills, valleys, the sunshine, flowers, rivers and simple lives of Assamese people.
History tells that Assamese music constitutes of infinite elements as it has been formed, transformed, and then passed on from one generation to another. In its recent visible form, the music of Assam can be divided into folk, classical and modern. Another distinct feature of indigenous ethnic music of Assam is the descending scale or tunes structured in a pyramid from which is different from Raga based music in other parts of India.
For centuries, numerous groups and communities have lived together and as a result, the folk music of Assam truly represents multi-cultural and multi-ethnic elements in it. People love singing folk songs especially on the occasion of seasonal festivals. Bihu songs during the spring festival are very close to the heart of Assamese people, so are the Holi festival songs.  It is the most popular form of music. These are known as songs of festivity.
Folk songs also include categories like religious and devotional songs, children's songs, love songs, which are sung by male and female. Various songs and lullabies are famously sung by the community of workers in Assam to motivate them. These are known as work songs.
Ballads are lyrical poem accompanied by music. These short poems are known as Malitas in Assam which are based on historic and pre-historic stories.
The classical form of Assamese songs can be divided into two categories, Oja-pali and Sankari Sangeet. While Oja-pali is an ancient form of musical art which constitutes of song, drama, and dance, Sankari Sangeet is the systematic and grammatically correct musical art form in Assam.  Borgeet, a unique element of Sankari Sangeet is considered to be more complex than Hindustani and Carnatic music.
This ancient form of music in Assam was brought to the world by many legends. Jyotiprasad Agarwal and Bishnuprasad Rabha were the pioneers of Assamese cultural renaissance and folk music who blended the Assamese traditional music and modern elements and won hearts and minds of music lovers in rural and urban areas, and among all classes of people. They influenced the next generation of artists like Bhupen Hazarika and Jayanta Hazarika, who later carried the legacy of Assamese music on their shoulders. A wide range of super hits by these legends touched the length and depth of Assamese people, their culture, traditions, and interests and successfully associated it with contemporary socio-political context.
Bhupen Hazarika, the musical genius from the east, began his career in the 1930s. He is regarded as the musical maestro who took the Assamese music in the cultural map of the world. He extensively used folk music for social awakenings. His popular hits include Bistirna Parare, O Bideshi Bhondu, Bihureno Birina, Tumi Natun Purus, Moi Aru Mor Chaan, and many more.
Saregama recently launched Carvaan Mini Assamese Legends which provides a great privilege of listening to the legendary Assamese artists and their super hit songs in one digital audio player. The pre-loaded collection of 351 greatest hits consists of legends like Bhupen Hazarika, Jayanta Hazarika, Dipali Borthakur, Khagen Mahanta, Pratima Pandey, and more artists.
The portable music player with a retro look comes in a unique muga beige colour. The light and a compact player has all the modern connectivity features such as USB, Bluetooth, local FM/AM and makes for a perfect gift for loved ones and corporate gifting.
So, get your Saregama Carvaan Mini Assamese Legends and enjoy your favourite songs anytime, anywhere.