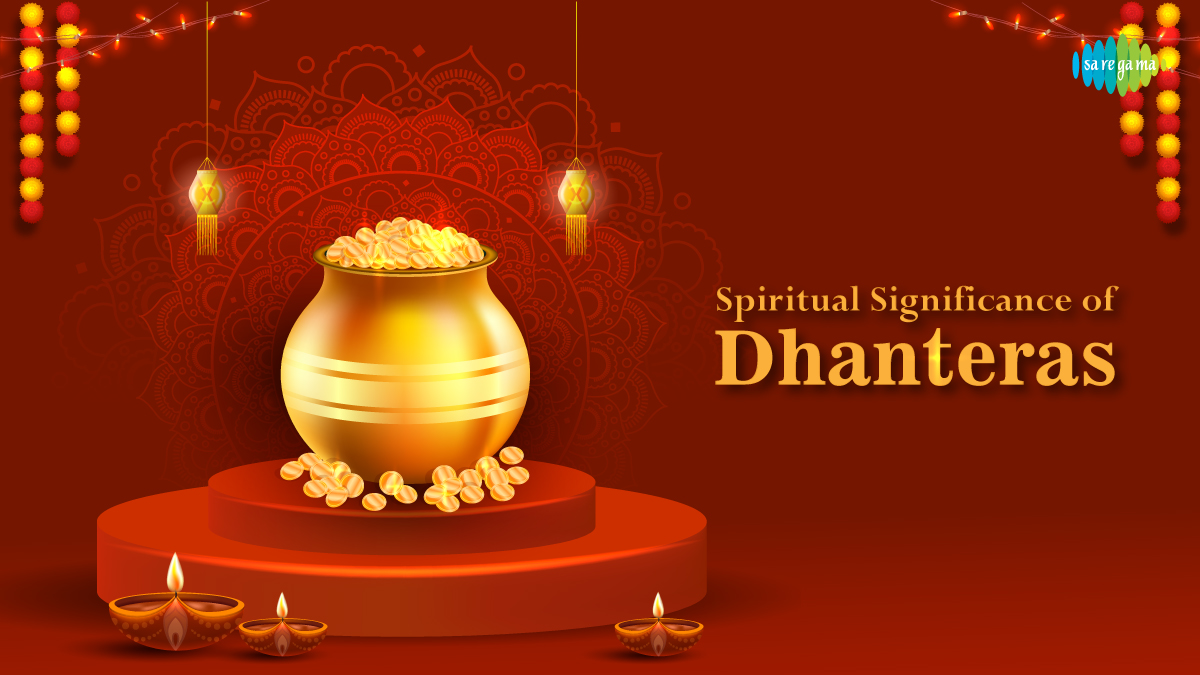 Usually, India doesn't need a special occasion to light up! The Indian cricket team winning a world cup alone brightens up the whole country. But India is the happiest and the brightest when the festivities that lead to Diwali are around the corner. Dhanteras marks the first day of these festivities.
Dhanteras is known to be the day of prosperity. People belonging to different faiths, celebrate Dhanteras. Although it is widely celebrated across the country, every culture has different folktales that lead to the origin of Dhanteras.
Let's learn about some of the most widely spread tales of Dhanteras
The tale of King Hima's son and the snake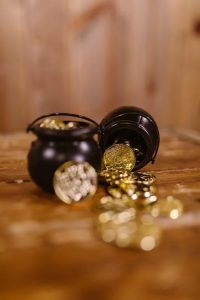 King Hima was a loyal and just ruler of his kingdom. When he was blessed with a baby boy, the astrologers predicted that the day this boy would turn 16, he would die due to a venomous snake bite. The king was appalled by this revelation. He started finding different ways in order to save the life of his beloved son. After referring to a ton of astrologers for many years, he was finally recommended to get his son married to a girl with a lucky and favourable horoscope. The couple were married and lead a happy life until the boy's 16th birthday was around the corner. Everyone started fearing the impending death of the boy.
As per the astrologer's prediction, the boy was fated to die due to a snake bite. On the eve of his birthday, his wife thought of a plan in order to help her husband cheat death. She started gathering all of her jewels and piled them up on the footstep of their door. She asked her husband not to doze off, and neither did she sleep a wink as she guarded the door.
Lord Yama, also known as Yamraj, arrived at the house in the form of a snake. As the snake crawled its way into the house, it was stopped at the entrance of the door as the pile of jewels acted as a resistance. The dazzling jewels blinded the snake and it was extremely irritated and was struggling to get in. Later on, the wife started singing melodiously which distracted the snake furthermore and he was unable to enter the house. As the period of taking away the boy's life had elapsed, Lord Yama was bounded to come to his original form and return back. The girl and her jewels indeed were the key to saving the boy's life, and they lived happily ever after…. And thus this legend gave rise to Dhanteras being a festival of welcoming and worshipping prosperity and seeking long and healthy life of husbands.
The story of Goddess Laxmi and the farmer
Once, Goddess Laxmi insisted Lord Vishnu to let her accompany him on one of his visits to the Earth. Lord Vishnu agreed upon doing so only if she promised that she would not get tempted by the earthly items and would not look in the south direction. Laxmi accepted the terms and prepared herself to visit Earth.
Now, Laxmi is known to be Chanchal (Fickle or playful) as soon as she reached Earth, she completely neglected the promise that she had made to Vishnu. She was unable to resist the urge to look in the south direction. As soon as she started moving in that direction, she came across a field full of mustard flowers and another field with sugarcane. She was stunned and mesmerised by how beautiful the yellow mustard flowers looked, so she started beautifying herself with the flowers and drank the sweet nectar of sugarcane.
When Vishnu realized that Laxmi had deified him and had broken the promise that she made he was annoyed by her and as a punishment asked her to spend 12 years on earth as penance and work in the same field from which she gathered the flowers and sugarcane and serve the poor farmer who cultivated the field.
As soon as Laxmi started working on that farm, the poor farmer's life was filled with prosperity and wealth. 12 years passed gradually, and it was finally the time for Laxmi to leave Earth and return back to Vaikuntha. Lord Vishnu disguised himself as an ordinary man in order to take back Laxmi with him. But the farmer was too stubborn on the idea of not letting Laxmi leave as she brought prosperity to his life.
Even after several attempts by Vishnu, the stubborn farmer wouldn't let Laxmi leave so she decided to come to her original form and explained to the farmer why she couldn't stay on Earth and had to return to Vaikuntha. But she promised the farmer, that every year on the Krishna Trayodashi, the night before Diwali, she would visit him.
Every year on the eve of Krishna Trayodashi, the farmer would clean the house in order to welcome Laxmi, he would also light up an earthen diya filled with ghee to brighten up his house. He grew wealthier and more prosperous each year. Soon the other villagers heard about this tale and started cleaning their houses and lighting diyas on Krishna Trayodashi in order to worship Goddess Lakshmi
Celebrating Dhanteras thus became a ritual and this is why devotees started worshipping Goddess Lakshmi along with Lord Kubera on the day of Dhanteras which is also known as Dhantrayodashi.
During the period of Diwali, people worship the goddess of money. They believe that this will secure the house's wealth, success, etc. It is considered lucky to buy metals, utensils, jewellery, etc. on this day.
The spiritual significance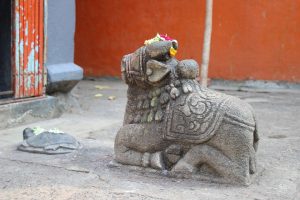 The start of the Diwali festivities is marked by Vasubaras. During Vasubaras people worship cows and their calves. The Vedics consider cows to be sacred creatures and believe that they should be worshipped. She is referred to as "Gau Mata" (mother cow) and as cows are considered holy, they are nurtured with utmost care and respect. In all Hindu festivities, the name "Gau Mata" and her prasad, "Pancha Gavya" or "Panchamrut," are frequently used. Dhanteras comes after Vasubaras.
One of the most significant activities during Diwali is lighting clay lamps (Diyas) in the evening in order to welcome Laxmi Mata. Goddess Laxmi is offered Naivedhya by singing Bhajans, devotional songs and making traditional sweets in honour of her. A strange tradition exists in Maharashtra where individuals softly pound sugarcane (jaggery) with dried coriander seeds (Dhane in Marathi for Dhanatrayodashi) and offer the concoction as Naivedhya.
On this day, Lord Dhanvantari, the god of health and Ayurveda, is worshipped in the evening as well. On Dhanteras, people make sure that they clean their homes thoroughly in order to welcome Laxmi on Diwali.
To welcome the Goddess of Wealth and Prosperity, the main entryway is decorated with vibrant lanterns, festive lights, and traditional themes of Rangoli designs. Small footprints are made all over the house using rice flour and vermilion powder to signify the long-awaited arrival of Laxmi Mata. Diyas are ceremonially kept burning all night long on Dhanteras in honour of Lakshmi and Dhanvantari.
Hindus believe that Dhanteras is an incredibly fortunate day for making new purchases, particularly of jewellery made of gold or silver and new kitchenware. "Dhan" (wealth) or a piece of new jewellery made of precious metal is regarded as a lucky charm.
Apart from considering Dhanteras as the most fortunate time to purchase gold, silver, and other metals, particularly kitchenware, the day is also considered to make significant purchases of vehicles and appliances.
Along with lighting the lamps and diyas and placing them in front of the doorsteps every evening during the festivities, people also set out sky lamps, and pay offerings at the foot of a Tulsi plant, amongst many other methods around India. People also worship Lord Yama or Yamraj who is considered to be the Host of Death in order to avoid untimely death.
This day is a celebration intended to boost prosperity and fortune. With Lakshmi as its representative, Dhanteras explores themes of purification, rejuvenation, and securing auspiciousness.
As we mentioned earlier, along with Laxmi, Dhanvantari too is worshipped during Dhanteras. Hindu mythology claims that Dhanvantari appeared during Samudra Manthan while carrying the sacred book of Ayurveda and a Kalasha full of Amrit, an Ayurvedic herbal mixture that bestows immortality. Thus Dhanvantri is regarded as the Vaidya of the Gods.
Different traditions around India
In the south of India, significantly in Tamil Nadu, on the eve of Naraka Chaturdasi, or Dhanvantri Trayodashi, Brahmin women manufacture "Marundhu," which translates as medicine. On Naraka Chaturdasi, the Marundhu is offered during the prayer and consumed in the early morning hours before sunrise. The Marundhu recipes are actually frequently passed down from families to daughters and daughters-in-law. The Marundhu is ingested to rectify the imbalances in the body caused due to the tridoshas.
Even though tons of legends revolve around the origin of Dhanteras there is no one particular belief that would serve as the symbol of the festival's celebration. Lord Shiva, reincarnates at the end of the Kaliyuga, to fulfil his promise that was mentioned in Bhagwad Gita. According to the holy book, Lord Shiva had to reincarnate on earth at the occurrence of doomsday or irreligiousness. He is considered to be The Ocean of Knowledge. He later explains why purchasing new jewellery, utensils etc. on this day is considered auspicious. It is in the Age of Confluence that God reincarnates in this impure world and teaches Rajyoga to us, human beings. Converting normal human beings into deities. Thus, buying utensils etc. on this day is symbolic of Lord Shiva's most elevated act of making our minds and intellects as pure as Gold.
Making our previous commitments as pure as gold is the true spiritual importance of Dhanteras.
Traditional songs on Dhanteras
Various cultures have different rituals and celebrate Dhanteras according to those rituals. Goddess Laxmi is offered Naivedhya by singing Bhajans, devotional songs etc. Om Laxmi Mata by Maushmi Dutta is one of the most widely and commonly used bhakti songs on Dhanteras. Along with Laxmi Mata, there are other devotional songs that are significantly sung to offer worship to Dhanvantri, Lord Shiva and even Yamraj.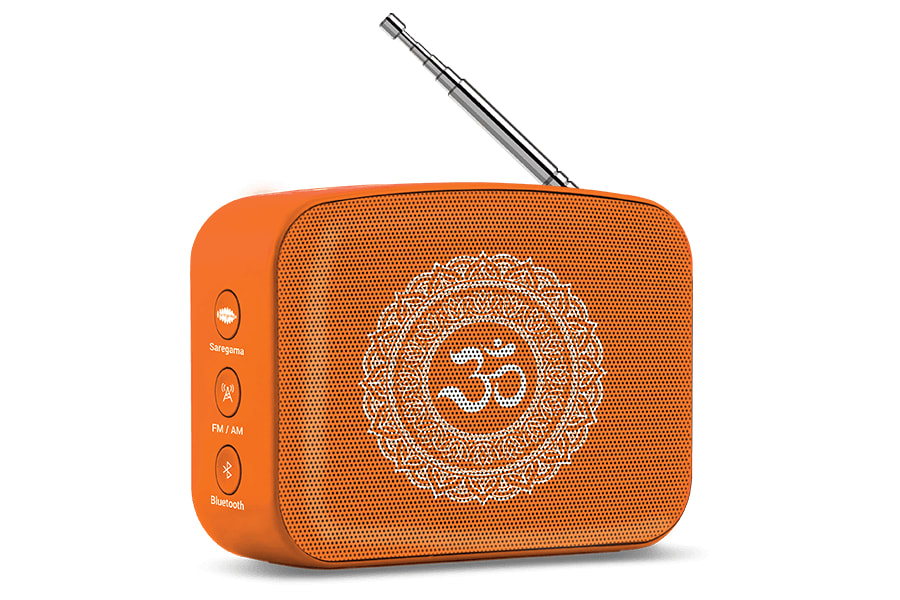 Carvaan Mini Bhakti which is inclusive of 300 devotional Bhajans, aartis, mantras and Bhakti songs is a portable music player that comes with features such as Bluetooth, USB, FM/AM. These pre-loaded bhakti songs on Mini are categorized as per various deities like Laxmi, Shiv, Ganesh, Krishna, Sai, Devi and Ram and Hanuman. You can enjoy your own melodious playlist of Bhakti songs on the Mini Bhakti speaker via Bluetooth or by plugging in your USB drive. The best part is, as it comes with the option to tune into FM/AM stations, the Mini Bhakti becomes the perfect all-in-one music device. It comprises of long-lasting battery life of upto 4 hours and the speakers are loud enough to fill your room. So this Diwali, get Saregama Carvaan Mini for yourself or your loved ones and enjoy the Bhajans on Dhanteras.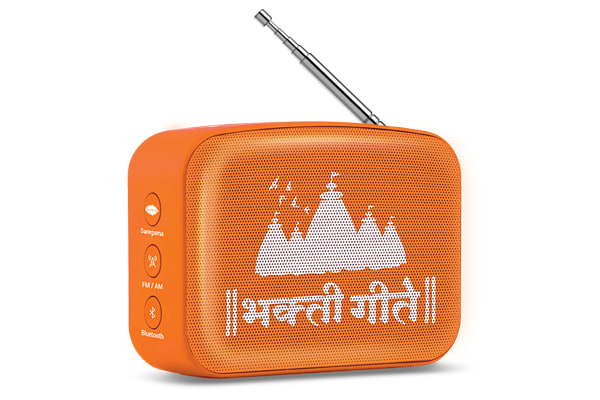 This Diwali, kickstart your poojas with traditional Marathi Bhakti songs with Carvaan Mini Bhakti- Marathi. It's a perfect device for your daily Poojas or prayer routines as it comes with built-in bhajans, chants, stotras and more. One of the best features of Carvaan Mini Bhakti- Marathi is that it plays it all for you without the need for the internet and it offers ad-free Bhajans. Mini Bhakti: Marathi comes with 351 pre-loaded Marathi Bhakti songs curated just to give you the best experience of divine powers.
Listen to all your favourite Bhajans, Chants and stotras that are to worship Laxmi, Dhanvantri, Shiva, Shree Ganesh, Saibaba, Vithal, Gajanan Maharaj and many more. These devotional songs are available in the melodious voices of legendary artists like Lata Mangeshkar, Asha Bhosle, Suresh Wadkar, Anuradha Paudwal, and Usha Mangeshkar.
So have uninterrupted divine time with Saregama Carvaan Mini Bhakti: Marathi which comes with a long-lasting battery of up to 4 hours and speakers that are loud enough to fill your entire room.