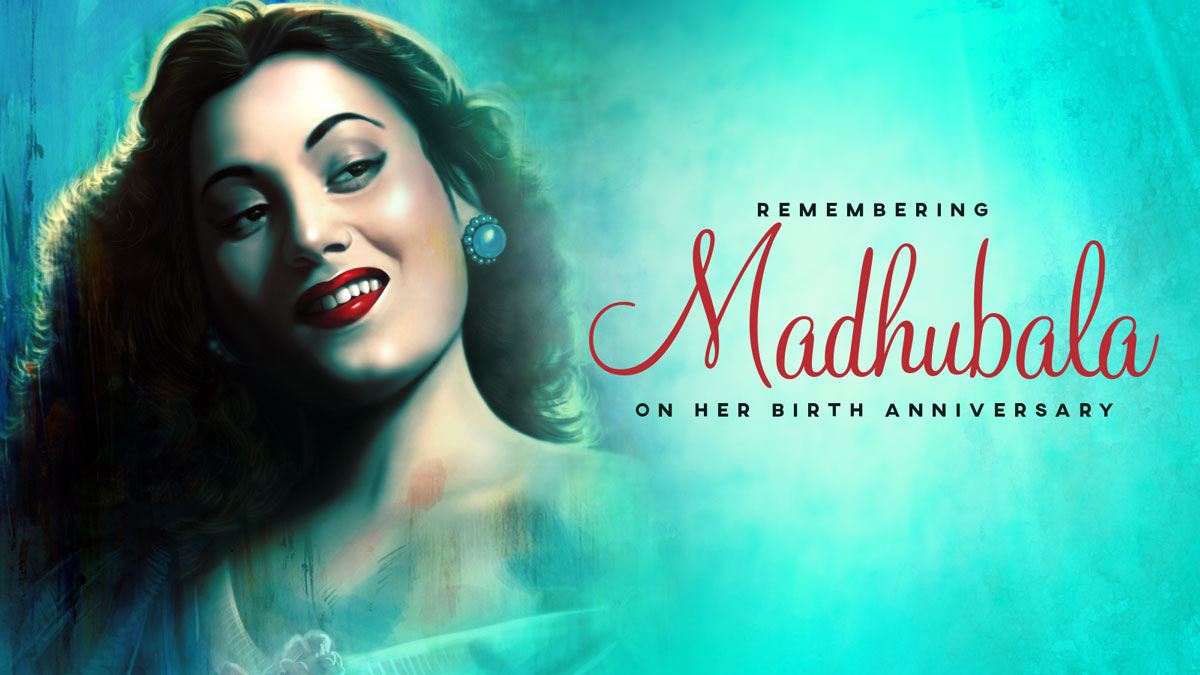 What was more magical – Her beaming smile or mischievous glance that left the audience gasping or her alluring personal charm and natural beauty that had an enchanting effect on people around her? Such was the aura of legendary actress Madhubala, who was one of the finest actors of her generation and the timeless beauty queen of Bollywood, who left the world too soon. But her rich cinematic legacy in a short career of 22 years and a life engulfed with turmoil, heartbreaks and physical pain is still etched in the minds of her admirers and fans, both in India as well as internationally. On her 89th birth anniversary, Saregama remembers the eventful life of Madhubala.
When you take a deep dive into the life of Madhubala, one cannot escape the gamut of emotions that it portrays, almost as if it is more reel than real. Perhaps this is the reason why her life is still remembered and remains intact in the public memory. Madhubala's real name was Mumtaz Begum, and she began her film journey as a child artist in the movie Basant 1942. Although she loved watching the cinema, it was because of the circumstances at home and the need to support her family that she jumped into movies at the age of 9.
Soon, her family moved to Mumbai. After some initial struggle and small roles, she played the leading role at the age of 14 in the movie Neel Kamal 1947, opposite none other than the legend Raj Kapoor. She was applauded for her performance. However, as an actor, she had a lot to learn, and she did mature with every subsequent role that she played. In 1948, Lal Dupatta was released where she played the character of a strong village girl, which changed the industry perception about her. Her big breakthrough film was Mahal released in 1949. It was a horror movie, the first of its kind. Who can forget the melodious voice of Lata Mangeshkar singing Aaayega Aanewala. It became a huge hit among the audience. 
Later, she went on to star in some of the most critically acclaimed and commercially successful movies through the 1950s and 60s. Major superhit movies included Amar 1954, Mr and Mrs 55, Kalapani 1958, Howrah Bridge 1958, Chalti Ka Naam Gaadi 1958, Mughal-E-Azam 1960, Half Ticket 1962. She effortlessly captured the essence of such a wide variety of roles in all these movies- showcasing her acting skills from intense to comedy, from vivacious to sensuous, and from romance to serious. It was indeed a golden time for Madhubala.
Some of the evergreen songs of Hindi cinema were filmed on Madhubala. Pyaar Kiya To Darna Kya, Ek Ladki Bheegi Bhaagi Si, Accha Ji Mai Haari Chalo, Aaiye Meharban, Ek Pardesi – these are classics in every right and all the more becomes precious with the beauty and elegance of the legendary actress. Listen to Madhubala songs on Saregama Carvaan. 
Her pairing with the romance king Dilip Kumar was phenomenal and hugely loved by the mass. In real life too, both the stars fell in love. However, it ended bitterly after eight years due to various personal reasons. One of the most loved movies of Dilip Kumar and Madhubala was Mughal-E-Azam. It is regarded as a magnum opus of Hindi cinema, and it was the highest-grossing movie of all time during that era. Although both the stars were not on good terms, they were professional enough to give the best performance of their lives.
Eventually, she married the famous and versatile singer Kishore Kumar. However, those who knew her to believe that it was a marriage of convenience and not love. Besides the heartbreaks, Madhubala suffered from a serious heart disorder. Her health deteriorated after 1964, and in the year 1969, she breathed her last.
One of the fascinating things you will find today is the Madhubala posters at many corners of India. That beautiful face and the charming smile is indeed adorable and worth remembering for a long long time. Download mp3 songs of Madhubala by visiting the Saregama website and remember the legendary actress.