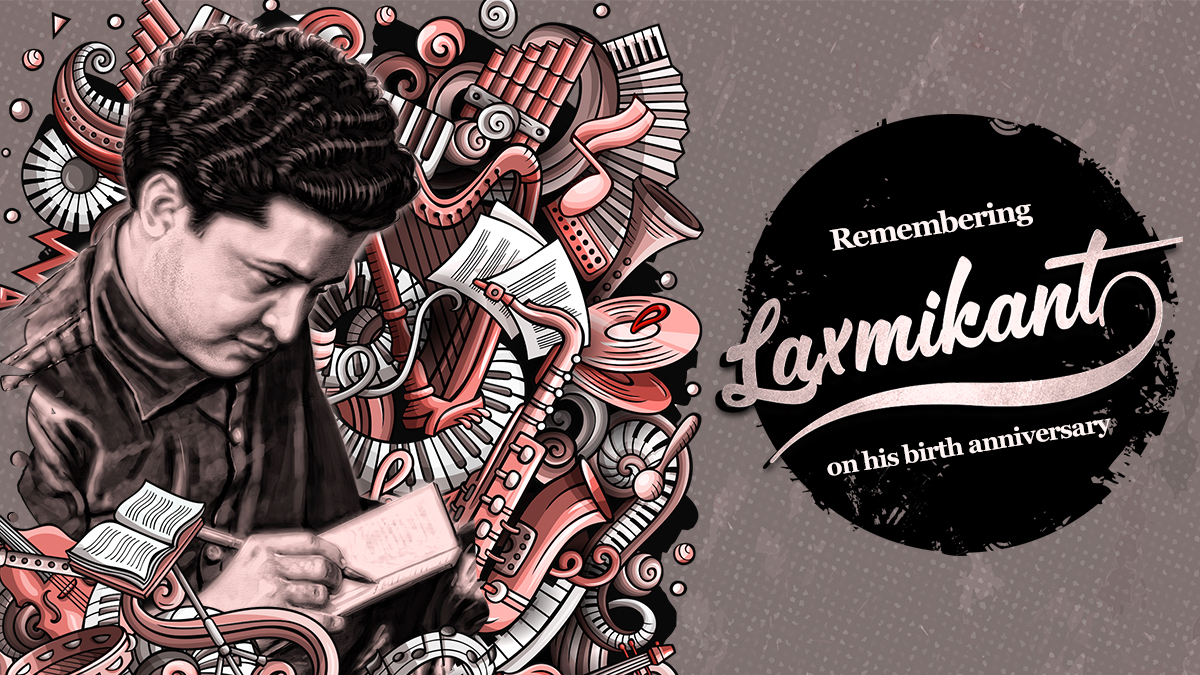 Laxmikant Shantaram Kudalkar was part of the famous Indian music composing duo Laxmikant-Pyarelal who ruled the Indian music industry in their time. Being considered as one of the most successful music composers in the history of Hindi cinema, Laxmikant Shantaram along with his lifelong friend and partner Pyarelal Ramprasad Sharma composed songs for over 750 Hindi films for all of the most notable Hindi filmmakers.  
Born on the 3rd of November 1937, Laxmikant Shantaram Kudalkar was named after the Hindu Goddess Laxmi as his birth coincided with the Laxmi puja of Diwali. He spent his childhood growing up amidst the dire poverty-stricken area of Vile Parle slums east in Mumbai. He suffered the loss of his father at quite a young age, leading to which the family fell into financial debts; Laxmikant couldn't even finish his education due to the lack of funds.
Growing up, one of his father's friends advised Laxmikant to learn a musical instrument as well to get an earning. Following the advice, Laxmikant learned the mandolin from Hussain Ali and dedicated two years mastering the instrument. Later on, he went on to the mandolin from Bal Mukund Indorker and violin from Husnalal; who has been well known for his instrumental skills.  
At the age of ten, Laxmikant had a chance encounter with famous Indian singer Lata Mangeshkar at her concert in Radio Club, Colaba where he performed. Impressed by his skills, Lata Mangeshkar enrolled him in the Sureel Kala Kendra, a music academy for children run by the Mangeshkar family. It was in this academy that Laxmikant met Pyarelal Ramprasad Sharma; a fellow student with similar financial background and interests. A friendship was struck immediately as they spent hours together, composing music in the studio.  
After knowing their financial backgrounds, Lata Mangeshkar recommended Laxmiknt-Pyarelala to all the big industry filmmakers. In the beginning, their music was quite similar to that of Shankar-Jaikishan, as Pyarelal was an avid fan of his. Though they were getting work, they weren't completely satisfied with the payouts being given to them. Laxmikant-Pyarelal even went to Chennai to try their luck but seeing as the situation was the same there, they returned to Mumbai.  
Laxmikant-Pyarelal composed both Indian Classical as well as Western music. Due to his flaming style of music composing, Laxmikant soon earned the name Laxmikant-Pyromaniac-Pyarelal. But amongst the different styles and genres of music they created, they were quite popular for their folk-tunes and their semi-classical music. They liked experimenting with music, mixing Indian tunes with western. A notable mention would be their song for the movie Karz titled "Dard-e-Dil Dard-e-Jigar" that went popular, becoming a nationwide rage and even scoring them their first-ever Filmfare Award for Best Music Director Of The Year. 
It was an unsaid understanding between the duo that Laxmikant looked at the vocals while Pyarelal would focus on the orchestration. With their combined knowledge of different music genres, instruments, and orchestra management, Laxmikant-Pyarelal rose to the top of the industry.  
In came 1963, and the duo's first-ever song "Hasta Hua Nuraani Chehra" was aired on the Bianca Geet Mala, a show that only broadcasted the top Bollywood songs of the time, from then on, the duo's songs were a regular selection for the Bianca Geel Mala to the point that there would be more the half of the selected songs of just Laxmikant-Pyarelal. Laxmikant-Pyarelal was completely and utterly dominating the music industry. 
Some of the duo's popular songs includes Aaj Mausam Bada Baimaan Hai, Sheesha Ho Ya Dil Ho, Jooma Chumma De De, Yeh Galiya Ye Chaubara, Hawa Hawaii, Hum Tum Ek Kamre Mein, Hum Bane Tum Bane, Kate Nahi Katte Ye Din, Ruk Jana Nahi, Chahoonga Mai Tujhe, Ek Pyaar Ka Nagma Hain, Lambi Judaai, Aane Se Uske Aaye Bahar, Om Shanti Om, Ek Hasina Thi Ek Deewana Tha, Mast Baharon Ka Mai Aashiq, Humko Tumse Hogya Hai Pyaar, Gadi Bula Rahi Hai, Suno Sajna, Bar Bar Ye Din Aaye, Main Shayar Toh Nahi, Parda Hai Parda, Satyam Shivam Sundaram, Ek Do Teen amongst others. 
After the demise of Laxmikant, Pyarelal had done some solo work but he always used their name Laxmikant-Pyarelal for all his works. After Laxmikant and Pyarelal made their duo, their name was nominated almost every year for Filmfare Awards for Best Music. In total, they received 15 nominations and 7 awards in total for Best Music Director.  
On the occasion of Laxmikant's 83rd birth anniversary, Saregama celebrates his life and contribution to the Hindi Music Industry. 
Now you can listen to the top Laxmikant-Pyarelal mp3 songs on saregama.com or high definition songs on Saregama Carvaan. Saregama Carvaan is a portable digital audio speaker that comes with 5000 preloaded evergreen Hindi sons that you can listen to any time without ad breaks or an internet connection. It also consists of other features like Bluetooth, FM/AM radio, USB, and AUX connectivity.