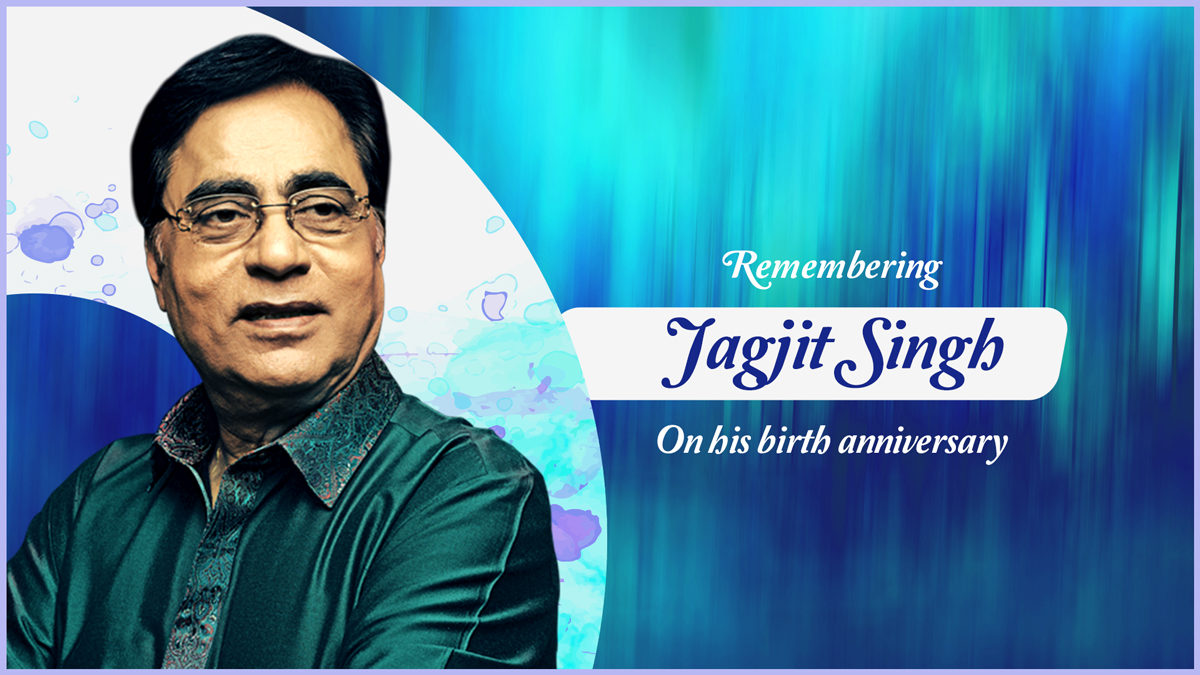 Without a doubt, it can be said that Jagjit Singh is synonymous with Ghazals in India. He singlehandedly, with his passion, devotion and stirring renditions, infused life into Ghazals and made it appealing for the common people. Although it's been more than a decade now since he left us, his powerful, serene and tranquil voice lives on and reinvigorates beautiful memories of the legend. Saregama pays tribute to the singer and takes a look at his life on his birth anniversary. 
It is often said that people only see the success of a person and not the hard work behind it. It rings true for Jagjit Singh as well who earned his name among the Ghazal greats and music legends. Jagjit Singh's real name was Jagmohan Singh Dhiman and he was born in Sri Ganganagar, Rajasthan. In his childhood, he was trained in classical vocal music for 12 years. Moreover, he trained during his college days in Jalandhar as well. The rigorous training of ragas left an indelible mark on him and equipped him to achieve musical greatness. 
It is not surprising that with such disciplined training from Ustads, Jagjit became a music prodigy. He started performing with his brother in religious functions. At 15, he composed and sang songs that earned him love and admiration. Throughout his college life, he was more inclined towards music than books. It was during that time, he got the opportunity at AIR – Jalandhar, which was life-changing. He continued to sing classical songs and did compositions. 
In the year 1961, Jagjit Singh got the chance to visit Mumbai. However, things didn't turn out the way he wished. The failures made him more determined as he always dreamed of making it big. In the year 1965, he was back in Mumbai and this time he tasted success as a music composer for TV and films and released albums too. That was just the beginning. 
In 1969, he married Chitra who was a singer too. The Ghazal couple, as they were referred to, delivered many hit albums together and performed on national and international stages. In a major tragedy, the couple lost their son in 1990 in a car accident. The maestro almost gave up singing in grief. After many years, Jagjit Singh made the comeback and sang some of the most memorable songs. 
The list of his hit songs is a long one. But here are some of the most loved Jagjit Sigh songs – Hontho Se Chhoo Lo Tum, Tum Ko Dekha, Meri Zindagi Kisi Aur Ki, Tum Itna Jo Muskura Rahe Ho, Mere Dil Mein Tu Hi Tu Hai, Woh Kagaz Ki Kasti, Chithi Na Koi Sandesh. He was awarded Padma Bhushan by the Government of India for his contributions to Indian music. Additionally, in February 2014, a stamp was released in his honor. 
On October 10th, 2011, Jagjit Singh died of a brain hemorrhage and left a major void in the music world. His rich legacy lives on with his many soulful songs still comforting and delighting millions.