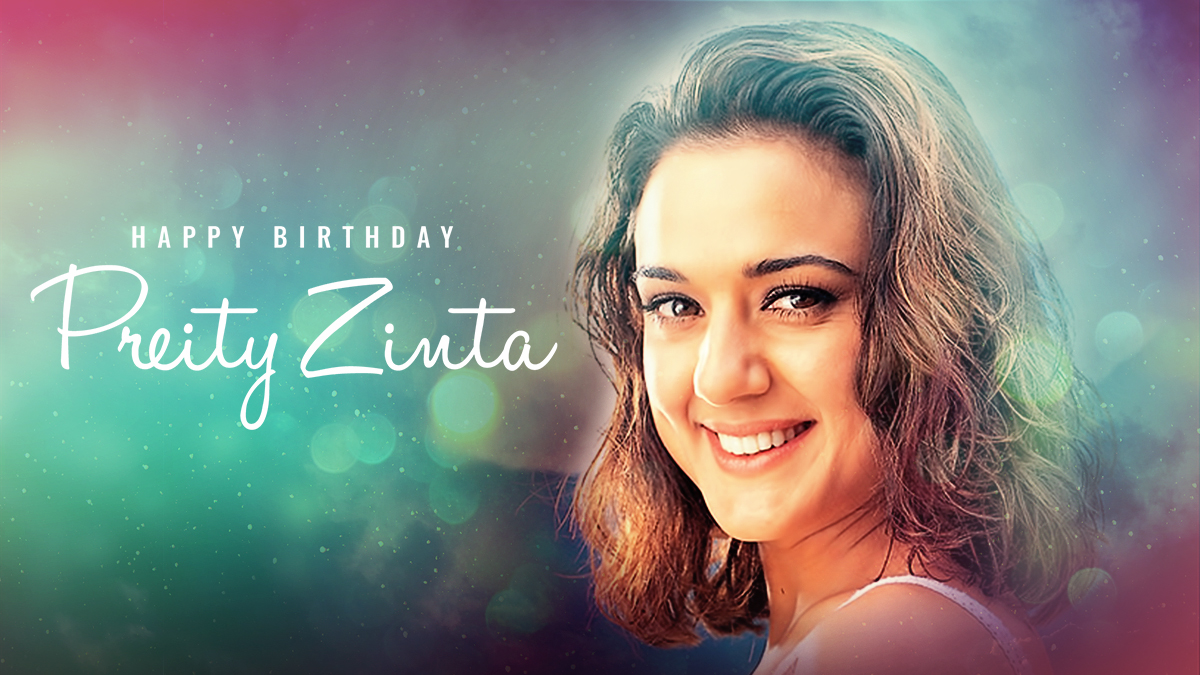 The dimpled girl of Bollywood, Preity Zinta, was born on January 31st in Shimla, Himachal Pradesh. The Liril advertisement shot Preity Zinta to fame as the refreshing, cool, energetic, and bubbly girl. Additionally, she modelled for Perk and her dimpled smile won the hearts of millions. On Preity Zinta birthday, we are thrilled to bring your curated playlist of Preity Zinta birthday songs.
It was in Dil Se.. that Preity Zinta made her acting debut in 1998, which was a critical as well as a commercial success at the box office. Preity Zinta also acted in Soldier that year. As a result, she won the Filmfare Award for Best Female Debut, and she was also recognised for her role as a teenage single mother in Kya Kehna in 2000. The movie unexpectedly became a major box office success. The film addressed themes of single parenthood and teenage pregnancy, and gained Preity Zinta wider recognition from the public as well as film critics.
This earned her several award nominations, including her first nomination for Best Actress at the Filmfare Awards. On Preity Zinta birthday, Saregama celebrates all her wins at prestigious awards.
She then established a career as a leading actress in Hindi cinema with a wide range of characters. She has been credited with changing the concept of Indian film heroines by playing roles considered culturally defiant, and for her unconventional screen persona.
In celebration of Preity Zinta birthday, we have compiled a playlist of some of her top songs from her career. Any Preity Zinta fan would be thrilled to hear these songs on Preity Zinta birthday.
Preity Zinta is known to have worked in films that defined the cinema in her time. She has been critically appreciated for her roles in Chori Chori Chupke Chupke, released in 2001, Dil Chahta Hai also from 2001, Dil Hai Tumhaara in 2002, and Armaan in 2003. Preity Zinta received the Filmfare Award for Best Actress for her performance in the drama Kal Ho Naa Ho which was released in the year 2003. She went on to play leading roles in two consecutive annual top-grossing films in India, the science fiction film Koi… Mil Gaya in 2003 and the romantic drama Veer-Zaara in 2004. On Preity Zinta birthday some of the songs that we have in our playlist from the movie Koi Mil Gaya are- Haila Haila, Idhar Chala Main Udhar Chala, and Jaadoo Jaadoo sung by Alka Yagnik and Udit Narayan, the title track Koi Mil Gaya by Chitra and Udit Narayan, It's Magic by Taz(Stereo Nation), In Panchhiyon by Kavita Krishnamurthy and Shaan, and Jaadoo Jaadoo by Adnan Sami and Alka Yagnik.
Salaam Namaste, which was released in 2005, and Kabhi Alvida Naa Kehna, which was released in 2006, were also notable for Preity Zinta's portrayal of independent, modern Indian women. Two of these movies were the top-grossing productions in overseas markets.
Preity Zinta birthday presents us with the opportunity to tell the world that she is a phenomenal actor who has redefined how women are portrayed in Indian cinema. Not just Bollywood, Preity Zinta has also worked in international films. Preity Zinta's first international film role was in the Canadian drama Heaven on Earth which was released in the year 2008, for which she was awarded the Silver Hugo Award for Best Actress and was nominated for the Genie Award for Best Actress.
While we are celebrating Preity Zinta birthday, we bring to you another album from Saregama that features Preity Zinta. The album is from the Telugu movie Prince No. 1. The movie was released in the year 1999. Preity Zinta acted alongside Mahesh Babu and her character, of Rani, was accepted wholeheartedly by her fans as well as the critics. Some of the songs from Prince No. 1 that you must listen to on Preity Zinta birthday are- Ganga Kinare Mein by Kavita Krishnamurty and Udit Narayan, Pyar Kar Shuru by Sonu Nigam and Sunidhi Chauhan, Munda Pataka by Jaspinder Narula and Sukhwinder Singh, Aashiq Hoon Main by Sonu Nigam, and Ab Tu Meri by Krishna Kumar and Poornima.
Preity Zinta birthday is a special occasion for her fans to listen to all her superhit songs. And Saregama has brought to you the finest collection of songs on Preity Zinta birthday.
In addition to acting, Preity Zinta is a social activist, television presenter, and performer on stage. During the period of 2004-2005, Preity Zinta wrote a series of columns for BBC News Online South Asia. She is also the founder of the production company PZNZ Media, as well as a co-owner of the Punjab Kings team, which has played in the Indian Premier League since 2008, and the owner of the Stellenbosch Kings, which competes in the T20 Global League. Preity Zinta is a multifaceted personality, and Saregama is celebrating her success in all the facets of her life on Preity Zinta birthday.
In the year 2000, alongside Kya Kehna, Preity Zinta also worked in the movies with Sanjay Dutt and Hrithik Roshan in Vidhu Vinod Chopra's drama Mission Kashmir in the same year. This film is set in the valley of Kashmir in the midst of the Indo-Pakistani conflict; it features terrorism and crime; the film was an economic success, becoming the third-highest-grossing film of the year in India.
It is an understatement to say that Preity Zinta is one of the best actresses in Indian cinema.She not only has the looks, but she is also a powerhouse of talent.
On Preity Zinta birthday, we also talk about her life outside of Bollywood. In addition to her work in the film industry, Preity Zinta has been involved with a number of charitable organizations, focusing on women's causes in India, for example, protesting against female infanticide. Her involvement in AIDS awareness campaigns and campaigns to clean up Mumbai demonstrates her dedication to the cause.
She is truly a kind and generous soul! In celebration of Preity Zinta birthday, Saregama wishes her the best in all her future endeavors. We hope that all Preity Zinta fans will enjoy the playlist we created for Preity Zinta birthday.