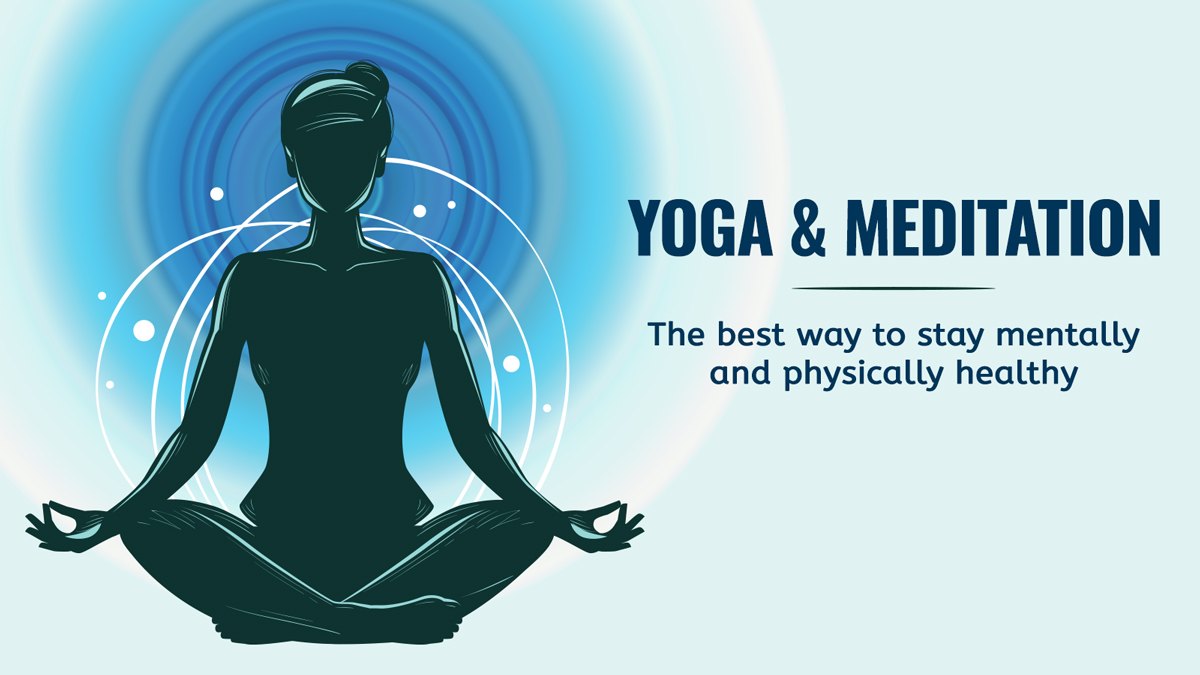 The last year has taken its toll on everyone. Pandemic hit and all of us got locked inside of our houses. The sudden shift to a sedentary lifestyle has upturned our entire routine. Pre-pandemic, we could freely go out and relax, meet our friends and family. But, now with the pandemic in play and the current situation, life seemed to have taken a sedimentary turn. The constant anxiety of increasing cases, the lockdowns, new norms, the extra working hours, not being able to go out and be distressed, even the changed food habits have taken a mental toll on everyone. In a time where everything seems to be going downhill and a lot of bad habits, there is a need for one good habit. Something to help keep your body and your mind healthy and peaceful. And if you're not a workout kinda person then this might be the best option for you; Yoga and Meditation.
Yoga and Meditation are the tried and tested lifestyle changes to cure mental stress. Just being able to take 15 minutes out of your day to focus on your mental peace would go a long way. But why do that you ask? And we get your point, we've always led a stressful life, so why start with Yoga and Meditation now.
Well, did you know mental stress when ignored for a prolonged period can lead to much bigger and severe issues? Anxiety, chronic depression, migraines and stress headaches, chronic body pain, are some of those severe causes of untreated stress. Hence, de-stressing is just as important as anything in your life. Health should always come first in your life. And even though most of us do pause and check when we feel something wrong physically, mental issues are much more ignored. Your mind is also a part of you, it also needs to relax and calm down every once in a while.
Fortunately, it isn't too hard to achieve. One of the most effective and easy methods of de-stressing is meditation, even Yoga. Yoga is one of the ancient physical methods of keeping your body and mind healthy. The practice of yoga originally dates back to the Indus Valley Civilizations of the Pre-Vedic traditions, around 3000 BCE. Written in the original text of Katha Upanishad, yoga is described as the "When the five senses, along with the mind, remain still and the intellect is not active, that is known as the highest state."
They have considered yoga to be firm restraint of the senses. It is the practice of various asanas. You have to hold your body in various positions, and it helps calm your mind and keep your body active. The ultimate goal of yoga is to achieve "Moksha" (liberation). Whether you like to do yoga out in the open space with a mild breeze and streaming sunlight or inside, you need to set the mood before you even start. Whether it's a Tadasana, Trikonasana, or Utkatasana, holding these asanas requires patience and practice.
Whereas, Meditation is the practice of mindfulness. It is the technique of focusing your mind on one object, place or thought to achieve a mentally clear and emotionally calm, and stable mental state. There's no single technique to meditate. Some people like to sit in front of a candle staring at the flame in concentration, while some just like to relax and take deep breaths. But, when it comes to meditation, the surrounding plays a vital role.
But whether it's yoga or meditation, both of these techniques involve immense focus. And what better way to focus your mind than listening to some calm and soothing yoga and meditation-appropriate music. It is a proven fact that music helps to focus our minds or get us into a particular zone. Take for example, when you go shopping, they're always playing good music in the stores. It is because it is proven that good upbeat music keeps the shoppers in a good mindset and they shop more. The same happens when you're exercising or meditation. When you play calm soothing and encouraging music while you're doing yoga and meditation, your mind stays focused on the activity and you achieve better results. Meditation music also makes the act a lot easier as well.
You can stream meditation and yoga music on YouTube, you'll find a wider spectrum of songs there to choose from. Or, if you want something cooler then Saregama offers its own Carvaan Mini – The Art Of Living.
Saregama now offers you Carvaan Mini – " The Art Of Living by Gurudev Sri Sri Ravi Shankar ". The Art of Living; in its simplest of terminology, means being present in the moment. It is a technique that offers several ways to eliminate stress from your life through media like Yoga and meditation.
Carvaan Mini – The Art Of Living comes with life-changing and enlightening meditation and knowledge talks by Gurudev Sri Sri Ravi Shankar. Pre-loaded with 400+ Knowledge talks, meditation, Bhajans, Chants, and Stotram, needs no internet, and plays without ad breaks that you can listen and mediate to anywhere and anytime. A simple single solution to your stress. Simply tune into Saregama Mode and enjoy priceless guidance by Gurudev Sri Sri Ravi Shankar and others.  The portable speaker also has some exclusive features like Bluetooth, FM/AM radio, USB and AUX connectivity.