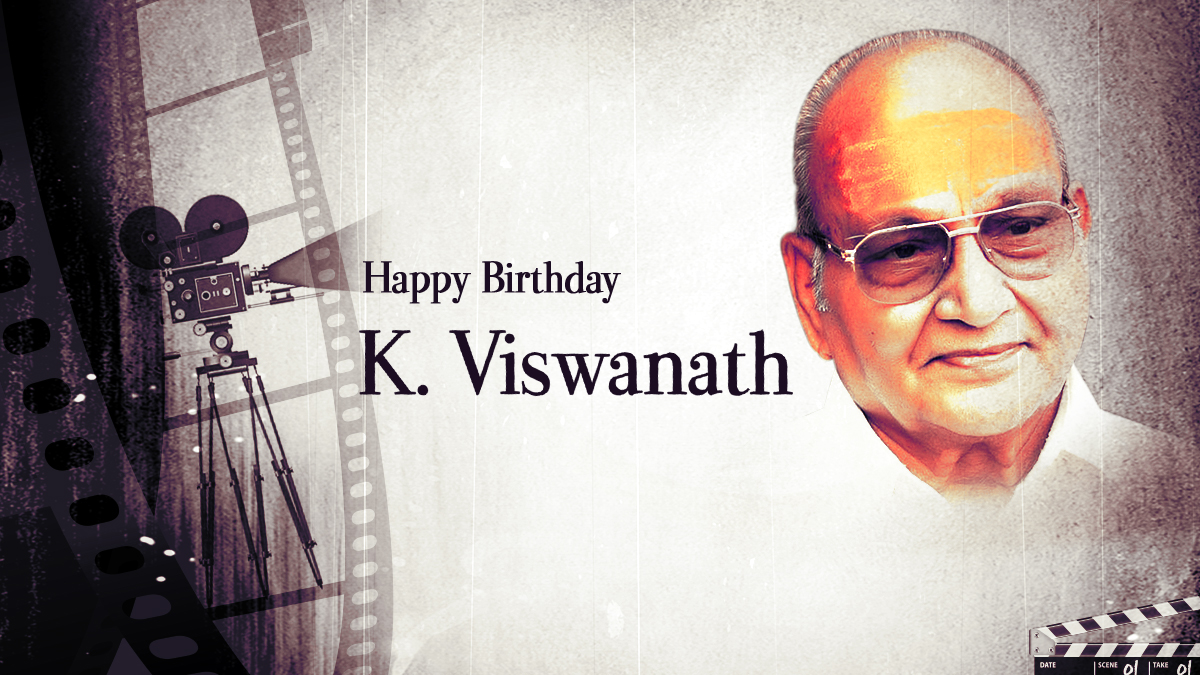 Kasinadhuni Viswanath is one of the most loved and highly acclaimed master film directors who redefined the rules of commercial cinema with his unique direction style, relevant stories and a special focus on the cultures and traditions of the place. In the latter part of his career, he forayed into acting and played some outstanding roles. Saregama wishes a very happy birthday to the living legend K. Viswanath as he turns 92 today and takes a look at his legacy.
K. Viswanath, as he is fondly called, was born in Andhra Pradesh. Like many others in his place, he did his schooling and later completed college in Guntur city. Initially, he was a technician in the film industry, and he began his journey as an audiographer/sound recordist in Chennai (then known as Madras). As years rolled by he got the chance to assist the popular film director Mr. Adurti Subba Rao and scripted for some movies. Finally, in the year 1965, K. Viswanath made his directorial debut with the Telugu movie Aatma Gowravamwhich starred the superstar actor Akkineni Nageswara Rao. 
Director K. Viswanath was unique in his approach to cinema. Unlike the colorful, romp and pomp and often noisy movies of his era, the movies directed by him were social dramas focused on the daily lives of the common people. Thus, it was real and quite relatable. Another highlight of K. Viswanath's movies was that they dealt with various social evils like caste, colour, dowry, disability, alcoholism etc. It was the perfect blend of parallel cinema and mainstream cinema. Experts believe that his movie Siri Siri Muvva first time showed his artistic touch for the whole world to know and admire. He also made women-centric films such as Chelleli Kapuram, Sarada, O Seeta Katha and Jeevana Jyoti. 
Throughout his career, he delivered many hit movies like Jeevana Jyothi, Sankarabharanam and Sagara Sangamam. The last two deserves special mention. Sankarabharanam is one of the epic movies that was released in Telugu cinema. It had a profound effect on the people and gave a new perspective to many generations of filmmakers. It is unbelievable that this movie which became an epic opened to empty halls. But as days went by, it became a national rage. It also awakened a whole generation of people to the richness of classical music. Sagara Sangamam, starring Kamal Hassan, showed dance in its most real form, and it is scrutinized and studied by aspiring filmmakers even today. 
He made his foray into Bollywood with multiple movies like Sargam, Kaamchor, Shubh Kaamna, Jaag Utha Insan, Sur Sangam, Sanjog, Eeshwar, Sangeet, many of which were hits. In 1995, he made his acting debut in Subha Sankalpam. Later, he appeared in multiple Telugu and Tamil films such as Kakkai Siraginilae, Narasimha Naidu, Bagavathi, Pudhiya Geethai, Tagore, Swarabhishekam, and Pandurangadu in 2008. 
He has received a plethora of national awards for his contribution to cinema. It includes five National Film Awards, ten Filmfare Awards South, and a Filmfare Award in Hindi. The government of India awarded Padma Shri to him as well. Additionally, in the year 2017, he was awarded Dadasaheb Phalke Award, the highest award in Indian cinema. 
K. Viswanath is a true icon of India. His exemplary work and exceptional personality will forever inspire many more in the days to come. Saregama wishes a healthy and happy birthday to the living legend.