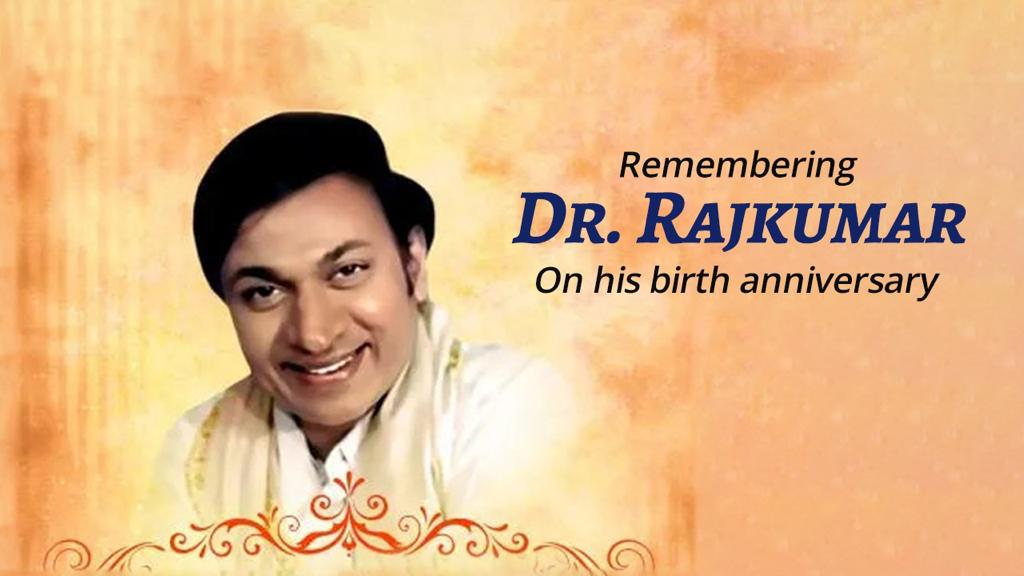 The well known Indian film actor and playback singer in Kannada cinema, Singanalluru Puttaswamy Mutturaju commonly known as Dr.Rajkumar to the world is still considered as a cultural icon and holds a matinee idol status in Kannada diaspora.
Young Mutturaju started his career when he was eight years old by joining the Gubbi Veeranna's Gubbi Drama company accompanying his father who was also a theatre artist. It was director H.L.N Simha who spotted him while on the hunt for a well built and pleasant-faced actor for his film Bedara Kannapa in 1954. Simha signed Mutturaju for the film and gave him the name "Rajkumar". Rajkumar went onn to act in 206 films in his entire career. Over five decades in the industry, Rajkumar played many characters ranging from action to mythological. Just like other superstars Udaya Kumar and Kalyan Kumar, Rajkumar was also referred to as the 'Kumara Thrayaru' of Kannada Cinema.
Rajkumar also made movies like "Jeevana Chaitra" spreading the social message about the evils of drinking and Shabda vedhi on drug abuse. He also acted with many heroines from south India like Jayanti, Aarathi, Bharati, Lakshmi, Geetha, Jayaprada and also Bollywood actress Rekha. When it came to acting, Rajkumar was acclaimed by several fellow actors as the Emporer of all actors.
During his theatre days, Rajkumar also learnt classical music. His first track was "Om Namaha Shivaya" for the film Ohileshwara in the year 1956. He then sang "Thumbithu Manava" for Mahishasura Mardini in the year 1959. However the energetic song "Yaare Koogadali" made Rajkumar a full-time playback singer which he sang while P.B Sreenivas, the voice for most of Rajkumar's songs fell ill. This song is still considered as one of the best songs sung by Rajkumar.
Dr. Rajkumar the actor, then also began singing in different genres and made renditions according to the mood of the films. His rendition of "Nadamaya" for Jeevana Chaitra (1992), a song based on the raga of Todi is known widely and for this, he was awarded the National Film Award for Best Male Playback Singer. Dr Rajkumar gave hits one after the other with songs like "Bangarada Hoovu" (1967), "Nyayave Devaru" (1971), "Swayamvara" (1973), "Sri Srinivasa Kalyana" (1974), "Nanobba Kalla" (1979) and "Chalisuva Modagalu" from his collaboration with the composer duo Rajan-Nagendra. He also contributed to the Kannada language and culture with his songs like "Jenina Holeyo" from Chalisuva Modagalu, "Maanavanagi Huttidmele" from the film Jeevana Chaitra and "Huttidare Kannada" for the film Aakasmika.
The song," Kannappa Kottanu" from the film Muddina Maava marked his rarest collaboration with S. P. Balasubrahmanyam. During the early 70's Dr Rajkumar also recorded many devotional songs for the Columbia Recording company like "Mantralayakke Hogona". Rajkumar sang devotional tracks glorifying the saint Raghuvandra and the Hindi deity Hanuman. His successful voice made Sangeetha Cassettes India's first licensed pre-recorded cassette company.
It was the year 1983 when Rajkumar was honoured by the prestigious Padma Bhushan Award. He was also awarded an honorary doctorate from the University of Mysore and the Dadasaheb Phalke award for lifetime achievement.
On his 91st birth anniversary, we remember the acting and musical performances by Dr Rajkumar.
You can now listen to all your favourite songs by Dr Rajkumar with Saregama Carvaan, a portable digital audio player with 5000+ songs. The Carvaan mini Kannada Legends also features the musical contributions of Dr Rajkumar.