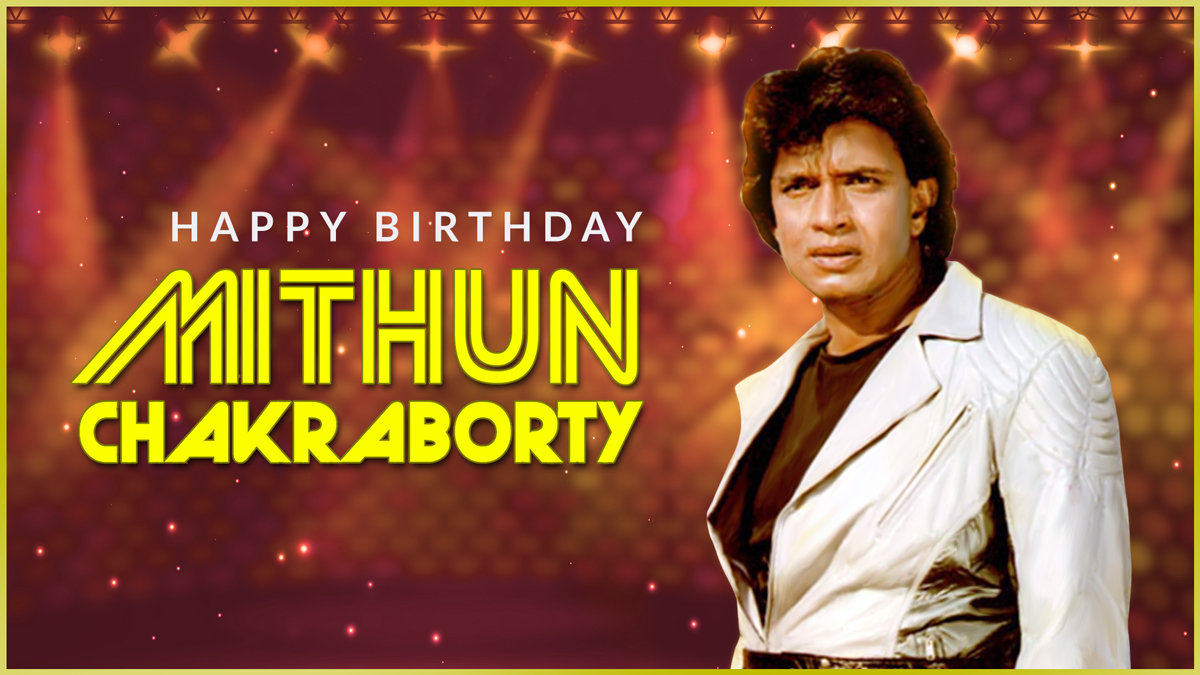 Every once in a while, since the inception of Bollywood, there was a star actor who would challenge and change the definition of songs and dance in Hindi cinema. There was Shammi Kapoor, who changed how dance was perceived and his freestyle became popular. Then there was Jeetendra, who was called the Jumping Jack of Bollywood for his unconventional dance moves. But if there was ever an actor who dazzled the audience and captured the hearts with his thrilling dance style, it was Mithun Chakraborty. Saregama wishes a very happy 71st birthday to the celebrated actor and the iconic dancer of Bollywood.
Fondly remembered as Mithun Da, the first thing you will notice about him is the tall, handsome and dark aura that made him one of the most charming and charismatic personalities in the tinsel town. He was perhaps the only few actors in his generation who won appreciation, accolades, and awards for his amazing acting skills as well as a wholesome entertainer. There is no doubt that he was a great dancer, and his moves have become a favorite among the fans and cherished even today. But there are other facets of his life you might not know. For instance, Mithun Da was a professional wrestler and a black belt in martial arts. This is what made his action sequences in movies quite enjoyable. But as with many legends in Bollywood, his success came after putting in a lot of hard work.
Mithun Chakraborty was born in Bengal in the year 1950. After his schooling, he completed his graduation in Chemistry in Kolkata. Once he completed his degree, he pursued graduation from the Film and Television Institute of India – FTII, Pune in 1973. In 1976, he made his debut in the historical drama film known as Mrigaya, where he played the lead role. The film was directed by well-known Mrinal Sen. As it turned out, Mithun Da won National Film Award for Best Actor for the same movie. It was now clear that this actor could make it big in cinema.
For few years, he continued working in Bengali movies. Later, he landed few supporting roles in Bollywood movies and small budget films like Wardat 1981 and Hum Paanch 1980. But the grand success which he was destined to elude him till then. However, Bollywood was soon going to be ruled by the disco dancer.
In the 1980s, Bollywood was changing both from inside and outside. The golden era of Bollywood with all the legendary filmmakers, actors, music composers were gradually making way for the new era. This era came to be known as the disco era. Disco took Bollywood by storm, and movies and songs with colourful themes, visuals, and vibrant costumes become superhits. As luck would have it, Mithun Chakraborty became the poster boy of this era. The movie Disco Dancer, an Indian dance film was released in 1982, and the role of Jimmy made Mithun the Disco King of Bollywood. The star was born, and there was no going back.
Followed by the tremendous success of Disco Dancer, he went on to act in other successful movies such as Pyaar Kabhi Jhukta Nahin 1985, Gulami 1985, Pyaari Behna 1985. Some of his most memorable song performances include I am a Disco Dancer, O Beraham Tune Kiya, Rock N Roll, Super Dancer, Dance Dance, Koi Yahan Aha Nache Nache and many more. You can listen to many of his songs on Saregama Carvaan. Saregama Carvaan is a portal music player with 5000 preloaded evergreen Hindi songs that you can play anywhere and anytime without ad breaks or internet connection. It also has other features like Bluetooth, FM/AM radio, USB, AUX connectivity.
He was at his peak when he starred with the leading actor Amitabh Bachchan in Agneepath 1989. It was quite a memorable performance from him. Later, as soon as people thought Mithun Da has gone into oblivion, he won another National Film Award for Bengali Film Tahedar Katha 1992. He worked in over 400 films during that period. Since then, he continues to amaze his fans and the general audience with his acting skills. He has done a few but popular movies like Guru 2007, Golmaal 3 in 2010, where he mesmerized the audience.
It is only rare to have acting, action, and dancing skills all at once. Mithun Chakraborty not only possessed these envious characteristics but showed them in the biggest stage. At Saregama, we wish to see many more memorable performances from the living legend and once again wish him a very happy birthday.