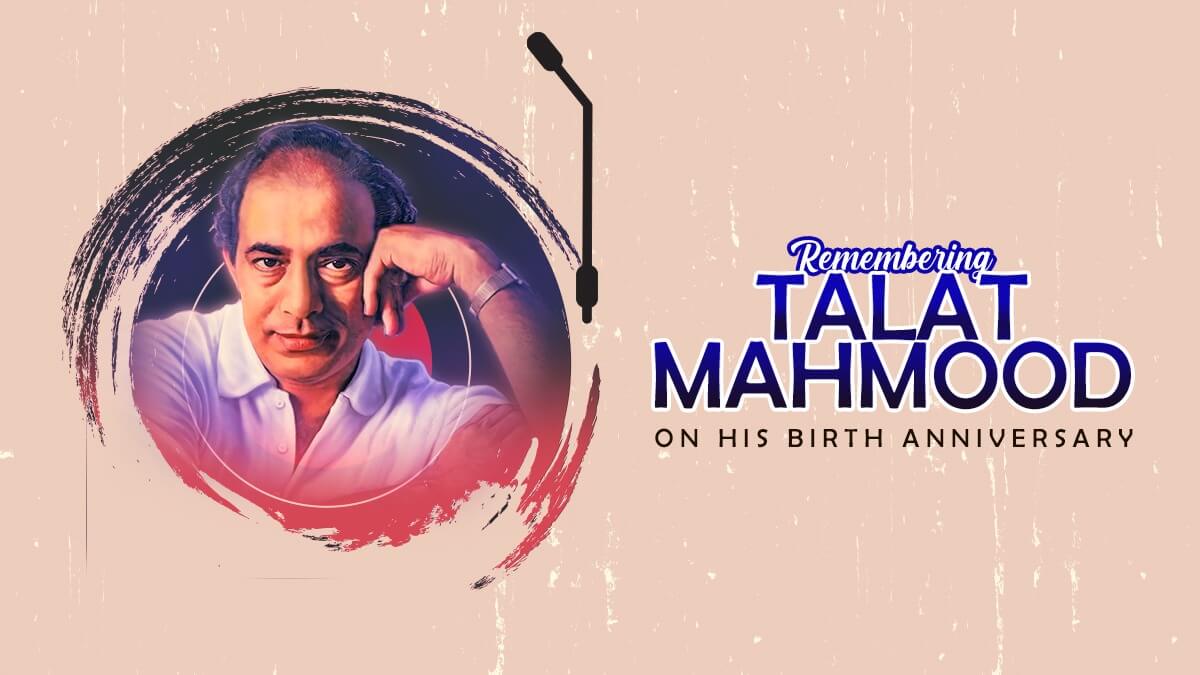 Talat Mahmood is considered one of the most popular Ghazal singers who sang very soft and sombre Ghazal in his unmatched silky voice. Talat Mahmood was born on 24th February 1924 in Lucknow, Uttar Pradesh. Music had been Talat's interest right from his childhood. He enjoyed many all-night concerts during his early years.
He grew up in a very conservative Muslim family but wanted to enter the world of the film industry. Even after a lot of opposition, Talat left his family behind and moved to make a mark in Bollywood. It took more than ten years for his family to accept him back and by then Talat Mahmood became a renowned name in the Indian Film Industry.
Talat Mahmood started his lessons in classical music under Pandit S.C.R. Bhat at Marris College of Music in Lucknow during the late 30s. His singing career began in 1939 when Talat was just sixteen years old. Initially, he sang Ghazals by Daag, Mr Jigar and many more on the All India Radio. What made Talat stand out was his voice. He had a very distinct voice from all the other singers. HMV (His Master's Voice), a UK-based music company was the first to notice the talent and singing of Talat Mahmood.
It was the year 1941 when HMV offered Talat Mahmood his first-ever disc which then had songs like 'Sab din Ek Samaan nahi tha', 'Bun Jaoon ga kya se kya main', 'iska toh kuch dhyaan nahi tha'. After this, the popularity of Talat Mahmood started to grow outside Lucknow as well. Calcutta is where the fortunes of Talat Mahmood shined. Ghazal singers like Barkat Ali Khan, K.L.Saigal and M.A.Rauf were big names during that time. Some famous classical songs that Talat sang were 'Sapnon Ki Suhaani Duniyaa Ko' for the film Shikast and 'Laage Tose Naina' for 'Chaandi Ki Deewar'.
The song 'Tasveer teri dil mera behala nah sake gi' was a popular song sung by Talat Mahmood in 1944. This song became popular to another level and suddenly Talat Mahmood became a star throughout the country. Talat also tried his hand at acting but his stint lasted for only sixteen films for both the Calcutta and Bombay Film Industry combined. While in Calcutta, Talat recorded many Bangla songs with the name Tapan Kumar.
The biggest break for Talat Mahmood's career was the song 'Ae dil mujhe aisi jagah le chal jahan koi na ho'. His mentor and music director Anil Biswas composed music for this song of the film Arzoo. Woh DIn Yaad Karo composed by the legendary Laxmikant Pyarelal was the last song of Talat Mahmood in Hindi films.
You can now listen to all your favourite soulful Ghazal by Talat Mahmood on Saregama Carvaan. Saregama Carvaan is a digital audio player with 5000 in-built classic Hindi songs by legendary singers, composers, actors and music directors. It is a portable music player with striking features like Bluetooth and AUX connectivity. You can also listen to your favourite radio channels on the Saregama Carvaan.
On his 97th Birth Anniversary, we at Saregama celebrate the contribution of the voice of Talat Mahmood to the Indian Music and Film Industry.