You'd find the essence of Bollywood in almost everything that occurs in India. Be it festivals, birthday celebrations, cultural meets or schools' annual days, all the festivities are incomplete without the Desi pinch of Bollywood. And in full honesty, dancing or singing to any other beat rather than Bollywood's makes the party seem almost dull. And maybe that is why Bollywood-themed parties never go out of fashion. When you think about it, you'd realise that although there are tons of themes that you can opt for, a Bollywood theme has to be the most reliable and fun option. 
We are pretty sure that you must be invited to or will be planning onto throwing a Bollywood theme party soon. That means it's time to brush up your knowledge of Bollywood for the trivia and start rehearsing the hook steps of your favourite dance number along with learning the correct lyrics of some trending song on Instagram that has stuck in your head but whose lyrics are yet to be learnt. 
But apart from all of the above, there is one more vital thing that would actually decide the course of the party for you, and that is the apparel that you'll wear to this Bollywood theme party. Fret not! We have got you covered. Saregama has come up with a collection of quirky t-shirts under Chutzpah. It basically comprises a collection of T-shirts with quirky and famous Bollywood dialogues, movies or song names. Let's have a look at some of the options that you can choose from: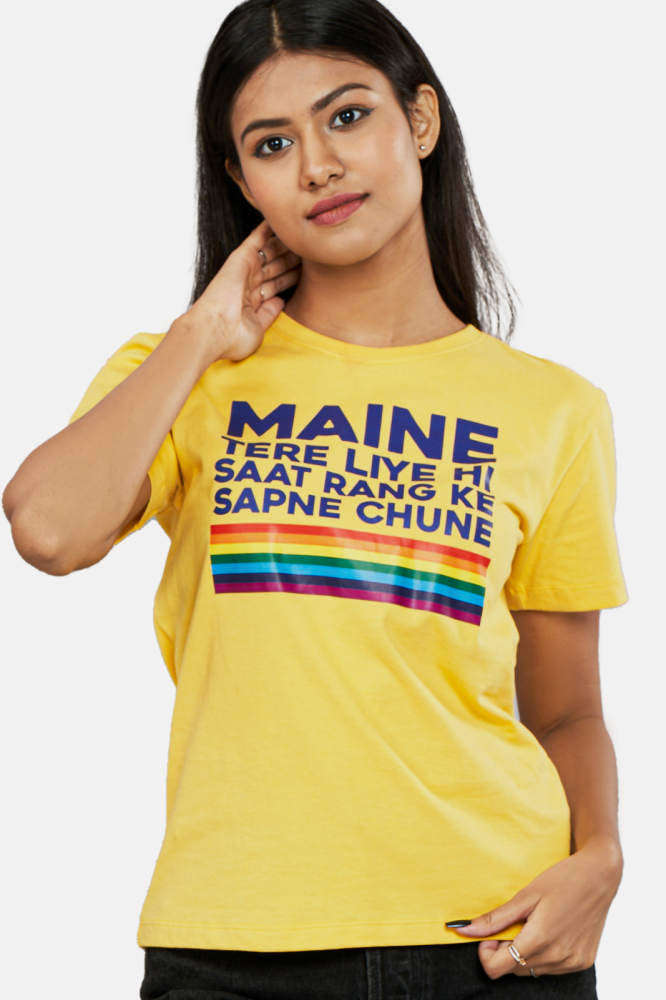 Now, this t-shirt is extremely apt if your crush too will be attending this party. Imagine them reading out the text on your t-shirt and starting a conversation with you! We are sure post that you'd be on cloud 9 along with the saath rang waala rainbow. And in case your crush is not attending this party, then too, you can opt for this t-shirt, as the bright yellow colour is surely going to make you stand out from the others at the party. So although your dreams are multi coloured we know you'll look the brightest in this yellow t-shirt.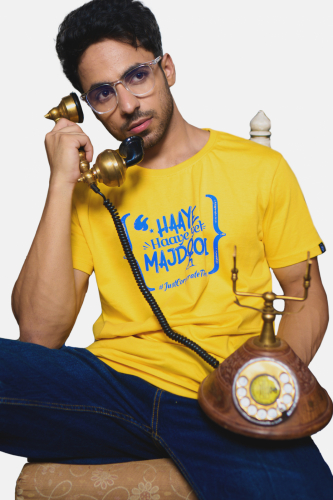 Yes yes, we are well aware that the lyrics to this song are 'haaye haaye yeh majboori' but let's be honest some of us either are or know people who are overachievers, the ones that are going to come to this party directly from their office and are going to spend most of the time ranting about being overworked or about their new manager who just doesn't get them or values them enough. Well for such workaholics, this t-shirt would be the best piece of clothing to wear at a party. And in case you don't fall under this category then gift it to someone who is, at least then the bartender would know whom to give that extra strong drink to.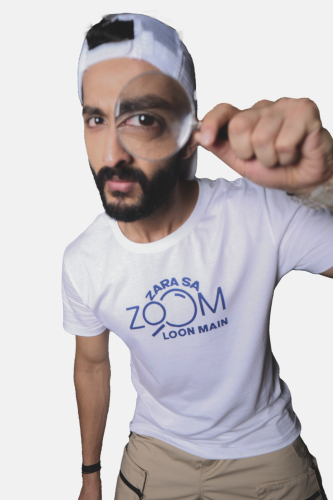 We had to insert a pun here, we couldn't help it. This t-shirt is for all our self-proclaimed photographers and well, high-end camera phone users out there, whose only job is to capture the best moments of the party. Apart from the text, this t-shirt gives a very low-key look, as you can never go wrong with a basic white right? And yes, we would want you to take the actual lyrics into consideration too and see you 'Jhoom' to the beats.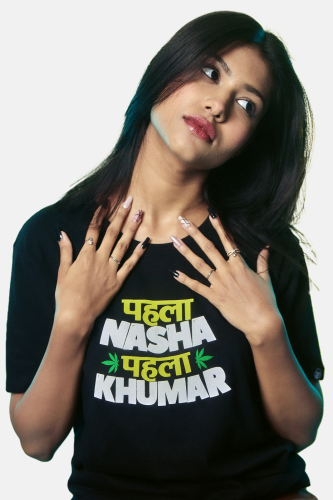 If you are that couple, who ends up being the talk of every party and are basically the showstoppers as everyone keeps reminiscing how the two of y'all fell for each other then this couple t-shirt is for the two of you. Let everyone adore you at the party for twinning with your 'Naya and Pehla Pyaar'. Or if you want to give the word 'Nasha' some entirely different meaning then we'll let you take the call.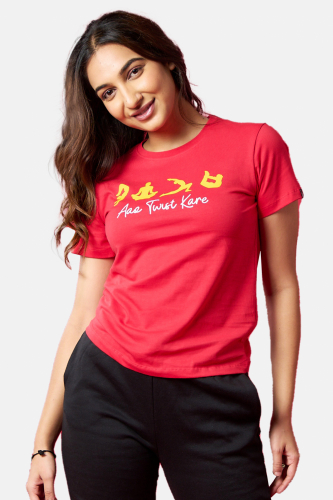 You know the drill by now, a Chutzpah t-shirt with Aao Twist Karien written on it would be for those who won't stop dancing till the DJ goes home, right? You are partially right but this t-shirt comes with mini figures in different yoga poses. So basically this t-shirt is for the fitness enthusiasts that end up eating nothing but salads and fruits at a party. 
Apart from the above options, there are tons of other t-shirts that you can choose from. So browse through the range of Chutzpah collection and get yourself the ones that fit you aptly.