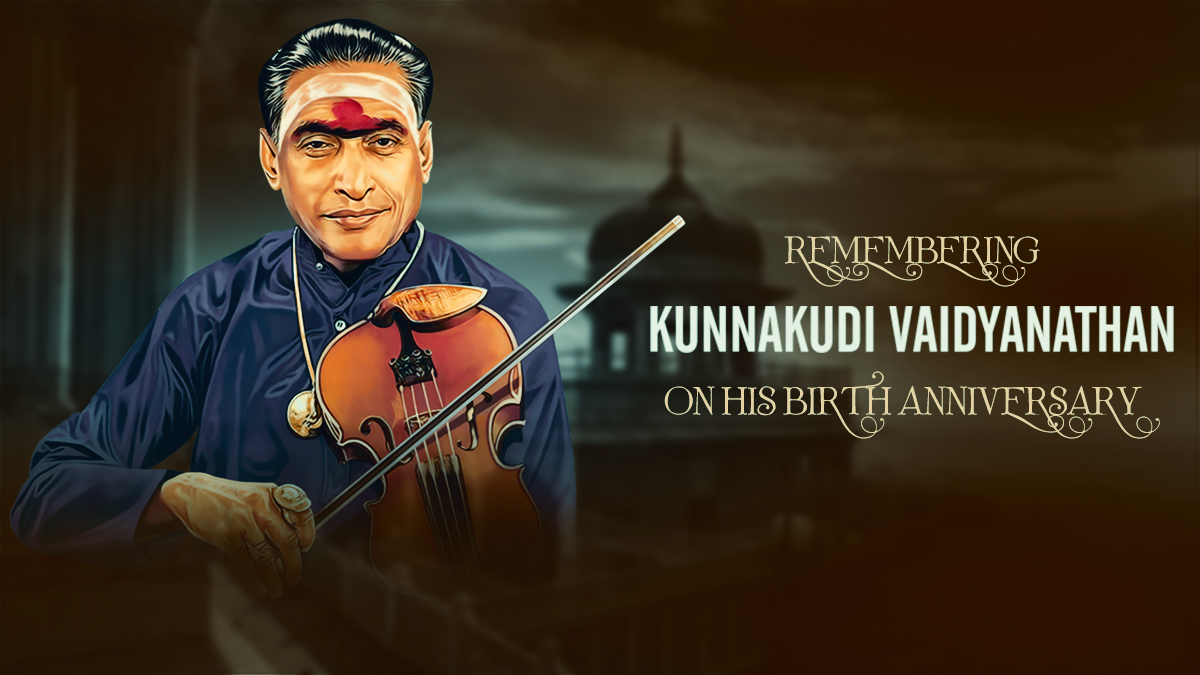 Kunnakudi Vaidyanathan had no one even close to him when it came to playing his chosen instrument.
Kunnakudi Vaidyanathan was born to Sri Ramaswamy Sastri and Smt Meenakshi at Kunnakudi, a temple town of Lord Murugan in Tamil Nadu. His father was a learned scholar in Sanskrit and Tamil and a brilliant composer and proponent of Carnatic Music and Kathakalakshepam. Kunnakudi Vaidyanathan started learning South Indian Classical Music from his father at a very young age, whom he considered his guru. Kunnakudi Vaidyanathan's father also taught him verses from Hindu Vedic scriptures.
Kunnakudi, as he was famously referred to, was a popular artist in both classical Carnatic music and film music category. He enjoyed doing new experiments with the instrument, which you can witness in Kunnakudi Vaidyanathan songs. The Violin was his forte. Known for his sleight and subtlety in handling the Violin, his music was for the music experts and the general masses. His style of playing the instrument reflected his many moods and his audience, whom he also knew how to please. Listen to Kunnakudi Vaidyanathan songs exclusively on Saregama.
Some of the Kunnakudi Vaidyanathan songs to add to your playlist are- Agathiyar, the albums Amman Isai Malar, Cine Divine Jewels on Veena, Divine Collections, and Hits of MK Thyagaraja on Violin, Kankatchi, and many more. Make sure to listen and download these songs from Saragema.
The way he handled the high and low notes of the instrument was tremendous and equally effortless.
Vibhuti or sacred Ash and a big Vermilion dot smeared prominently on his forehead were Kunnakudi Vaidyanathan's significant part of his appearance. He has worked with numerous great artists like Ariyakudi Ramanuja Iyengar, Semmangudi Srinivasa Iyer, and Maharajapuram Santhanam in concerts at the mere age of 12. Kunnakudi Vaidyanathan also performed with legendary Nadaswaram Vidwans like T.N.Rajarathinam Pillai and Thiruvenkadu Subramania Pillai.
Kunnakudi Vaidyanathan later stopped going along with other musicians to concentrate more on solo performances. He was famous for his fingering techniques on the Violin. Kunnakudi Vaidyanathan had deep faith in the therapeutic properties of music. He often said that different Ragas have healing properties for mental ailments. Kunnakudi Vaidyanathan also made a significant contribution to Tamil devotional music. A. P. Nagarajan gave him his first break in the movie Vaa Raja Vaa. Kunnakudi Vaidyanathan's songs had several hits, such as Agathiyar and Raja Raja Chozhan, for which he composed music.
Kunnakudi Vaidyanathan did a special role in the 2005 Tamil super hit movie Anniyan directed by Shankar, on the Thyagaraja Aradhana festival sequence for the song Iyengaaru Veetu which is a remake of the original festival. He had guest appearances in many other films too.
Kunnakudi Vaidyanathan was awarded the prestigious "Padma Shri" title by the Indian government, the Kalaimamani award, Sangeet Natak Akademi Award by the Sangeet Natak Akademi in 1993, and the Karnataka Isaignani award. He has also won Best Music Director awards for his film background scores.
Kunnakudi Vaidyanathan had a long connection with All India Radio. An able administrator, Mr. Kunnakudi Vaidyanathan served as Secretary of the Tamil Nadu Iyal Isai Nadaga Mandram. As the Secretary of Thyagabramha Sabha, Thiruvaiyaru in Thanjavur district, he also conducted the Tyagaraja Aradhana for several years. He also was the president of the Raga Research Centre.
Kunnakudi Vaidyanathan sought a vast understanding of music and wanted to utilize the power of the notes, as you can witness in all of Kunnakudi Vaidyanathan songs. He was the founder president of Raga Research Centre, Chennai, where music therapy was investigated and practiced. This center has been functioning for 14 years with state government aid.
Kunnakudi Vaidyanathan's mastery in both Carnatic and light music was appreciated by many music lovers globally, and he deserves all the praise because each of the Kunnakudi Vaidyanathan songs is nothing short of true gems. He also made a significant contribution to Tamil devotional music. His film `Thodi Ragam' was an attempt to measure the phenomenal music of Madurai T N Seshagopalan. A top point of his career was becoming a high-grade AIR artist, which was a recognition of the sheer strength of his performances. But Kunnakudi Vaidyanathan's legacy lives on through the numerous recordings and Kunnakudi Vaidyanathan songs he left. It's a legacy that his son V R Sekar has inherited. Sekar is a cellist.
Kunnakudi Vaidyanathan had accompanied senior musicians like Ariyakudi Ramanuja Iyengar, Semmandi Srinivasa Iyer, and Chittoor Subramania Pillai during the early days of his career in Carnatic music. Later, he became a solo violinist and was equally engaged in scoring music for Tamil films. Kunnakudi Vaidyanathan songs always had a long-lasting effect on the listeners.
Kunnakudi Vaidyanathan was awarded the prestigious "Padma Shri," Kalaimamani award, Sangeet Natak Akademi Award in 1993, and the Karnataka Isaignani award. He has also won Best Music Director awards for background scores for his films. He received the Sangeetha Kalasikhamani award from "The Indian Fine Arts Society." This honor proves the metal of all Kunnakudi Vaidyanathan songs.
Kunnakudi Vaidyanathan had a great sense of humor and his style of keeping everyone around happy and laughing. He was an excellent orator too; his alliterations and word plays were very enjoyable. His "one-minute stories" require special mention. He often would tell short stories during class, which were humorous and carried a strong message. He had a very good memory. He used to remember dates like a history encyclopedia. He also remembered almost everyone whom he met in his life. He was a very humble person, never having any ego or pride. He respected everyone and was very devoted to music and God. His devotion to music is evident in all the Kunnakudi Vaidyanathan songs that we have put together in a playlist for you.
Listen to Kunnakudi Vaidyanathan songs playlist on Saregama curated for all the classical music lovers out there.