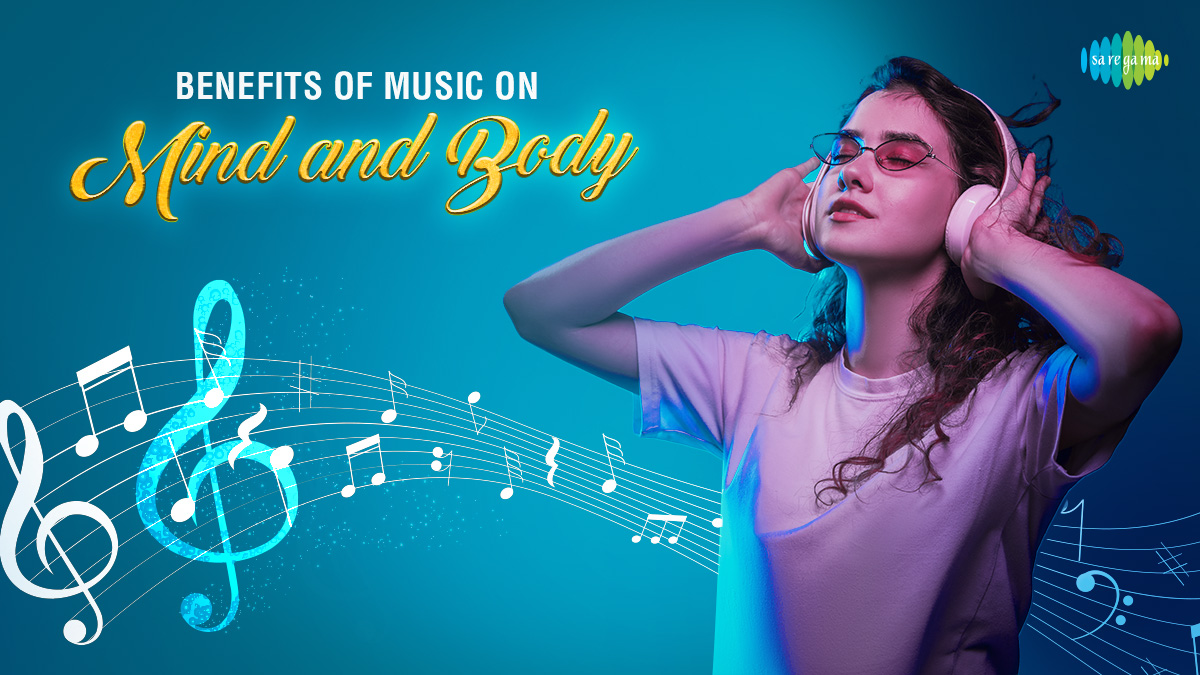 Have you ever experienced a situation where you just felt like putting everything on a halt, grabbing your earphones, closing your eyes and listening to your favourite playlist until you're completely washed over with serenity? If yes, then you should most definitely go ahead and do so, because music can rejuvenate and revive you in ways that you might not be aware of!
We all have had moments where we feel as though we share a sacred intimate relationship with music. A feeling that is very unique to us and can't really be explained or put into words. Music can act as a ton of things, a healer, a travel companion, a therapist, or even a primary element of a party. But most importantly it's our happy place (that is unless you are listening to Lata Mangeshkar's Lag Ja Gale right after a breakup)
Some songs make you feel like dancing, some make you want to sing, some make you happy or sad and some songs just make you feel right at home. That's the beauty of music, it does not restrict you to one particular emotion but exposes you to tons of emotions and is capable to make you feel vulnerable. 
Let's find out what music does to our minds and bodies in order to have such a vivid impact on us: 
Upset about the excess load of work? Had a fight with a loved one? Or just feeling low for no particular reason? Then music can most certainly uplift your mood. One of the best things about music is that it's very subjective. Different kinds of music can have different effects on people. Let it be Bollywood, classical, slow pop, indie rock or even grunge for that matter, any genre of music, depending on your taste can do wonders for your mood. Music allows the free flow of emotions in your body. It has an indescribable factor that takes your mind to a happier place. With music hitting your eardrums it's nearly impossible to feel sad and lonely. As we mentioned earlier music rejuvenates you, keeps you in a lighter mood and helps you gain a better perspective on life in general.
As we have established earlier, listening to music has a deep impact on your mind and body. In some circumstances, it can assist create an atmosphere, evoke fond memories, and in some cases, even help people destress.
In reality, music has a remarkable ability to reduce tension. It influences us with its calming effects on our bodies and thoughts, which in turn also aids in stress relief. This suggests that for people trying to relieve stress, listening to music might be the solution. Stress is a part and parcel of life. Stress management plays a vital role in the smooth regulation of life. Not only does music calm your nerves but also helps you gather your thoughts.
Music, especially classical music, can be used to minimise stress and increase relaxation. The heart rate and pulse are lowered by this slow and peaceful genre, which impacts bodily processes.
Classical music is said to lower your blood pressure and stress hormones. This is a soothing experience and an excellent approach to dealing with the everyday stressors that arise in our life.
Our emotions are known to be profoundly affected by music. Slower beats can calm the mind and relax the body, making music a proper stress-reduction technique.
Music, on a hectic Monday afternoon or during the preparation for an exam can act as a reward. Many people tend to make music a temporary escape from reality, it becomes their happy place. Music has a natural tendency to improve situations greatly since it is healing. In fact, it has been regarded as a crucial factor in determining happiness.
Lyrics foster connection
If you think about it, any music evokes emotions mostly due to the lyrics of a particular song. Lyrics that either remind you about your life or condition your life in a certain way. This is exactly why people find comfort in these phrases and songs as it soothes them. 
Music has a way of making people feel extremely understood. Consequently, it seems like someone is aware of your innermost thoughts. You can feel as though you are not the only one facing certain situations or emotions. It can trigger a sense of belongingness that can make you happier and more content. 
Music helps you feel better
When it comes to being understood, music nearly always makes the pain go away, and this is not just psychologically supported. Science too backs the fact that music indeed can have calming effects on a human's mind and body. According to the findings of the studies, music has a significant impact on the mind and hormones, which naturally lessens the perception of pain.
As we mentioned earlier, music can brighten up a dull day and make it more joyous. Mornings filled with Om Jai Jagdish Hare or any other devotional songs can be a perfect start to a day filled with positive energy. Any soulful song for that matter can act as a pick-me-up at any time of the day.
Grooving to beats is the best way to burn calories
Dance is hands down the most fun way to work out. You need not necessarily be a good dancer for this. All you need is the right playlist that hits you in a way that would make you shimmy. And well, with a good 30 minutes of grooving session you can easily burn around 130 to 250 calories. It also promotes a healthy heart rate that results in a stronger heart. Over time, a regular dance session can lead to a better core and increase muscular strength and also increase your endurance levels. So, why would you want to jog on a boring treadmill or lift some extra weights to lose that stubborn fat that won't go away, when you can instead put on your dancing shoes and groove to the beats of I am a Disco Dancer?
Takes you back to the good old days
Many feel that the '40s to the '90s was the soulful symphony era of Indian music. Well, we most certainly agree with that. The melodious voices of Manna Dey, Mukesh, Lata Mangeshkar, Mohammad Rafi, Asha Bhosle, R.D. Burman and many more echos beautifully in our ears to this day. Just listening to those songs makes people nostalgic. Dekha Ek Khwab can remind you of the times when you walked in a garden filled with roses with your lover or Rang Barse could remind you of a memorable Holi. That's the beauty of music, that it instantly fills your heart with memories and makes you happy in no time.
Saregama Carvaan is a one-stop option for all your musical ventures. 
With Harman Kardon's speaker, Carvaan Go Gold is a perfect music companion that comes with pre-loaded songs, is portability and has an incredible sound quality and a golden body. The Carvaan Go Gold portable audio player has 3000 pre-loaded evergreen Hindi songs and the best part is, it plays them without any commercial breaks or the need of the internet. It also supports FM/AM, Bluetooth, Aux, and Micro SD card slots so you can listen to other personal collections with the Harman Kardon's premium sound output. 
Now you can listen to your favourite timeless melodies while you stroll around, travel a long distance without being interrupted by ads, or even carry it on a plane as it doesn't require the internet. The songs are divided into three different categories: Playlists, Artists, and Specials. 
You can select to listen to the songs of your favourite musicians, including S.D. Burman, Lata Mangeshkar, Mukesh, Hemant Kumar, Kishore Kumar, and Mohd. Rafi, or just choose from the 'Specials' category according to your mood: happy, sad, romantic, etc. If you need ready-made playlists but are having a busy day, simply select the Playlist option and choose from 50 carefully curated tracks to listen to without being distracted by commercials or notifications.
In this era that is filled with technology, kids do tend to spend most of their time on screen. Saregama Carvaan comes to your rescue. Carvaan mini kids is specially designed for children and is a portable bluetooth speaker specifically created for children between the ages of 2 and 10. It is small, portable, lightweight, child safe, and simple to use so that no help from parents or other adults is required. Kids can play the pre-loaded audios without an internet connection, also there are no commercial breaks to ruin your child's listening time.
Every kid can use it independently and listen to their favourite rhymes and stories while also learning phonetics, alphabets, numbers, and table skills. And for all the parents who have fought to get their kids to learn the Gayatri mantra, the Sai mantra, or any other of these, Carvaan Mini Kids offers a mode just for mantras that enables kids to begin learning at a young age.
The educational and entertainment demands of your child are now fully met by Carvaan Mini Kids. There are four distinct modes included: rhymes, stories, learning, and mantras. This makes it simpler to choose items based on your child's mood and needs.
Carvaan Mini is a portable music player with 351 in-built Hindi songs. Carvaan Mini comes with pre-loaded evergreen hits by legends like Lata Mangeshkar, Asha Bhosle, Mohamad Rafi, Kishore Kumar, and Mukesh. You can use Bluetooth or a USB drive to play your own music collection on the Mini Speaker. Carvaan mini is an ideal all-in-one music player as it has the ability to tune into FM/AM stations as well. To top it all off Saregama Carvaan Mini comes with an amazing battery life of up to 4 hours and strong speakers that can fill an entire room or car. 
Saregama Carvaan mobile is the first ever keypad phone with pre-loaded melodies. It comes with 1500 pre-loaded evergreen Hindi songs with super loud speakers. Carvaan Mobile is a terrific option for a keypad phone that comes with beautiful melodies and vintage music. It is the best option for keypad phone enthusiasts because it has a stylish and premium appearance, a digital camera, a 2500 mAh long-lasting battery, an integrated FM, and a durable and wide display. For ease of song selection, the collection of 1500 specially selected and curated superhit, timeless songs are divided into categories based on the names of artists like Lata Mangeshkar, Asha Bhosle, Kishore Kumar, etc. or moods like romance, sadness, and more.
For your photos, videos, music, and other files, it has 2 GB of free storage. With the phone's multilingual support, you can also have conversations with your loved ones. 
Saregama Carvaan brings retro back. 5000 timeless Hindi songs are pre-loaded in this portable digital music player that comes with built-in dual speakers. Carvaan functions as both your home radio and a portable FM radio. By connecting a USB drive or using Bluetooth to stream music from your phone to the Carvaan, you can also enjoy your very own music library. It runs on a battery that is rechargeable and that can last up to five hours. A nationwide service network in India supports the product and offers a one-year in-home warranty. The 5000 songs in the Saregama Carvaan music collection were hand-selected and categorised according to vocalists, lyricists, music composers, moods, singers etc. A jog dial can be used to pick any category. So now you can flip from timeless love ballads, soulful Sufi tracks, and Kishore Kumar oldies all in their original renditions, back-to-back, without any commercials in between, with just a simple turn of the knob.