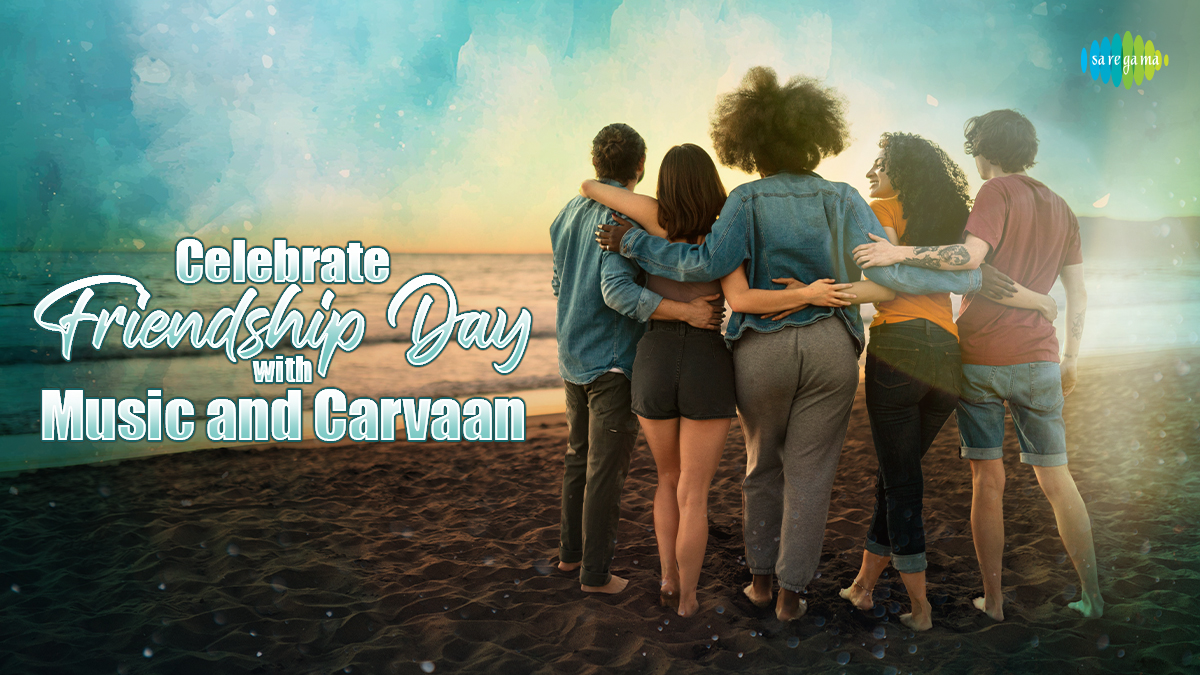 Friends are for life. If you're here on Friendship's Day, there's a good chance you're looking for the right gift to make your friends feel special and appreciated. Aside from birthdays, you often don't get many opportunities to show your friends how much you value them. And this is when another old adage comes into play – There is nothing like Music to bring people together. And thus, some people rightly say that music is the best gift because it never stops giving. But before we get to carvaan gifting, let's talk about a few things you may not have known about friendship's day . 
What Is Friendship Day 
Friendship day is a day dedicated to celebrating the value and joy friends bring to life. It's a day for everyone in the world because who doesn't need friends? 
The idea of having a special day for friends was initially propagated by the greeting card industry and has taken an important root in the cultural fabric of several countries across the world, particularly Asian countries like India, Malaysia, and Bangladesh. This may be owing to the presence of much larger communities of people, which means the average person in these countries tends to have a lot more friends.  
The roots of friendship day are still a little foggy, but it's popularly believed to have originated in 1930 from Hallmark cards, by Joyce Hall and the Greeting Card National Association. This was the first time the idea of having a day for friendship was promoted but it met with a lot of initial resistance as consumers thought it was just another commercial gimmick to sell more cards.
Paraguay was the first country to propose and carry out a nationwide friendship day in 1958. Since then, it's taken on a spirit of its own and spread across the world which isn't surprising, because friendship as we all know is universal. 
When is Friendship Day Celebrated?
In countries like Ecuador, Mexico, Venezuela, Finland, Estonia, and the Dominican Republic, friendship day is celebrated on the 14th of February. It deliberately coincides with Valentine's day as an alternative for people who do not have a romantic partner. 
In South Africa, friendship day is celebrated exclusively and on the 16th of April every year. 
Ukraine Celebrates it on the 9th of June, Pakistan on the 19th of July, Spain, Brazil, and Uruguay on the 20th of July, and India on the first Sunday of every August. 
Even though the United Nation proclaimed the 30th of July as the official date for international friendship day, dates for friendship day celebrations vary a lot across the world. Some countries even celebrate it twice a year. 
As you can see there's no official calendar the entire world marches by when it comes to friendship day. Perhaps, the best way to go is to celebrate your friendships a little every day. 
The Importance Of Friendship Day Across The World 
It's difficult to decipher the emotions and feelings that are related to friendship because friendships are often complicated. But there is no doubt as to the importance and virtue of friendship, not only for the individual but also for the collective good. There have been numerous instances throughout history where friendships have altered the entire course of humanity for the better. 
Friendship day is predominantly celebrated in schools across the world with friendship bands. Sometimes it also involves field trips to places like amusement parks, fun fairs, or playgrounds where kids can enjoy each other's company and have a good time. 
But friendship day is about a lot more about more than just having fun. It teaches kids the importance of cherishing their relationship with their friends today, so they can have a community of people around them tomorrow. A lot of friendships don't last into adulthood, especially when you don't appreciate your friends enough. No matter how old you get, friends will never stop being important. 
Even though friendship day is generally more popular among the youth, many adults have also started to use it as a way to stay in touch or rekindle with old friends. Social Media, Mobile Phones, and Digital Communication have had a major role to play in popularizing friendship day among all demographics.
You never need an occasion to meet your friends on normal days. Why not make friendship day a bit more special by including a bit of carvaan gifting in your celebrations?
Why Celebrate Friendship Day with Saregama Carvaan Gifting 
Saregama is one of India's oldest and most prolific sound labels. Founded in 1901, Saregama has been enriching the world of entertainment with high-quality music production for over a century. It's the most recognized music producer in India and retains its position today with the Carvaan initiative. 
Carvaan is not your average loudspeaker. It's an all-in-one music player with thousands of pre-installed classic hits and an authentic but regal design. It's made to look like the stereo players our parents and grandparents grew up with, but with modern touches in all the necessary aspects of design to provide high-quality audio playback. 
Carvaan's speakers are designed to keep your passion for music alive. Not only do you get to dive deep into all the timeless hits of Indian cinema, but also share this gift with your friends and family. Here are some of the best gifts songs for friendship day Saregama has to offer.  
The Carvaan Premium is Saregama's bestselling and flagship model. It's a one-of-a-kind music player made with cutting-edge sound engineering to help you enjoy retro songs like never before. 
What makes it a one-of-a-kind speaker isn't just the multi-functionality, or high-quality playback but also the visual aesthetic and user experience. It provides the same feeling as owning a stereo box, without any of the caveats that made stereos redundant. 
Carvaan comes pre-loaded with 5,000 evergreen songs from the most prominent artists of all time. Depending on your regional preferences, you can select Hindi, Malayalam, Telegu, Marathi, Punjabi, or Bengali. There are a range of posh colors to choose from like cherrywood red, oakwood brown, electric blue, porcelain white and an entire range of POP colours along with the premium Golden collection. 
With its Bluetooth connectivity, AM radio, plus access to the FM stations, carvaan is an all-in-one entertainment device guaranteed to make any friendship day your most memorable one yet. 
Saregama's Carvaan 2.0 comes with the Podcast and WIFI feature which lets you tap into the latest Bollywood songs in our catalogue online along with the 5000 pre-loaded evergreen songs. But that's not all. You can also listen to teachings from Sadhguru, rhymes, stories from kids, and the greatest pieces of classical literature of all time, like the Bhagwad Gita and The Ramayana. 
If that's not enough content there are over 280 daily updated Wi-Fi-based stations, giving you access to the latest news, devotional podcasts, lifestyle, health and wellness stations, and many more entertainment stations that are updated regularly. Carvaan 2.0 is the gift that never stops giving. 
A carvaan mini would be the best gift for friends that spend a lot of time traveling. It's a lot more compact, but it still does everything a music lover needs. You can listen to over 351 superhit retro songs by artists like Lata Mangeshkar and Kishore Kumar, tune in to AM/FM radio, or play your music with AUX/Bluetooth. It also comes with a headphone jack if you're ever on a train and want to use it as an iPod. 
Compact and lightweight but powerful, the Carvaan mini is more than just a Bluetooth speaker. It's a traveling companion for true music patrons. It's a way to keep your friends close and entertained when they're out in the world traveling alone.  
Singing is one of the best exercises on the planet for stress relief, catharsis, and building emotional connections. These are incidentally, also the things friendship does for you which makes Carvaan's karaoke set the most fitting gift for friendship day. Some people take pleasure in singing, some people need to.
Singing plays an even greater role in life when you're sick, injured, or aging. It's been known to improve lung function, improve concentration, and memory, and most importantly, help you decrease stress hormones while increasing love hormones. 
With Carvaan's musicbar and karaoke, you and your friends can sing your hearts out any time you want. It comes with 1000 pre-loaded evergreen songs, a top-of-the-line soundbar with carvaan's signature sound output, and a massive 6.5-inch subwoofer for an enhanced bass experience. You can turn your living room into a concert hall at the push of a button. The wireless mic and the amazing karaoke mode is the party starter for all your events.  
Miss the iPod/Mini-MP3 player era? Some people grew up with record players, some with stereos, and some with iPod players. Regardless of which generation you fall into there's something to be said about the nostalgic experience listening to music on familiar devices can bring. 
With Saregama's Carvaan Go you can bring back the mini Mp3 player days better than before. It combines the portability and sleekness of a mobile music-playing device with the capabilities of a Saregama's signature caravan. 

It comes with over 3,000 pre-loaded evergreen hit songs from your region of choice, pre-organized into playlists by genre and artist for you, which spares a lot of time. The battery life is an impressive 7 hours with continuous streaming whether you're tuning into the radio or playing your favorite hits. 
On the technical side of things, Carvaan Go comes with an in-built 2W speaker, an AUX connection if you want to plug in your headset, Bluetooth connectivity, a micro-SD card slot, access to local FM/AM radio stations, and a rechargeable battery that lasts up to 7 hours. With endless options for music streaming, you'll have an entire music library in the palm of your hands. And you can modify or tweak it further to your liking, with Saregama's Mobile app. 
Like our Carvaan 2.0, the Go Carvaan 2.0 is also an upgrade from its predecessor. It's better, brighter, smarter, and louder in every sense of the word. You can enjoy uninterrupted podcasts, music, and radio shows for over 7 hours on a single charge. Carvaan Go 2.0 allows you to access an even wider range of content with internet connectivity. If you're gluttonous for entertainment, try the Carvaan Go 2.0.
Outro 
If you're really looking to up the ante on this year's friendship day, consider buying a carvaan because after all, who doesn't love music? But more than that, carvaan gifting can also be a symbolic gesture. Think about all the memorable friendship day songs you grew up on with your friends. Music is a part of the bedrock of our relationships more than we can realize. 
Music brings people together in friendship and friendship makes your world more musical. It's a hauntingly beautiful symbiotic relationship. Saregama is proud to be a part of your friendship's day celebration.