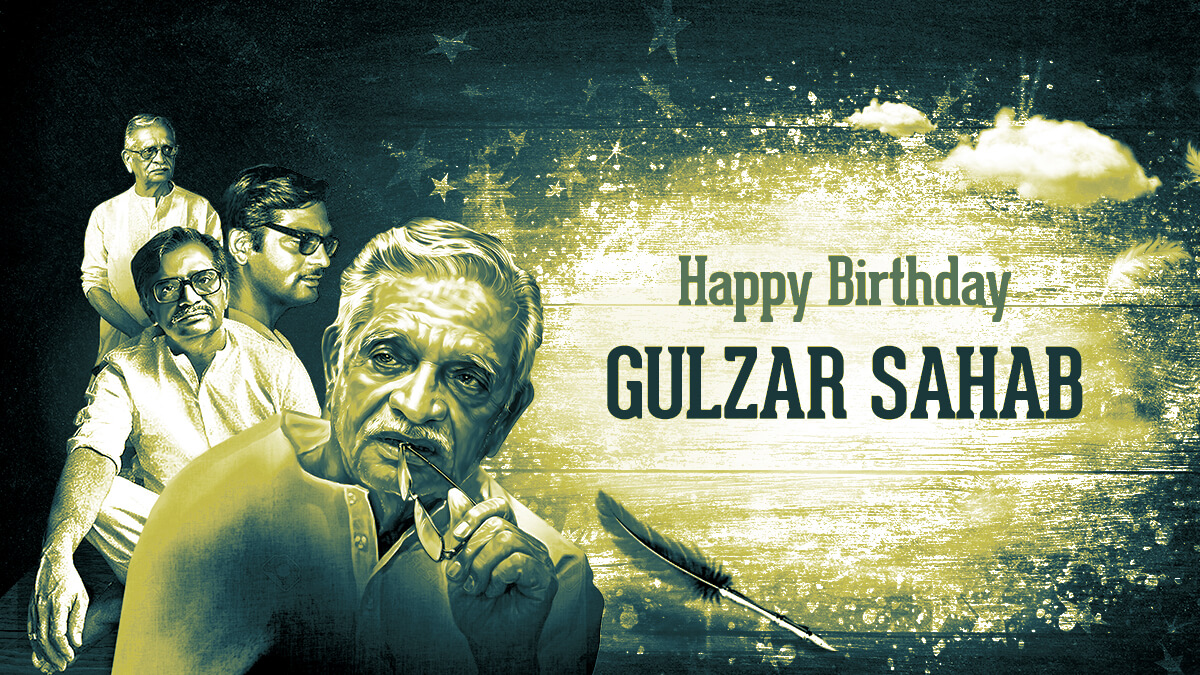 The popular Indian lyricist, poet, author, screenwriter and film director whom we know as Gulzar was born with the name Sampooran Singh Kalra on 18th August 1934 in a Sikh family at Jhelum District, British India. Inspired by Tagore during his early days, young Gulzar had to come to Mumbai after the partition to support his family. He began from working in a Garage which also gave him enough time to read, write and be a part of the Progressive Writers Association.
Gulzar first started his career under directors Bimal Roy and Hrishikesh Mukherjee. "Bandini" from the year 1963 was the first film for Gulzar as a songwriter. Sachin Dev Burman was the music director of the film. Gulzar was asked by the well-known writer Shailendra to write the song "Mora Gora Rang Layle" which was sung by the legend Lata Mangeshkar. After this, Gulzar wrote lyrics and dialogues for the film Aashirwad directed and produced by Hrishikesh Mukherjee.
All the songs written by Gulzar Sahab had a very personal and emotional touch to them that reached the hearts of listeners. However, for a few years, Gulzar's lyrics did not draw any attention until the song "Humne Dekhi Hai Un Aakhon Ki Mehekti Khushboo" from the film Khamoshi (1969) became a huge hit. The song " Humko Man Ki Shakti Dena" written by him for the film Guddi in 1971is still presented as a prayer song in many Indian schools.
Throughout his career, Gulzar Sahab worked with many music directors like Shankar Jaikishan, Hemant Kumar, Laxmikant-Pyaarelal, Madan Mohan and Anu Malik. He has made contributions with his pen for blockbuster movies like Anand, Mere Apne, Maachis, Omkara, Kaminey, Dil Se, Guru, Slumdog Millionaire and many more. Gulzar Sahab has also worked with the famous Mani-Ratnam and A.R. Rahman duo. For his lyrical contribution to the song "Jai Ho" from Slumdog Millionaire, Gulzar and Rahman won the Best Original Song at the 81st Academy Awards. The song also won him a Grammy award shared with Rahman again.
Apart from just writing, Gulzar also turned into a film director and directed some impressive films like Mere Apne, Parichay, Koshish, Achanak, Andhi and Khushboo. His film Mausam won Gulzar a National award and several other nominations.
Gulzar Sahab till today continues to write poetries in Urdu and Punjabi and his pen still delivers the same emotions from years back.
You can now listen to all your favorite songs written by the legendary lyricist on Saregama Carvaan, a digital audio player with 5000 in-built old Hindi Bollywood songs along with features like Bluetooth, AUX and USB connectivity.
Saregama appreciates the contributions of Gulzar Sahab to Indian cinema and wishing him on his 86th Birthday hopes that the pen keeps running forever.