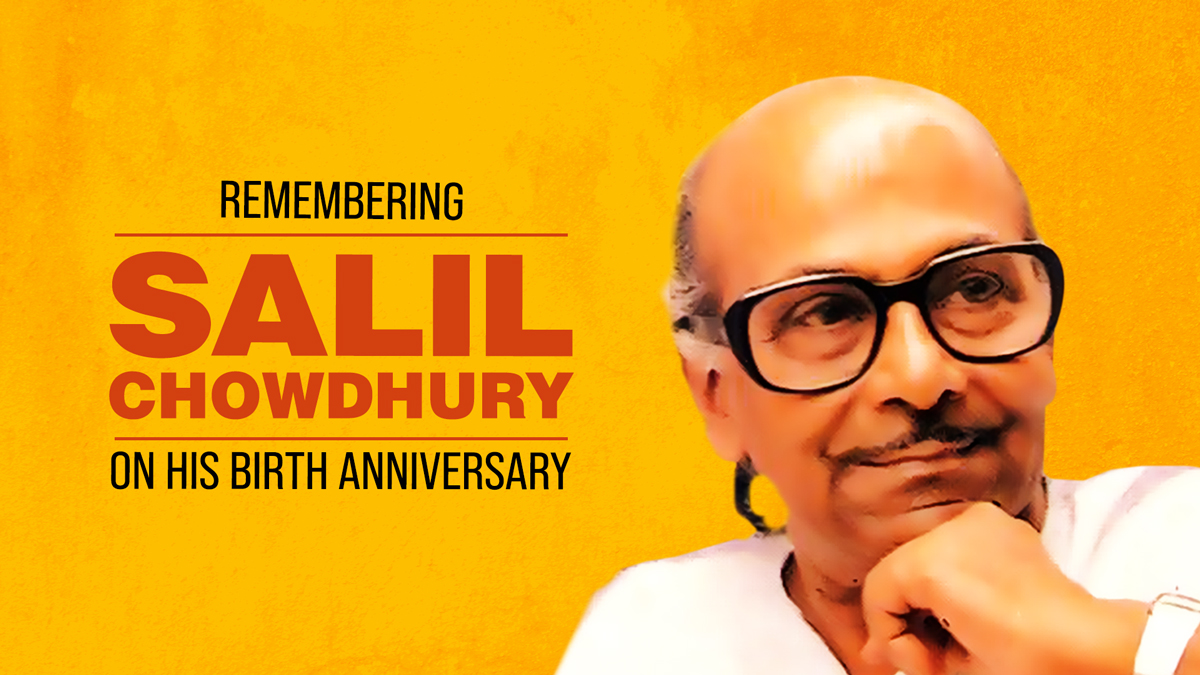 In the history of music, there have been many musicians who have played mesmerizing melodies, but only a few of them has played it just the right kind of mesmerizing. And even out of that select few, fewer have held the talent of dipping their toes in more than one talent and have handled that with grace and dignity.
One of such maestros is Salil Chowdhury or Salilda. An Indian songwriter, lyricist, music director, poet, writer, arranger, Salilda has worked mainly in the Bengali, Hindi, and Malayalam film industries. Over the course of his career, Salilda went on to compose music for films in over 13 languages. Not ever been someone to be held back, his talents were not limited to composing music but also playing instruments. He was fluent in multiple instruments including piano, flute, and the esraj. Apart from his music composing, he was also widely admired for his poetry in Bengali. 
Born on the 19th of November 1925 in Gazipur village, West Bengal, Salilda's childhood was spent in the tea gardens region of Assam. His father was reputed to stage plays amongst coolies and other workers of the tea gardens. It was from his father's collections that Salilda started to listen to western classical music from an early age. While completing his college degree, Salilda got to observe closely the suffering, pain, and problems of the refugees during World War 2 which greatly formed his political views as well as gave maturity to his music.  
Salilda composed his first popular song during his college days titled "Becharpoti Tomar Bichaar" set to a kirtan tune. After witnessing the Bengali famine during the war, he got fully involved in the peasant movement. Even having arrest warrants issued in his name, Salilda went underground to Sundarbans where he stayed in the paddy fields supported by local peasants and kept composing music and plays throughout.  
Salilda's first Bengali film break came as the 1949 film Paribortan. He went on to compose music for 41 Bengali films between 1949 and 1994. Salilda's break into the Hindi film industry happened on a stroke of luck. He narrated his story script to the Hindi film director Bimal Roy who immensely liked his narrative and invited him to script the movie. That is how Salilda became the music director of his first Bollywood break Do Bigha Zamin in 1953. The film became the new height of his career by winning the Filmfare Best Movie Award. That was the first film to win an award in that category. 
Salilda went on to compose music for films in 13 different languages. 75 Hindi films, 41 Bengali, and 27 Malayalam films amongst a few others in Kannada, Tamil, Telugu, Odia, Gujarati, Assamese, Marathi, and others. Some of his popular songs includes Zindagi Kaisi Hai Paheli Haaye (Anand), Raaton Ke Saaye Ghane (Annadata), Aye Mere Pyaare Watan (Kabuliwala), Na Jaane Kyu (Choti Si Baat), Wo Ek Nigaah Kya Mili (Half Ticket), Itna Na Mujhse Tu Pyaar Badha (Chhaya), Zindagi Khawaab Hai (Jagte Raho), O Saajana, Barkha Bahaar Aayi (Parakh), Koi Hota Jisko Apna (Mere Apne), Toote Huye Khwaabo Ne (Madhumati), Shimul Shimul Shimulti (Barjatri), Jhir Jhir Barosay (Pasher Bari), Dukher Seema Nai (Raat Bhore), Jaago Mohan Preetam (Ek Din Raatre), Deko Na More Deko Na (La Pathore), Baaje Jo Bina (Marjina Abdallah) amongst others. 
Salilda's first Hindi film Do Bigha Zameen went on to win the 1st Filmfare Best Movie Award, 1st National Film Awards for Best Feature Film, Prix International Awards at the 7th Cannes Film Festival, and the prize of Social Progress at the Karlovy Vary International Film Festival. His 1965 Malayalam film Chemmeen won the President's, Gold Medal. His 1958 film Madhumati won got him his Filmfare Best Music Director Award as well as eight other Filmfare Awards. The film also won the National Film Awards for Best Feature Film in Hindi, the BFJA in 1973, and The Allauddin Smriti Puraskar in 1985 from the Govt of West Bengal. IN 1988 Salilda received the Sangeet Natak Akademi Award, the Maharashtra Gaurav Puraskar Award in 1990, amongst other awards. 
Posthumously he was awarded the Mukti Judhho Maitreyi Samman Award by the Govt Bangladesh in 2012. 
On the occasion of his 97th Birth anniversary, Saregama celebrates his contribution to the Indian music industry. 
Now you can listen to the top Salil Chowdhury mp3 songs on saregama.com or high-definition songs on Saregama Carvaan. Saregama Carvaan is a portable digital audio speaker that comes with 5000 preloaded evergreen Hindi songs that you can listen to any time without ad breaks or an internet connection. It also consists of other features like Bluetooth, FM/AM radio, USB, and AUX connectivity.