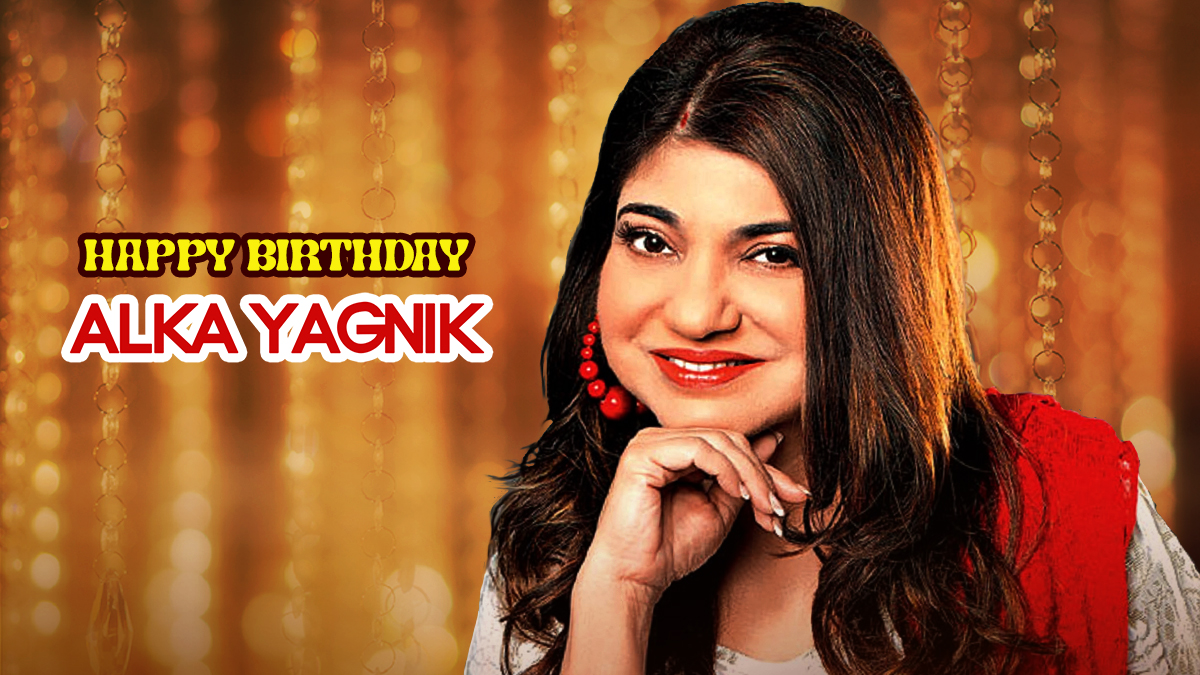 The queen of melodies and playback, Alka Yagnik, has given us four decades of pure magic in her honey-dipped voice.
She has recorded songs for films and albums in various Indian languages and received several accolades, including two National Film Awards, two Bengal FilmJournalists" Association Awards, and a record of seven Filmfare Awards for Best Female Playback Singer from a record of thirty-six nominations.
On March 20, 1966, Alka Yagnik was born in a Gujarati family. Her mother, Shubha too, was a classical singer. At six, she started singing for Akashvani (All India Radio) Calcutta (now Kolkata). Her debut Bollywood song was for the film Payal Ki Jhankaar in 1980.
A legend like no other who rocked the romantic records of the nineties. The classics are from evergreen hits like Zindagi Ban Gaye Ho Tum, Tu Mile Dil Khile, Sajan Sajan Teri Dulhan, Mere Mehboob Mere Sanam, and many more are endless.
Alka Yagnik is one of the most prolific female playback singers and has sung many female solos in her Bollywood career. She has sung songs for over a thousand films and recorded over twenty thousand songs in more than twenty-five different Indian languages, including Gujarati, Assamese, Rajasthani, Bengali, Bhojpuri, Punjabi, Marathi, Telugu, Tamil, English, and Malayalam. Twenty of her tracks feature in BBC's list of top forty tracks of all-time. She is ranked No.1 on YouTube's Music Charts & Insights list of top global artists as of February 2022. She has been on the chart for 283 weeks with 300 million views.
Alka Yagnik songs are nothing short of gold. The value of her songs just keeps on increasing with time. Saregama has curated a list of Alka Yagnik songs for you to enjoy, listen to, and download.
At the age of six, a classically trained Yagnik began singing bhajans for Akashvani (All India Radio), Calcutta[9]. In our playlist of Alka Yagnik songs, we have a considerable number of devotional tracks sung by Alka Ji, some songs that we have are- Bandhu Bhav Har Ek Hriday Mein, Jai Kaali Jai Kaali Maa, Hare Rama Hare Krishna, Dukhi Jano Ke Pita Tumhi Ho and He Natnagar. Listen to these bhajans from our special playlist of Alka Yagnik songs.
Alka Yagnik credits her mother, who began singing at the age of four, as her first guru. Alka also studied singing with Kalyanji-Anandji and Laxmikant-Pyarelal. Her voice suits the romantic genre best, even though she has sung many genres. Alka has credited veteran singer Lata Mangeshkar with inspiring her. In addition to singing romantic songs, she has also performed peppy, seductive, and item number songs. All the genres of Alka Yagnik songs are available with Saregama. Download all these songs and enjoy the magical voice of our playback queen.
Apart from giving us ageless Bollywood classics, Alka Yagnik also created private albums with the likes of Javed Akhtar and Shankar Mahadevan. Even now, Alka Yagnik continued her versatile work with the legendary A.R. Rahman on various projects.
Alka Yagnik shares the title for the most significant number of Filmfare Awards with Asha Bhosle (seven) by a female playback singer. She has sung 2,486 Hindi songs in 1,114 films. She is the fifth most accomplished Bollywood singer of all time after Asha Bhosle (7886 songs), Mohammed Rafi (7405 songs), Lata Mangeshkar (5596 songs), and Kishore Kumar (2,707 songs). She is the third topmost female playback singer after Lata Mangeshkar and Asha Bhonsle, who has sung the maximum number of female solos in her Bollywood career.
In 2012 she, along with Sonu Nigam, sang a song "Shiksha Ka Suraj" as part of the National Literacy Mission of India. She was felicitated by Union Minister For Human Resource Development Kapil Sibal. Also in 2012, on the occasion of 100 years of Hindi Cinema, her song""Taal Se Taal Mil"" from the movie Taal was voted as the best song of the century in a poll conducted by DesiMartini, Hindustan Times, and Fever 104. Also, her song" Choli Ke Peech" from the movie Khalnayak was voted as the hottest song of the century in a poll conducted by Sanona.
The nostalgia of the nineties music begins with Alka Yagnik, and we have got her top hits for you to hit your notes on. Jam to Alka Yagnik songs like Aaj Bachna Hai Mushkil Tera from Hatimtai, Aisa Lagta Hai from Refugee, Pyar Ki Kashti Mein from Kaho Na Pyaar Hai, and many more. Download these fun Alka Yagnik songs from Saregama.