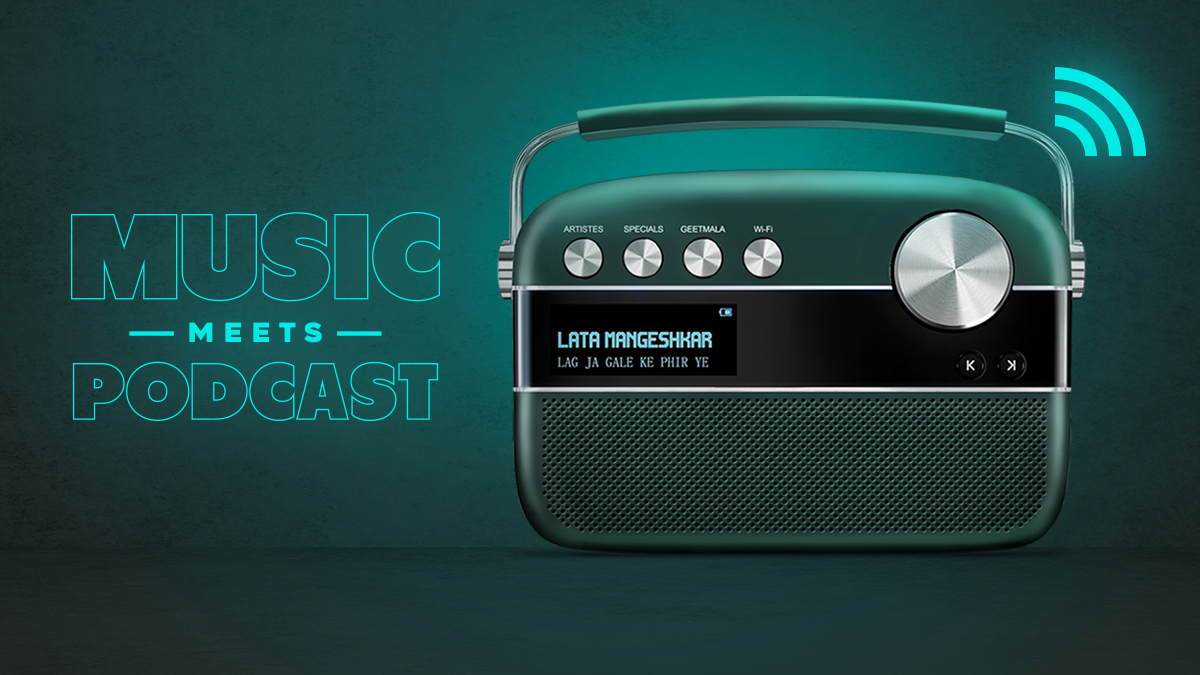 Life is not static, one has to advance. The musical journey so far has been nothing but magical for those who love Carvaan with a vintage collection of super hit and nostalgic Bollywood songs. Now music enthusiasts can set out for a grand musical experience with the newly launched Saregama Carvaan 2.0, the successor to the carvaan premium, which consists of a massive catalogue of songs. Prepare yourself and all the members of your family, from the grandparents to the children, because this delightful portable digital player has something really exciting for all age groups to get into the musical groove.
Keeping up with the name of Carvaan 2.0, the digital audio player has upgraded itself and how! Previously, it came with 3 categories namely, Artistes, Specials and Geetmala. The latest addition of Wi-Fi has opened a whole new range of music genres to explore for you. Now apart from the 5000 preloaded evergreen songs and 130+ dedicated stations, the newly introduced 4th category allows you can listen to additional 15,000 songs with the exclusive feature of 150+ daily updated Wi-Fi-based audio stations. This is indeed massive and a remarkable addition to the already rich features of Saregama Carvaan. To start enjoying the same, all you need to do is to connect your Carvaan 2.0 to a Wi-Fi network using the Saregama Carvaan App.
With Carvaan 2.0 begin your day on the spiritual note by switching to the devotional genre. Choose from a wide range of stations like "Aum Namah Shivaay Mantra", "Shrimad Bhagwad Gita Adhyay" or connect with the divine by playing the "Gayatri Mantra." Adding to it, you can now make the festivals like Ganesh Chaturthi, Maha Shivratri, Diwali and other holy occasions truly memorable with it's dedicated stations like "Ganesh Bhajans", "Shiv Bhajans", "Filmy Bhajans", "Shri Ram Mahamantra" and much more. So fill your mornings and evenings with the spiritual vibes using Saregama Carvaan 2.0.
If you are interested in lifestyle, get a daily dose of the same with "Musafir Hoon Yaaron" station. The other attractive genres include Health and Wellness where you can enjoy "Masalon ki Kahani" and "Nani maa ke nushkhe" or entertain yourself with "Wordgram", "Storiyan", "Audio movies" and many more stations.
While it tenderly fills the heart of grown up members of the family with happy and joyful tunes, the Saregama Carvaan 2.0 has very special stations for children as well. Let your children listen to the fresh stories and fairy tales in the night with "Bedtime Stories for Kids", "Rhyme Time", "Bacchon ki Kahaniyan" available exclusively for them. If you are a Gulzar fan or who loves to get lost in the magical poetry, "Gulzar's Nazm" is just for you.
Now your whole family can enjoy their favourite content with a spectacular range of stations, genres and distinct sounds on the Saregama Carvaan 2.0, the best portable digital player.
This portable music player continues to have 4 modes, Saregama, USB/AUX IN, FM/AM and Bluetooth. This gives you the option to tune into FM/AM and listen to the latest hits. You can also just relax and chill listening to your favourite songs by connecting the Carvaan 2.0 to your personal phone or your tablet using the Bluetooth option. If your friend wants to play the latest party songs on a USB drive, Saregama lets you enjoy it with its loud external speakers as well.
The Pan-India 1-year doorstep warranty support along with its premium retro look, extensive content library and ease-of-use makes Saregama Carvaan 2.0 the perfect friend for yourself and your loved ones. All you music lovers, get a Saregama Carvaan 2.0 today, the exciting musical treasure will surely touch the musical strings of your heart.