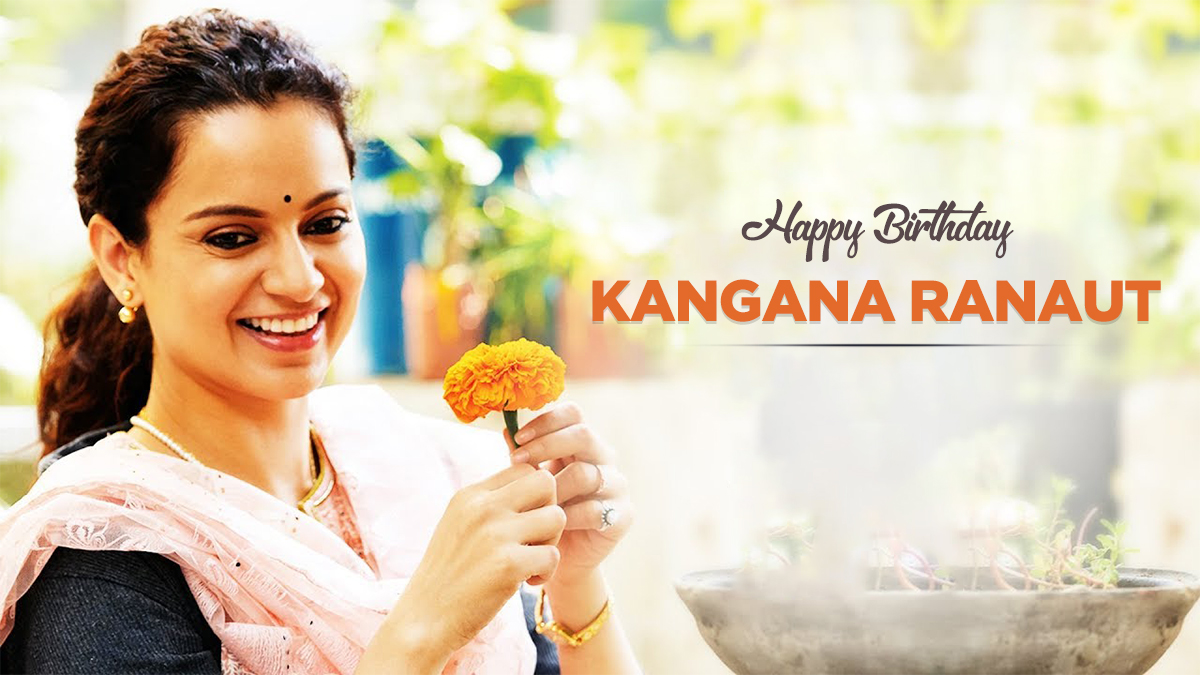 Kangana Ranaut, the 'Queen of Bollywood,' was born on 23 March 1987. Kangana Ranaut is a phenomenal actress and filmmaker. Her versatility and intense portrayal of women in films centered on women have led to her being touted as one of India's highest-paid actresses in the media. She has received several awards, including four National Film Awards and five Filmfare Awards, and she has appeared six times on Forbes India's Celebrity 100 list. India's government awarded her the Padma Shri, the country's fourth-highest civil award, in 2020.
The actress auditioned for the lead role in the romantic thriller Gangster, directed by Anurag Basu and produced by Mahesh Bhatt, in 2004. In 2006, the movie was critically and commercially successful. In celebration of Kangana Ranaut  birthday, Saregama brings you the film's original soundtrack in its exclusive Kangana Ranaut Birthday playlist.
Some songs from Gangster that feature in our Kangana Ranaut Birthday playlist are- Lamha Lamha by Abhijeet and Sunidhi Chauhan, Ya Ali by Pritam and Zubin Garg and the remixed version by K.K, Tu Hi Meri Shab Hai by K.K and Pritam, Bheegi Bheegi by James and Pritam, Mujhe Mat Roko by Kavita Seth and Lamha Lamha male version by Abhijit. Download these amazing songs and add them to your Kangana Ranaut Birthday playlists list.
Kangana did several films between 2006 and 2009, including Fashion, where she played a supermodel dealing with substance abuse.
She is one of the youngest actresses to win the prestigious National Film Awards at 22. She won the Best Supporting Actress Award for Fashion (2008). As of 2021, she has won a total of 4 national awards. A Best Supporting Actress award for Fashion (2008), two Best Actress awards for Queen (2014), Tanu Weds Manu Returns (2015), and Manikarnika: The Queen Of Jhansi (2021). We celebrate this remarkable feat by super talented Kangana with our playlist of Kangana Ranaut Birthday songs playlist.
Kangana Ranaut is known for being forthright about everything from film to feminism in public. Internet users appreciate Kangana's detailed write-up quite a bit. In contrast with most Bollywood celebrities, the actress bravely wrote and chose to go where many would refrain.
PETA voted her "India's hottest vegetarian" in a poll conducted in 2013. Kangana Ranaut is also a trained classical dancer. The Nateshwar Nritya Kala Mandir has been Ranaut's training ground for Kathak since 2009.
The actress is known for films like Raaz: The Mystery Continues (2009) and Once Upon a Time in Mumbaai (2010), which were commercial successes, but she has been criticized for being typecast in neurotic roles. Despite a well-received comic role in Tanu Weds Manu (2011), she subsequently had a brief, glamorous roles in films that failed to boost her career. She changed that in 2013 when she played a mutant in the science fiction film Krrish 3, which became one of the best-grossing Indian movies of the year. The actress went on to win two consecutive National Film Awards for Best Actress for her roles in Queen (2014) and Tanu Weds Manu: Returns (2015), which at the time was the highest-grossing female-led film in Hindi. In 2020, Kangana Ranaut launched her own production company, Manikarnika Films, under which she serves as director and producer.
She appeared as the titular warrior in her co-directed biopic Manikarnika: The Queen of Jhansi (2019) based on the life of Rani Laxmi Bai, followed by a role as a kabbadi player in Panga (2020). As a result of these two performances, she was nominated for a fourth National Film Award, and she played the role of Jayalalithaa in the biopic Thalaivii in 2021.
Some of the songs in our special Kangana Ranaut Birthday playlist are- Panga by Siddharth Mahadevan and Harshdeep Kaur, Dil Ne Kaha by Asees Kaur, and Shahid Mallya, Jugnu by Shankar Mahadevan and Sunny, Bibby Song by Annu Kapoor and Sherry, and so many others. Make sure to listen to and download this playlist of Kangana Ranaut Birthday songs by Saregama,
Known for her unconventional film roles and defining fashion choices, Kangana Ranaut established herself as a leading lady. Ranaut is often listed among the most appealing and stylish celebrities in India. The Times of India listed her among the top 10 on its list of the "Most Desirable Woman" 4 times – in 2010, 2011, 2013, and 2015. Verve ranked Ranaut among the most powerful women of 2010, and People magazine named her the "Best Dressed Personality" of 2012. Vogue India included Ranaut among the best-dressed women celebrities in 2013.
The talent of Kangana Ranaut cannot be overstated. On her special day, we present her exclusive Kangana Ranaut Birthday songs list featuring back-to-back songs of this powerhouse of talent to all the Kangana fans. We hope you will love these songs and download them from Saregama.