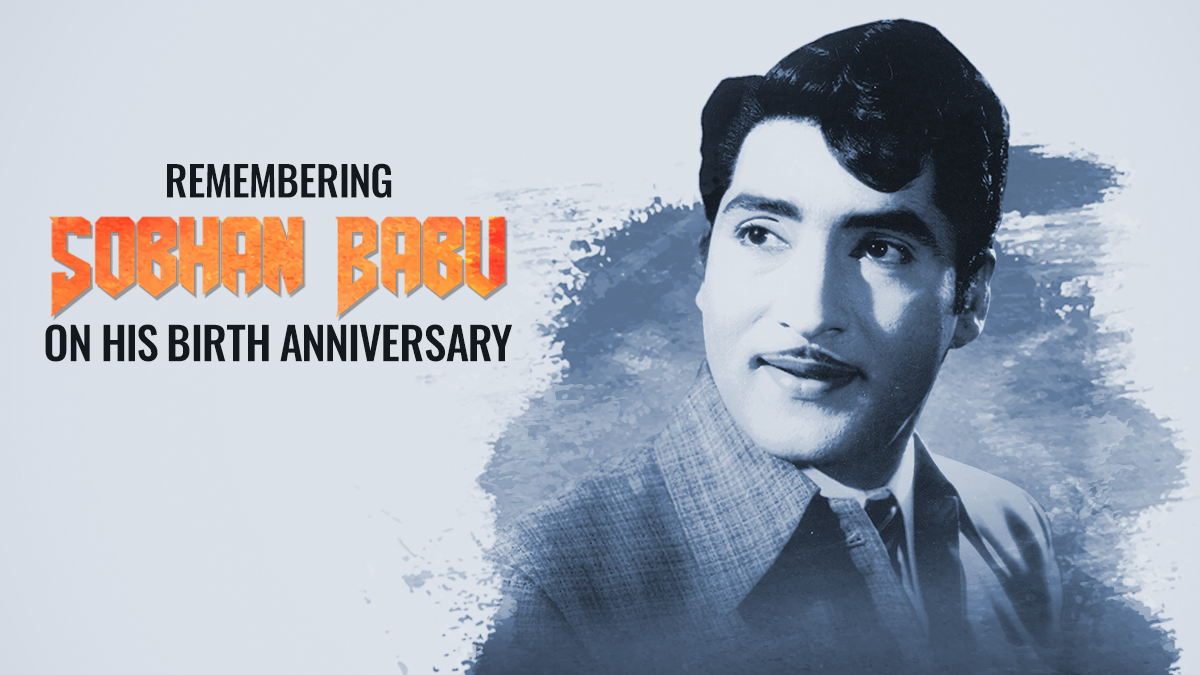 Natabhooshana Sobhan Babu was one of the greatest Telugu stars from the 1960s, 1970s, and 1980s. At the height of his career, he was considered one of the four most prominent Telugu stars. As a Telugu hero, he is often described as bringing natural acting to role-playing in Telugu films. Although he is usually branded as a romantic hero, he played various roles (family, sentimental, action, mythological, devotional, folklore, to name a few) with equal ease. The Telugu hero is best remembered as an outstanding performer at all the "navarasalu," which is no easy task for any actor.
A middle-class boy born with Uppu Sobhana Chalapathi Rao, Sobhan Babu became a romantic icon. Sobhan Babu made his debut with Daiva Balam, released in 1959. After that, he acted in more than 200 films. His best works are Veerabhimanyu, Manushulu Marali, Kalyana Mandapam, Chelleli Kapuram, Sampoorna Ramayanam, Sharada, Manchi Manushulu, Jeevana Jyothi, Soggadu, Mallepoovu, Gorintaku, Mosagadu, Devatha, and Mundadugu.
On the occasion of Sobhan Babu's birth anniversary, Saregama presents a wide range of Sobhan Babu songs that will remind you of his charming personality and the legacy he left in Telugu cinema.
Sobhan Babu went through many struggles at the beginning of his career. There were very few roles available for him with small salaries, and he couldn't meet the living expenses. 
He decided to quit movies, but his career was changed when he got selected for Veerabhimanyu. The film changed the course of luck for Sobhan Babu. Some of the tracks that you should listen to and save to your playlist of Sobhan Babu songs are- Adigo Navalokam, Rambha Oorvasi, Choochi Valachi, Challani Samivi. Ghantasala and P Sushila voice all these Sobhan Babu songs. Other Sobhan Babu songs from the same movie that you should listen to are Takina Chota by P. Sushila, Kalla Kapatam by S. Janaki, Padhyams by Ghantasala, and Madhavapeddi Satyam. These are some of the Telugu classics that should be a part of your Sobhan Babu songs playlist.
His nickname was Andhra Andagadu, which translates to "most handsome person in Andhra Pradesh." He received several Nandi Awards from the Andhra Pradesh government for his diverse roles over 30 years. He probably earned the most awards out of all the Telugu heroes. Over 20 years, he was the most popular lady hero. Telugu movie lovers still refer to any good family entertainer as a "Shoban Babu type movie" even today. He was given the honorary title "Natabooshana," which became his last name in movie credits.
Shoban Babu appeared in 230 films. He played the lead hero in almost 200 of them. He had to play minor roles in his first few films with stalwarts like N.T. Rama Rao, ANR. After being selected as the lead actor, he never compromised his position in any movie to play any lesser role throughout his life.
Sobhan Babu had paired up with actress Sharada for several films, and they were said to be a hit pair of all times. It was a unique combination. Sobhan Babu was known for his glamour and performance, and Sarada is known more for her outstanding, performance-oriented roles, especially for sober roles. Some of the movies they did together are- Samsaram, Dharmapeetham Daddarillindi, Devaalayam, Raghu Raamudu, Pratikaaram, and many more.
Let us talk about another of his hit movies Balipeetam which also featured Sharada, released in the year 1975. Some of the songs from this movie are still talked about in the Telugu industry. We recommend you to add a few songs from the movie to your Sobhan Babu songs playlist- Kusalammaa Neeku by P. Sushila and S.P Balasubramaniyam, Takku Tikkulaadi by S. Janaki and S.P Balasubramaniyam, Yesukundaam by P. Nageswara Rao and M Sathyam. All these tracks are a must and should be added to your playlist of Sobhan Babu songs.
A movie titled Vichitra Kutumbhakam features some of the best Sobhan Babu songs. This movie was a huge hit and had an 8.3 rating on IMDb. The story revolves around a lawyer and his tiff with his family. It was a comedy well received by the audience. T V Raju gave the music of Vichitra Kutumbhakam. Some of the Sobhan Babu songs from this movie that is available on Saregama are- Aadave Jalakammu Laadave by Ghantasala, Rangu Rangu Poolu by Ghantasala and P Sushila, Poovulo Vunnavu by LR Eswari, Kaachuko Savaal by Ghantasala and LR Eswari, Erra Errani Daana by L.R. Eswari, Pithapuram Nageswara Rao and Naluguru Navverura and Pothunnavaa by P Sushila. These Sobhan Babu songs are a gem and should definitely be in your playlist of Telugu songs.
Sobhan Babu worked in so many films that proved to be a milestone in Telugu Cinema throughout his career. His screen presence was so magnificent that he is still one of the most talked-about actors in the Telugu Film Industry. 
Saregama's vast collection of Sobhan Babu songs will remind you of this legendary actor. His movie titled Mosagadu featured another legend, Sridevi. The film has an enchanting list of songs. Some noteworthy Sobhan Babu songs from Mosagadu are- Aakundi Okachota by P. Sushila and S.P Balasubramaniyam, Yegarali Jateeyapathakam by M. Ramesh and S.P. Balasubrahmanyam, Yendayya by P. Susheela and S.P. Balasubrahmanyam and Ye Vasantha Midi by P. Susheela and S.P. Balasubrahmanyam. So do not forget to add these classics into your playlist of Sobhan Babu songs.
For his exemplary works in films, he has been awarded Nandi for Best Actor five times and Filmfare Award South four times. Cinema was his ultimate love, and his zeal for life and charm was inimitable. His graceful performances and expressive acting style had won millions of hearts apart from delivering some of the biggest hits in the industry.
Sobhan Babu, 71, breathed his last on March 20, 2008, in Chennai at his home.
Saregama celebrates Sobhan Babu's life by revisiting his most memorable songs. Download and listen to Sobhan Babu songs at Saregama.