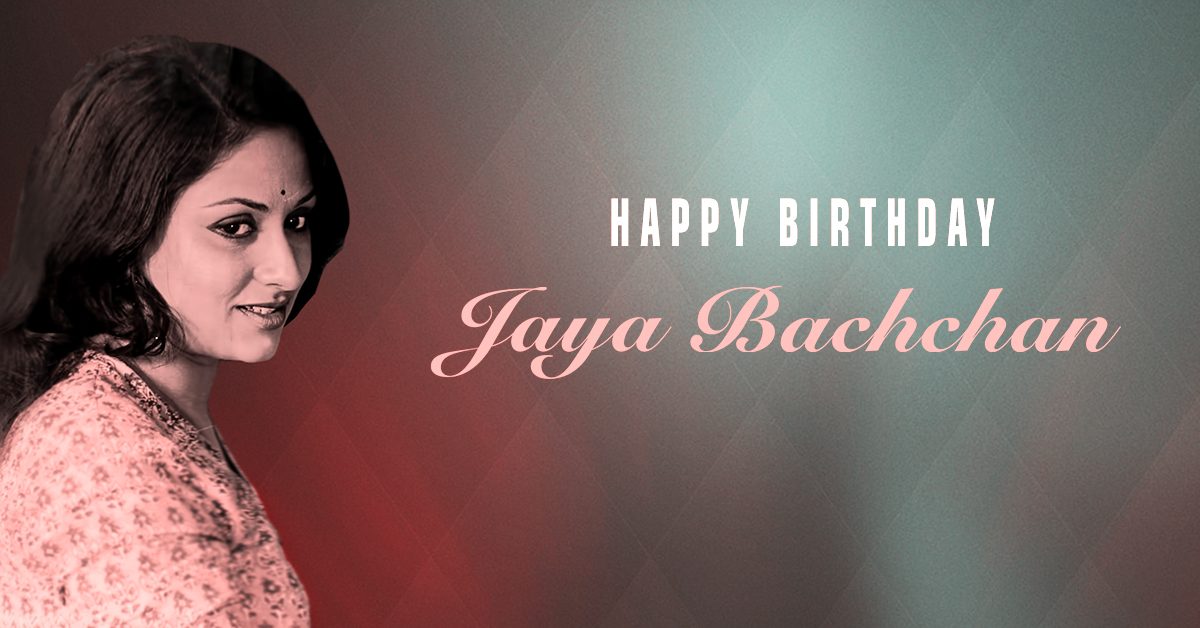 In April 1948, in Jabalpur, Madhya Pradesh India, Bengali-speaking Indira, and Tarun Kumar Bhaduri who was a poet as well as journalist, were blessed with a child who they named Jaya. The name 'Jaya' from Hindi origin means victorious and as per mythology, it depicts a female deity.
"My parents never sat down to teach me anything; they lived exemplary lives to set a lesson for me. I am greatly influenced by my father who was a journalist. My father was fearless" says Jaya. 
Who knew the same little girl, will once receive a Padma Shri award, for her excellent performance in the film industry, from the President of India, R Venkataraman in New Delhi on April 06, 1992. Padma Shri is one of India's fourth-highest civilian awards given to highly deserving artists like Jaya Bhaduri.
Jaya Bhaduri Bachchan is currently a member of parliament in Rajya Sabha from the Samajwadi Party. She started her political career in 2004 when she was elected to the Rajya Sabha, a position that she has continued to maintain since then. 
"I like visiting the parliament, listening to the discussions, and raising questions. It's a stimulating environment and it opens your world view.", says Jaya Bhaduri Bachchan
Amitabh Bachchan and Jaya Bhaduri Bachchan entered marital bliss on 3rd June 1973, after a whirlwind romance. The veterans were introduced for the first time on the sets of 'Guddi', which kindled a spark in their hearts. The two have mentioned in an interview that it wasn't love at first sight, they took their own sweet time falling in love with each other. 
Their marriage holds a fascinating story too! Their love manifested during the shoot of the movie 'Zanjeer' where both promised each other a trip to London if the movie hits the charts. Jaya Bhaduri's father did not sanction such a trip unless the two got married. They get married the next day with near and dear ones by their side and board the flight at night for their first-ever trip. 
"I married a good man and a family that believes in commitment," says Jaya recalling those golden memories.
Getting a glimpse of their love romance from every duet song from their blockbusters, lovingly referred to as 'Reel Se Real Tak', by their fans. Over the years the two have showcased their outstanding performance in movies like 'Zanjeer', 'Abhimaan', 'Mili', 'Chupke Chupke', 'Sholay', 'Silsila', 'Kabhi Khushi Kabhie Gham', and the list goes on.
The couple is blessed with two children, the firstborn being Shweta Bachchan who is married to the industrialist Nikhil Nanda, grandson of the Kapoor family in Delhi, and has two children alike, Navya Naveli and Agastya Nanda. Abhishek Bachchan, also an actor, was born as the second child to the Bachchan Family who tied a knot with former Miss World and actress Aishwarya Rai Bachchan and has a daughter, Aaradhya Bachchan.
Looking back to when she first set her foot forward for a Bengali film, in 1963, she decided to become an actress she performed really well. This opportunity gave her all the confidence she needed to understand her inner calling. She then studied at the Film and Television Institute of India (FTII), Pune with flying colors and a gold medal, and ever since then, her dream of becoming an actress started taking shape.
In the year 1972, Jaya Bhaduri delivered back-to-back hits with megahits like 'Piya Ka Ghar Hai Yeh' from 'Piya Ka Ghar', 'Beeti Na Bitai Raina' from 'Parichay', 'Koshish', and 'More Naina Bahayen Neer' from 'Bawarchi', all while she was only 23-years old. 
She has starred in about 47 well-known Bollywood movies to date! An impressive number of films for an actor who stepped down from full-fledged acting only after a decade for parenthood. She made a comeback after 18 years with 'Hazaar Chaurasi Ki Maa' and made a smashing comeback with her outstanding performance in movies like 'Fiza', 'Kal Ho Na Ho', 'Drona', and 'Laaga Chunari Mein Daag' to name a few.
Jaya Bachchan has bagged 9 Filmfare Awards as Best Actress and Best Supporting Actress with several nominations for her supernova contribution to the film industry as well as numerous Lifetime Achievement Awards. She was also presented the Yash Bharti Award which is Uttar Pradesh's highest award in the Government of Uttar Pradesh.
While so many people consider themselves a part of the Bachchan Family's fan club, there are some fun facts that not everyone knows about.
Jaya Bachchan made her debut in the film industry when she was merely 15 years old. She stepped into the world of cinema in 1963 with a Bengali film named 'Mahanagar' which was directed by Satyajit Ray. 
Amitabh Bachchan and Jaya Bachchan's first hit as a duo could be from the movie 'Guddi'. This movie won hearts & credits for Jaya Bachchan with timeless songs like 'Hum Ko Man Ki Shakti Dena' and 'Bole Re Papi Hara' both by lyricist Gulzar.  Little does any Bachchan fan knows that Amitabh Bachchan was filmed for about 10 days after which he was dropped, to only focus on his ongoing film 'Anand'. 
However, Jaya Bachchan proved to be the lucky charm for Amitabh Bachchan's career, being a co-star in his first superhit blockbuster movie 'Zanjeer' after which the saga of fame began for him and also gave birth to his 'angry-young-man' persona.
She continued to prove her charisma and influence, once again by revitalizing & rejuvenating Amitabh Bachchan's career. She penned the story for the 'Shahenshah movie in 1988. This movie brought our super-star back to the silver screen from the three-year-long political endeavors. 
Jaya Bachchan never fails to surprise her fans and deliver phenomenal works of art. During the movie, 'Sholay' was being shooted the multi-talented Jaya Bachchan was pregnant with her daughter Shweta Bachchan. 
Jaya Bhaduri Bachchan has given timeless songs and eternal hits in the Bollywood industry. Even now listening to her albums makes us travel back in time. Bring home the Carvaan Hindi (5000+ songs, 80 stations), Carvaan Premium Hindi (with an additional 52+ stations & app support), or Carvaan Gold Hindi (130+ stations & app support) and make yourself and your parents relive those moments again!