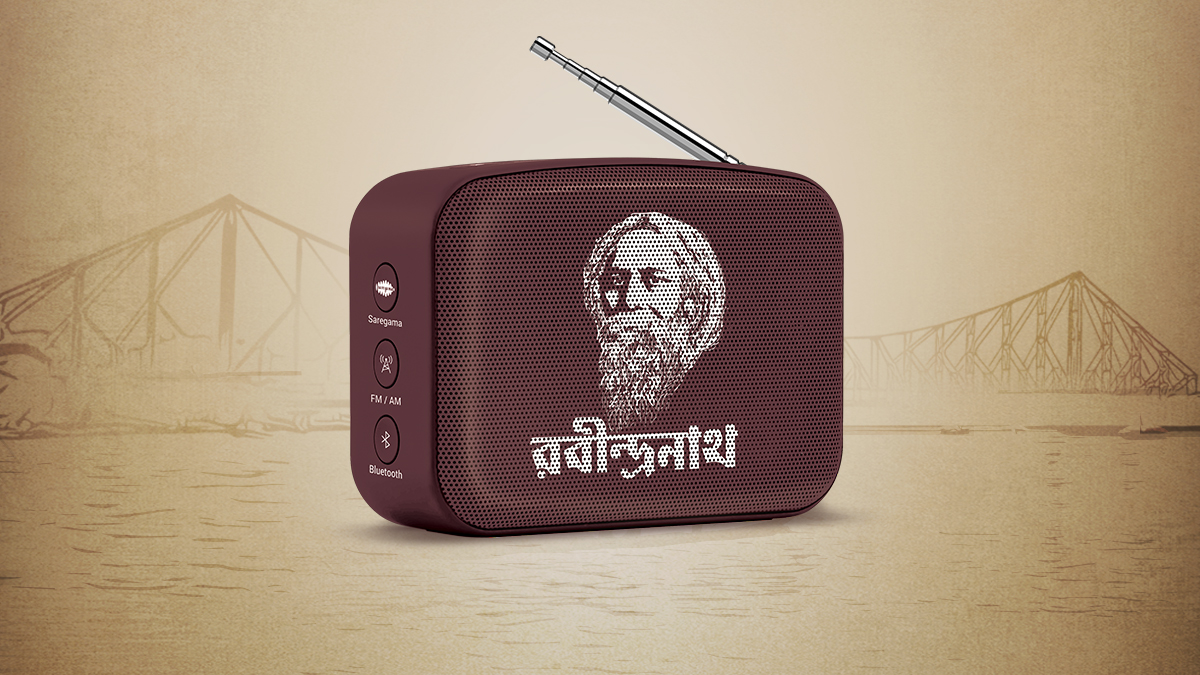 For the uninitiated, Rabindranath Tagore, or Robi Thakur and Gurudeb, as he's known in Bengali, is an iconic legendary figure of Bengal. He was a Bengali Polymath who has penned down and composed evergreen Bengali songs that hit the ears as a blessing.
A multifaceted talent with 2,230 songs to his credit, he created songs for every mood and every season. His super melodious and soulful songs have swept away not only Bengal but the entire nation for more than a century now. A perfect amalgamation of his captivating tunes and soul touching lyrics has stirred the entire Bengal till date. Even in this era, where cool electronic music, remix songs, and trendy lyrics are gaining popularity and making a permanent space in the playlists, any Bengali's playlist is never complete without the inclusion of Rabindra Sangeet. The miraculous effect of Rabindra Sangeet (songs composed by Tagore) still remains mesmerizing. It is as if Bengali culture has got intertwined with his songs and both are inseparable. Bengalis, irrespective of their age group, go gaga over Rabindra Sangeet because of its divine impact.
This Noble Prize Winner has presented us with our National Anthem. He composed the Brahmo hymn Bharat Bhagyo Bidhata in five stanzas out of which the first stanza came to be recognised as our National Anthem. In order to rekindle the Bengal unity and tar communalism, Rabindranath Tagore composed Amar Shonar Bangla to protest against the 1905 partition of Bengal along communal lines. It later got adopted as the National Anthem of Bangladesh in 1971.
Saregama Carvaan salutes this divine personality, Kaviguru Rabindranath Tagore wholeheartedly. To honour Kabiguru's work, Saregama Carvaan introduced the 'Saregama Carvaan Mini Rabindrasangeet'. This device primarily consists of a handpicked collection of 351 timeless Rabindra Sangeet songs and will eschew all those hours and months people used to browse the internet and song apps to download their favourite songs. The same has come in the traditional Terracotta brown colour and has been specially designed to give a shape that will remind you of an old radio set that all our grandparents had at their bedsides.
Talking about its features, this magical box comes with excellent Bluetooth support and a USB port that enables you to plug-in and play your favourite songs. It further includes an antenna and can be used as an FM/AM device. And, it does not end here. Saregama Carvaan Mini Rabindrasangeet also comprises of a 3.5mm audio jack for connecting with external speakers and headphones. Also, an AUX port to plug-in phones and other supported devices. This has four-hour long-lasting battery life. Its charging cord has Android device compatibility. Along with all these features and mesmerizing Rabindra Sangeet collection, this device comes with a six-month warranty.
This is the best gift to all those in the family who are propelled by Rabindra Sangeet and find ways and means to listen to it. Gift this Saregama Carvaan Mini Rabindrasangeet and be a reason for those extra broader and brighter grins on their faces. Make them relive their lost moments or help them make some new memories with songs like "Aji Bangladesher Hridoy Hote" and "Aji Jhoro Jhoro Mukhoro badolo dine" and many more. The Saregama Carvaan Mini Rabindrasangeet is an effort from the Carvaan team to tribute to the multitalented figure, Rabindranath Tagore. This is indeed a blessing for all those for whom these songs play a pivotal role in their day to day lives. So go grab your Saregama Carvaan Mini Rabindrasangeet now!