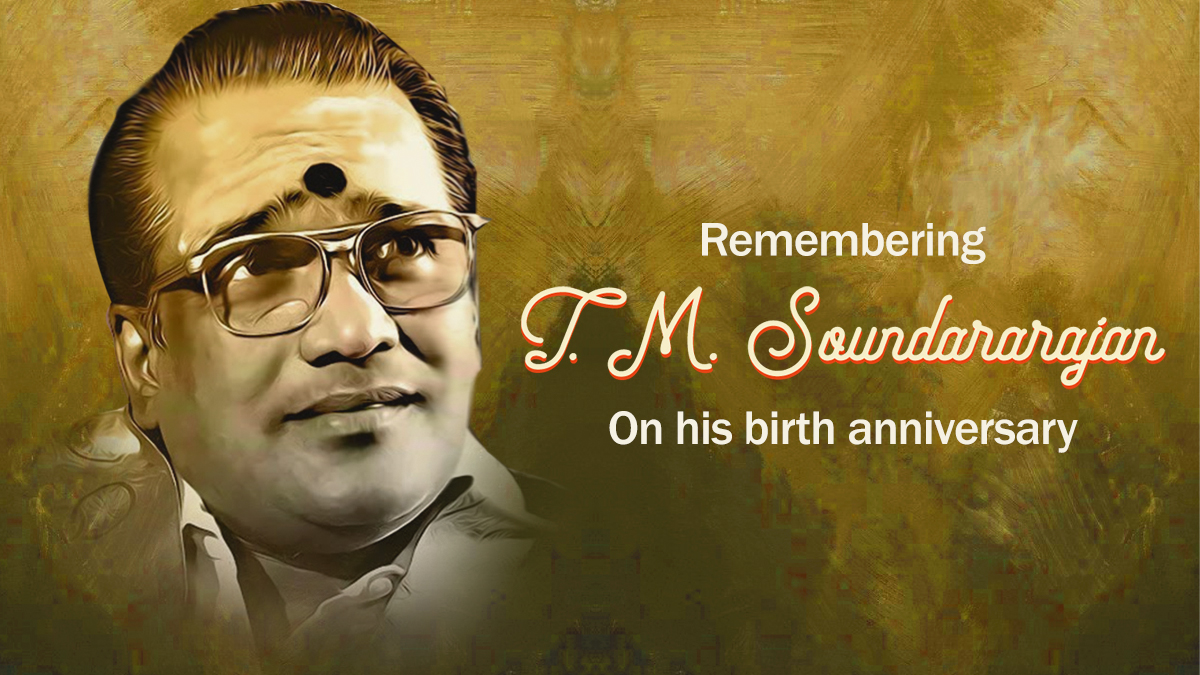 T.M. Soundararajan, also referred to as TMS, was Indian Carnatic music, playback singer in Tamil cinema, and actor. In Madurai, he grew up in a poor Brahmin family and began learning Carnatic music at seven from Chinnakonda Sarangapani Bhagavathar and then from Arayakkudi Rajamani Iyengar.
In need of income, T.M Soundararajan accepted small concerts at the age of 23, singing in the voice of the then-famous classical singer and actor M. K. Thyagaraja Bhagavathar (MKT). In 1945, he performed his first major Carnatic music concert at the SathGuru Samajam in Madurai, with violinist C. R. Mani and mridangist S. S. Vijaya Ratnam. These T.M Soundararjan songs were well talked about, and he gained recognition slowly.
MKT influenced T.M. Soundararajan's voice modulation; K. Sundarambal for the perfect pronunciation; S. Subbulakshmi for the added emotion to the voice. And Madurai Mani Iyer for the ease of flow. In response to the praise he received, he decided to try his hand at film music.
Some of the T.M Soundararajan songs that we have in our exclusive T.M Soundararajan songs playlist are- (Kollimalai) Pambai Udukkai Katti, Aaahaaaha Aasai Theera, Aadhi Sakthi Velkondu, Aadhi Sivan Thaal Panindhu, and many more. Download and listen to T.M Soundararajan songs on Saregama.
TMS recorded film songs in 11 languages throughout six and a half decades, including Tamil, Kannada, Telugu, Hindi, and Malayalam. Among his tens of thousands of songs he composed were songs from over 3,162 films, and these included devotional, semi-classical, carnatic, classical, and light music pieces. All of the T.M Soundararajan songs are melodic and soulful to listen to. Download all the T.M Soundararajan songs and enjoy his wonderful music and voice.
His trademark vibhuthi on the forehead, with vermillion in the middle, was always intact. He was the only singer in the Tamil film industry who had an impeccable command of Tamil words and despised remix. Still, he enslaved everyone with his captivating voice and singing. Through his eloquently expressive singing style, he created emotional dramas. He was an expert at bringing out the bhavam in any song, be it comedy, pathos, love, angst, anger, or philosophy; nava rasas were his forte. T.M Soundararajan was so versatile that his voice matched each star's voice to perfection; even without watching a movie, one could identify each star through the T.M Soundararajan songs.
Music composers and recording technicians initially rejected TMS. Still, S.M. Subbaiah Naidu gave TMS a chance to record five songs in the style of MKT for a film by PV Narasimha Bharathi, Krishna Vijayam, which was released in 1950. In 1954, A. Maruthakasi suggested that TMS sing in Aruna Pictures' Thookku Thookki. In response to Sivaji Ganesan's concerns about C.S. Jayarmanan, his normal playback, TMS offered to sing three songs free of charge. He closely mimicked Sivaji's voice while singing Sundari Sundari and Eraatha Malaithanile. As Koondukkili, the only film in which MGR and Sivaji acted together, was in production, TMS, who was originally only slated to sing a chorus, had a complete solo, Konjum Kalian Pennai under KV Mahadevan's composition for Sivaji Ganesan. Upon hearing it, MGR asked TMS to become his full-time playback singer.
In 1955, Sivaji too insisted on TMS, who ended up mainly doing the playback for MGR and Sivaji. Listen to all the T.M Soundararajan songs featuring MGR and Sivaji Ganesan back to back on Saregama and Saegama caravan.
T.M Soundararajan collaborated with 74 different music directors, from S.M. Naidu to A.R Rahman, but the majority of T.M Soundararajan songs were composed by M.S. Viswanathan, K.V. Mahadevan, and Vishwanathan-Ramamoorthy. It is no secret that the TMS-Ilaiyaraja duo had given hit songs like Andhapurathil Oru Maharani, etc., but their relationship was fraught with misunderstandings and disagreements. The arrival of Ilaiyaraja ushered in the end of the TMS era.
In spite of being a singer primarily, he always felt like an actor, which manifested itself in the roles he played in Tamil films, such as Pattinathar, Arunagirinathar, Kallum Kaniyagum, and Kaviraja Kalamegam. Many awards and honours have been presented to him over the years, including the Padma Shri in 2003. TMS is one of ten legendary Indian singers commemorated in a unique stamp released by the Government of India.
Due to illness, T.M Soundararajan passed away on 25 May 2013 at his residence in Mandaveli, Chennai, aged 91 years. He is survived by his wife, two sons, and a daughter, and the legendary collection of T.M Soundarajan songs that we have for all the fans of T.M Soundararajan.