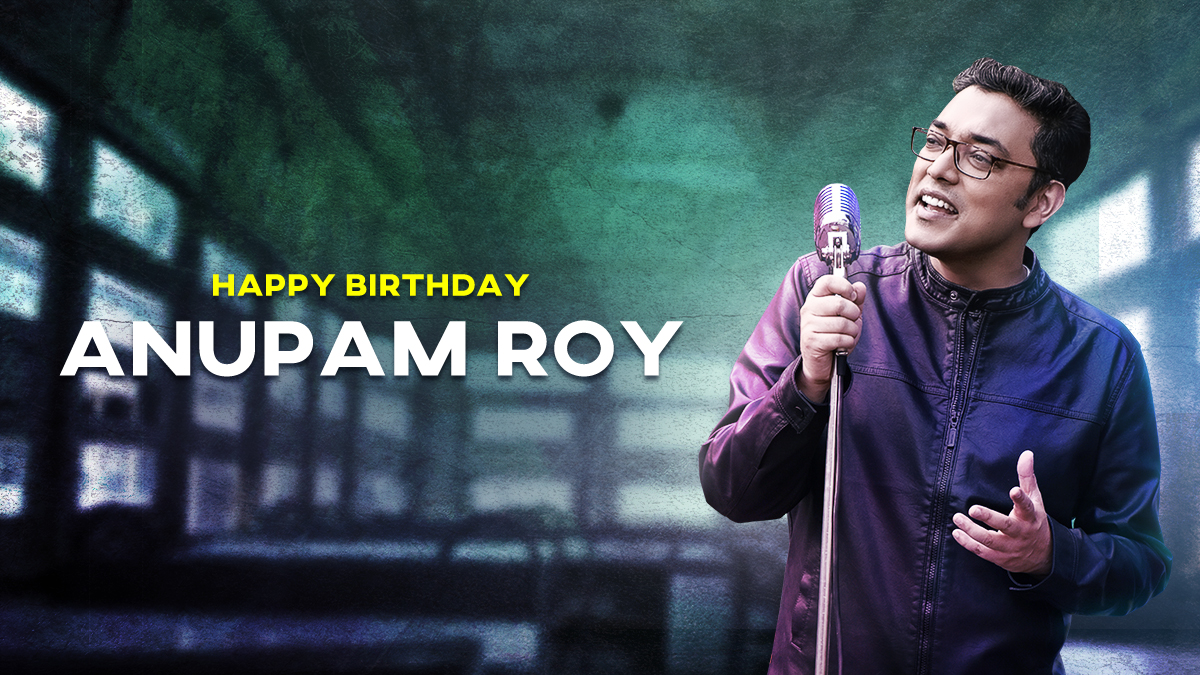 Anupam Roy is a singer-songwriter and music director who primarily works in the Bangla Film Industry. For music lovers other than West Bengal, he shot to fame in 2015, when he directed the music of Deepika, Irrfan, and Amitabh Bachhan starrer Piku, for which he was awarded the Filmfare Award for Best Background Score. Since then, he has directed music for Bollywood movies like Shahrukh Khan's Fan (2016) and Tapsee Pannu's Pink (2016). Anupam Roy's songs are melodic, full of various emotions, and they will charm you whether or not you understand Bangla. His music and voice transcend the boundaries of language.
Saregama brings you Anupam Roy songs to celebrate his birthday on 29th March. Listen to and download all-time favorite Anupam Roy songs exclusively on Saregama.
Recently, Anupam gave voice to a beautiful song from the album Aparajitaa. The song is titled Bhorer Alor Rekha. Amrita De sang along with Roy. The music of Aparajitaa is directed by Krishnendu Rai Acharya, and the lyricist is Raj Sen. The words Bhorer Alor Rekha translate to the ray of light at dawn. This Anupam Roy song is a soulful and romantic track that you should add to your playlist of Anupam Roy songs list.
His mother, Madhurita Roy, introduced Anupam to music. She taught him the basics of singing. While still in school, he learned to play the tabla. He had begun writing songs, too, mainly in Bangla. In 2001, he started composing songs primarily with an acoustic guitar after dabbling with his father's "bulbul tarang" for a short period.
After completing his graduation, Anupam Roy looked for jobs, but the singer and writer in him took him to a different path altogether. After struggling for years to get his songs recorded, he got his big break in 2010, when two of Anupam Roy's songs were used in the movie 'Autograph' directed by his friend Srijit Mukherjee. The two songs- Aamake Amar Mawto Thakte Dao and Benche Thakar Gaan became extremely popular and helped Anupam make a name for himself in the Bangla Film Industry. After finally being accepted into the Bangla music industry, Anupam started receiving offers to compose music for films. He then quit his job and turned full-time to songwriting and composing. He came back from Bengaluru to Kolkata, the city where he grew up, and never looked back. In 2011, Anupam debuted as music director for the Bengali movie Chalo Paltai (Let's change) and continued to give music, vocals, and lyrics for films like Baishe Srabon, Rang Milanti in the same year. In the year 2012, 'Hemlock Society' was released. Anupam Roy worked as music director, lyricist, and vocalist and gave us songs like Ekhon Anek Raat and Amar Mawte, which took him to a whole new level of success. Next up in 2014, he worked on four different movies as a music director. The movies were Highway, Chotushjone, Boba Tunnel, and Bawshonto Eshe Gechhe. The songs from all these movies were exceptional in their own way and were received very well by music lovers around the world.
In the following year, 2011, Anupam got a chance to sing for a romantic film titled Jaani Dyakha Howbe. The movie featured Parambrata Chatterjee and Payel Sarkar. This movie is directed by Birsa Dasgupta. This movie has some fantastic Anupam Roy songs like Melocho Chul and the male version of the title track Jaani Dyakha Howbe. These songs are beautifully composed by Indradeep Dasgupta and Neel Dutt. Make sure to add these songs to your list of Anupam Roy songs.
The latest Anupam Roy song, Putul Aami (puppet in your hands), talks about modern love. The song was released on Valentine's Day and featured young generation couple Riddhi and Surangana from the Bangla movie industry. 'Putul Ami' describes the story of a boy who has been looking for love from a girl who never notices him. The song was composed, sung, and written by Anupam Roy, and the video was directed by Abhirup Ghose. Listen and download this beautiful Anupam Roy song on Saregama, and you can watch the video on Saregama's YouTube channel.
Anupam has his own band called The Anupam Roy Band, and they independently released their first English single, 'Second Sex,' in 2013. Along with this, Anupam Roy was also featured in Coke Studio India Season 4 in 2015. He recreated the song 'Moner Manush' (Ideal Person), a Bengali folk song sung initially by Lalon Fakir. Anupam's version had an additional Hindi verse which was written and composed by him.
Enjoy all the Anupam Roy songs with Saregama and experience the various emotions conveyed through his hit masterpieces.
Download and listen to Anupam Roy songs on Saregama and Saregama Carvaan.