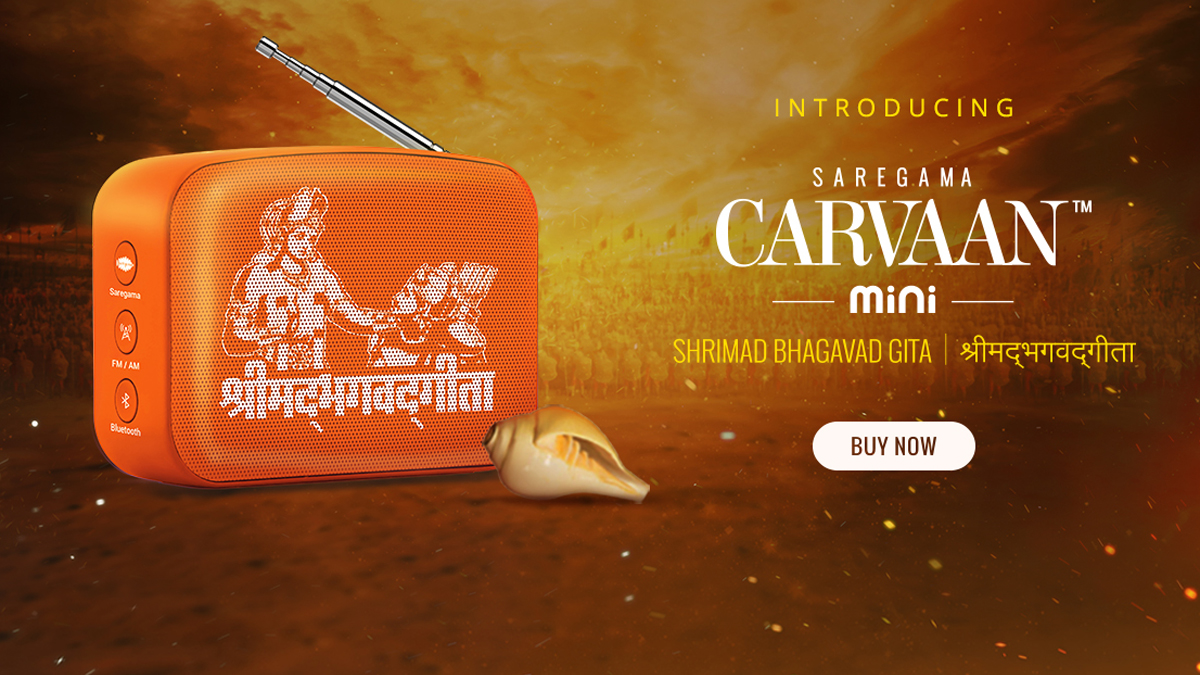 Bhagavad Gita is one of the sacred scriptures of the Hindus. It is an age-old book which consists of the dialogue that took place between Shree Krishna and Arjun. It is generally believed that this conversation took place before the war between Pandavas and Kauravas. And during that period, Arjun was confused and seeked wise counsel from Krishna. Though it was written thousands of years ago, the message or the essence of Bhagavad Gita is still prevalent and life-changing even today.
Saregama has newly launched Carvaan Mini Shrimad Bhagavad Gita which is pre-loaded with 700 verses and 18 Adhyays to satisfy your spiritual yearning and appetite. You can now listen to the scripture in the melodious voice of Shailendra Bharti and be mesmerized.
Many devotees love listening to these divine verses and enrich their spiritual health. It is often believed that reciting Gita verses can benefit a lot and transform people. The teachings of Gita help in the following ways:-
It teaches to overcome the negative emotions and perform our responsibilities
It leads to the path of knowledge and self-awareness which ultimately drives out ignorance and makes us happy
Helps us explore our inner strength and removes all kinds of fear that engulf us
In this busy life, guidelines are provided to strike the right balance between activity and non-activity, or laziness and work.
The importance of yoga and meditation is stressed in the Gita by Krishna. It is essential for inner peace and well-being even today
Everyone needs a master who can guide and lead us in life. The book of Gita and its knowledge acts like one
You can face any challenging situation with faith. With devotion, you can connect with the divine
Keep doing the good without expecting results is one of the essential and popular teachings of Gita, given by Krishna. This helps us to be in the right form of mind always. Action is always better than procrastination.
Liberation of the soul, the ultimate goal of life is achieved when one reads Bhagavad Gita verses daily.
Additionally, Saregama Carvaan Mini Shrimad Bhagavad Gita contains 101 Krishna Bhajans as well. These bhajans are sung my amazing singers like Lata Mangeshkar, Hari Om Sharan, Jagjit Singh, Anup Jalota and others. Take a deep dive into the spiritual sphere and soak in from the sacred treasure. You can truly connect with the divine, listening to the devotions available easily on Carvaan Mini Shrimad Bhagavad Gita.