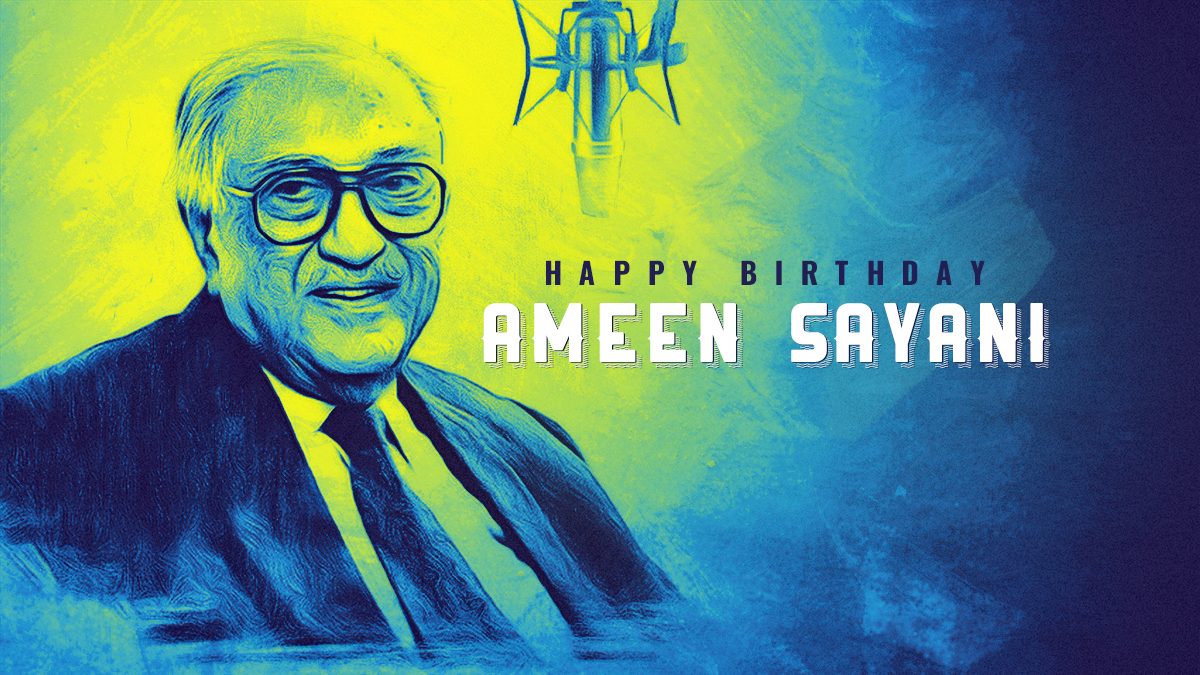 Ameen Sayani is the most celebrated radio presenter in India whose celestial voice familiarized us with the popular Hindi songs of yesteryear. You can find 50 years of Ameen Sayani's Geetmala countdown in Carvaan Premium.
People who love Bollywood movies and cherish listening to the old Hindi songs, it is certain that they have heard the iconic voice of this man – Ameen Sayani who ruled the radio station for over 5 decades. His signature style and call sign of 'behno aur bhaiyo' brings in a flood of memories of those days when people would eagerly wait for the show to begin on the radio. 
100 songs with commentary from Ameen Sayani's Geetmala | Vol-1 | One Stop Jukebox
At the early age of 9, he was introduced to the world of voice and recording by his elder brother Hamid Sayani whom he considered as his mentor as well. He brought him to the broadcasting station and asked him to record his voice. And as soon as he heard his recorded voice, the journey began. 
In those days, brands and products would be publicized on radio, and it was the voice who would do the magic. Ameen Sayani's first major break came when he gave his voice for such a product as the person who was supposed to do it was absent. 
It is quite an irony that Ameen Sayani was initially a proficient English broadcaster but it was Hindi broadcasting based on Bollywood songs that gave him name and fame.
In 1952, when he was just 20 years old and the youngest of the members on the radio station, he was given the task to present the Binaca Geetmala.
The first broadcast asked people to mail them their favorite songs. While the broadcasters expected a maximum of 50 letters, instead they received an astounding 9000 letters. The rest was history. Binaca Geetmala became a great hit and so did the voice of India's first radio jockey. In 1954, it became a 1-hour show. 
The program ran for the next 4 decades for Radio Ceylon till 1988. Later, the program was shifted to the Vivid Bharti channel of the AIR. The show continued till 2003 with different names. You can find the entire 50 years of Ameen Sayani's Geetmala countdown of songs in Carvaan Premium.
All these years, he familiarized us with popular Hindi songs. The man is well versed with the history of Hindi songs because he knows more about the Bollywood legends than any other. Interviews with big stars and singers make him a privileged personality. His anecdotes about various artists and behind the scene stories are interesting to listen and enjoy. It was an art for him to bring the human side of legendary singers and actors of Bollywood cinema on the radio. 
He is indeed someone who knows the soul of Bollywood songs and Bollywood singers inside out.
Among the many stars, he was very fond of Kishore Kumar and his songs. They shared a great camaraderie. It was he who rejected Amitabh Bachchan's quest for becoming a radio presenter. Had it not been the case, the Bollywood industry would have lost a great star. Also, he has been aired in radio stations all over the world which include Hum FM in UAE, Spice Radio in the US, and BBC in UK.  
Besides his personal records and recognition, he was awarded Padma Shri in 2009. He has been felicitated with various awards like Person of the Year Limca Book of Records – 1992, Golden Abby – 2000, Living Legend award – 2006, and many more.
You can listen to the magical voice with Saregama Carvaan Premium. The digital audio player with the pre-loaded collection of 5000 Hindi songs is the perfect gift option for your parents, relatives and friends. The Ameen Sayani's 50 years of Geetmala countdown of songs will surely make you feel nostalgic.
On his 87th birthday, we wish a very happy birthday to the celestial voice who enthralled us for so long. May his legacy live on!